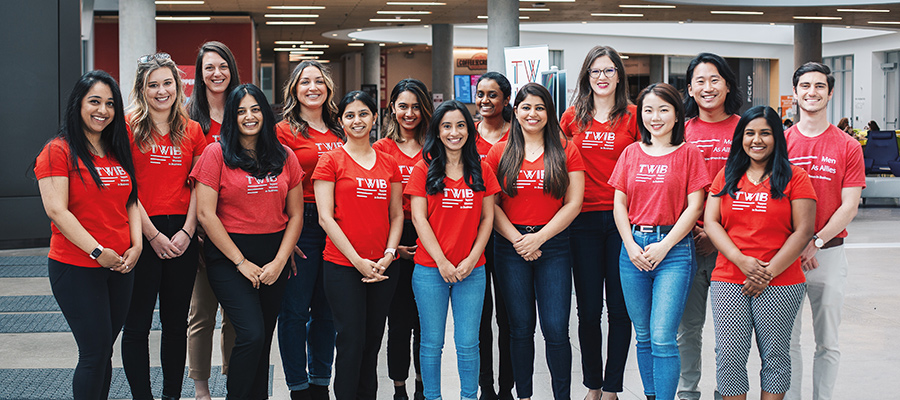 Supporting Women at the Tepper School
Women MBAs propel success for businesses.
---
At the Tepper School, we support the advancement of women through flexible program options, partnerships with nationally recognized organizations and an inclusive and supportive student experience.
Women MBAs propel success for businesses — that's a proven fact and one that the Tepper School stands behind. Research shows that diversified teams make smarter business decisions and that having women in leadership roles provides opportunities for stronger, more engaged teams. The Tepper School highly values students of any gender who have demonstrated a commitment to the advancement of women in business.
At the Tepper School, we are committed to preparing all students for top leadership positions in global organizations by developing both the skills and confidence they MBAs need to succeed and take their careers to the next level. With your classmates and professors, you will find that you are part of a supportive, tight-knit community that is here to support your individual goals and push you to become the best business leader you can be.
MBA Partnerships and Organizations
Forté
The Tepper School is a proud partner of Forté, a non-profit working to advance women in business, with a community of 100,000+ motivated members committed to inspiring gender equity in the workplace. 
Forté Fellows
Forté Fellowships are prestigious, competitive awards that are recognized within the business school community and beyond. Forté Fellows exhibit exemplary leadership, represent diverse backgrounds, and demonstrate a commitment to advancing women in business.
Through the admissions process, exceptional candidates are selected to receive a Tepper School-funded Forté Fellowship. Any student applying for admission to the Tepper MBA program is eligible to apply for a Forte Fellowship. To be selected to receive a Forté Fellowship, candidates are must meet the following criteria:
Exhibit exemplary leadership in one or more of the following: academic leadership, team leadership, community leadership, and creative leadership.
Represent a diversity of educational and work backgrounds, career goals, ethnicities, citizenship/nationality, sexual orientation, and gender identities/expression.
Demonstrate a commitment to Forté's mission of launching women into fulfilling, significant careers through access to business education, opportunities, and a community of successful women.
Along with the prestige of receiving this scholarship, Forté Fellows may be eligible to access exclusive Forté benefits, such as skill-building workshops, leadership conferences, networking opportunities, job postings, and more.
To date, schools have given more than $142 million to more than 6,300 Forté Fellows.
Forté Fellow Ambassadors
Each year, two Forte Fellows from the Tepper School are selected as Forté Fellow Ambassadors. These students play a pivotal role in connecting Forté to the student body; ambassadors assist the campus program administration in communicating about the partnership and provide networking opportunities to fellow students on campus and locally.
Forté Fellowship Eligibility
Students of any gender are eligible to apply for a Forte Fellowship. Carnegie Mellon University does not discriminate in admission, employment, or administration of its programs or activities on the basis of race, color, national origin, sex, handicap or disability, age, sexual orientation, gender identity, religion, creed, ancestry, belief, veteran status, or genetic information. Furthermore, Carnegie Mellon University does not discriminate and is required not to discriminate in violation of federal, state, or local laws or executive orders.