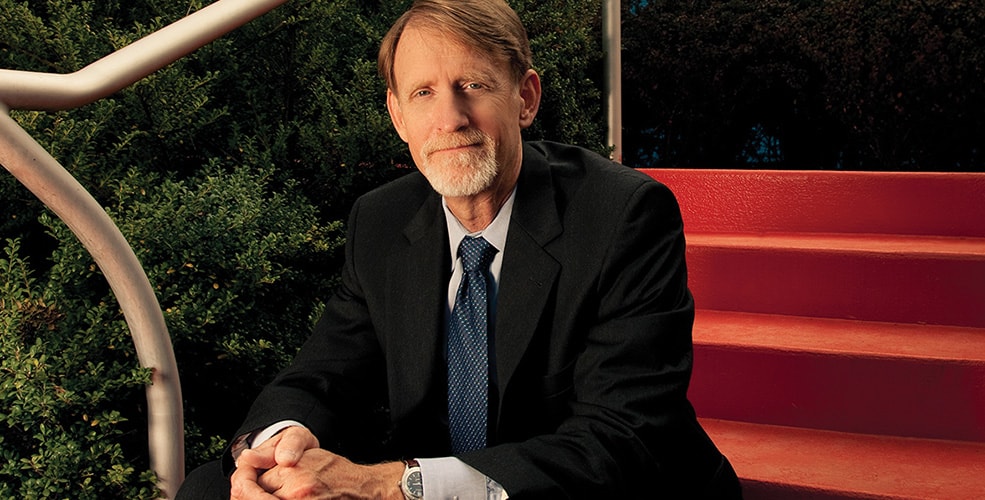 Richard C. Green Professorship
The Richard C. Green Professorship in Financial Economics has been established to honor the late Carnegie Mellon University professor and former senior associate dean Richard C. Green (1953-2015), whose intellect and affability earned him respect as a teacher, researcher and leader at the Tepper School of Business and as one of the presiding financial economists of his generation.
Professorship Details
The Tepper School, in collaboration with alumni, colleagues and friends of the late Professor Rick Green, is seeking to raise funds to create a professorship in Rick's memory. Two of Rick's former students from the class of 1990 will match the first gifts, up to a total of $400,000, as inspiration to others to support the fund.
"Rick was a great teacher, mentor and friend," said the anonymous donors. "He was brilliant, wise, witty, compassionate and completely dedicated to the welfare of his students, even long after they had moved on from the Tepper School. It is our hope that this professorship will be a lasting tribute to Rick and his enduring legacy to our school, and to so many of us."
The Richard C. Green Professorship in Financial Economics will enable the Tepper School to attract and retain outstanding faculty members who enrich our academic programs, contribute to groundbreaking research and serve as mentors to our students.
Make a gift to the Richard C. Green Professorship in Financial Economics
To discuss a major gift commitment to the fund payable over five years, please contact Steve Schultz at 412-268-4618 or stevensc@andrew.cmu.edu.
In Memoriam
Widely published in a wide range of financial topics, Rick Green served as an associate editor, co-editor or editor at five different journals, including the editorship of the internationally esteemed Journal of Finance. He came to Carnegie Mellon in 1982, and served in such university positions as the head of the Tepper School Ph.D. program (2003-08), Associate Dean for Research (2008-09) and Senior Associate Dean of Faculty and Research (2009-14). He was awarded the Richard M. and Margaret S. Cyert Professorship in 1999.
Rick, originally from Arizona, received his bachelor's in English at Pomona (California) College and a master's in business and Ph.D. in finance from the University of Wisconsin-Madison. Rick started at Carnegie Mellon as an assistant professor in what was then the Graduate School of Industrial Administration (GSIA). He became associate professor in 1987 and professor in 1990. His work took him around the globe: to the University of British Columbia, Union Bank of Finland, Stockholm School of Economics and Norwegian Finance Institute. He also served in visiting professor roles at the universities of Utah, Texas and Virginia.
He was heralded as the only financial economist to serve as president of all three of the leading scholarly societies in the field: the Western Finance Association, American Finance Association and Society for Financial Studies. His two-year term as president of the Society for Financial Studies was the most recent such position, ending in July 2014. Rick also served on the board of directors and as a research associate in asset pricing for the National Bureau of Economic Research (NBER), the nation's leading nonprofit economic research organization.
Along with co-author Jonathan Berk, now at Stanford University, Rick published a transformative study in the Journal of Political Economy in 2004. The paper fundamentally altered the professional understanding of mutual fund markets and managers. Their study found that successful fund managers attracted clientele by outperforming markets, but their success was short-lived; those new clients generally saw sub-par earnings. Rick remarked later of that study, "It is particularly satisfying when you write a paper that very quickly alters the way people see and approach a problem by changing conventional wisdom. If this happens once in your career, you are very happy."
Rick won numerous honors throughout his career. His research awards included two Smith Breeden Prizes for Distinguished Paper in the Journal of Finance, three awards from the Institute for Quantitative Research in Finance for research advancing the practice of global investment management and the TIAA-CREF Paul Samuelson Award for Outstanding Writing on Lifelong Financial Security. Tepper School MBA students in 1996 selected him for the George Leland Bach Teaching Award.
Rick was an influential and inspirational advisor of doctoral students. An avid fly fisherman, he often introduced colleagues and doctoral students to hidden corners of the Youghiogheny River.