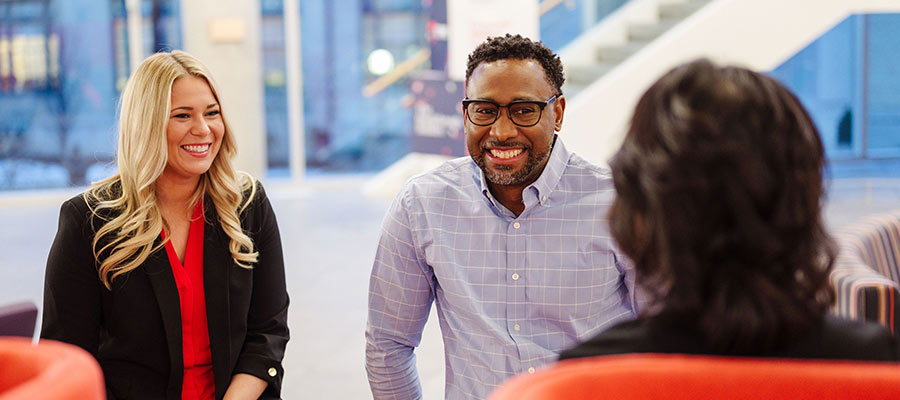 Tepper Full-Time MBA: Lead The Intelligent Future
When you know how to harness data, anything is possible.
The Tepper School's STEM-designated MBA helps you unite the powers of analysis and insight with emotional intelligence, so you will be ready to lead in the emerging business landscape. 
A Top-Ranked MBA Program
#18 MBA Program
U.S. News & World Report
#1 Information Systems
U.S. News & World Report
#2 Business Analytics
U.S. News & World Report
The Power of Data, Reimagined by Humans
At the heart of Carnegie Mellon University, Tepper is where you'll learn to apply imagination, creativity, and a deep appreciation for teamwork to the insights gained through advanced analytics. Collaborating closely in diverse teams, you'll unleash the power of data and tap into emerging technologies to come up with innovative solutions.
Our Individualized leadership coaching prepares you to lead with insight and a collaborative spirit born of self-awareness and diverse experiences. You'll graduate with the analytic skills to develop inventive solutions and the leadership expertise to inspire others to join you.
Why Choose the Tepper MBA? 
We're the B-school that invented management science, and analytics is a core part of the curriculum. Centered at the heart of the Carnegie Mellon tech powerhouse, the Tepper Full-Time MBA program delivers an analytics-focused curriculum that equips you with the ability to unlock the full power of data.
The future of business will demand collaborative leaders steeped in humility — creative thinkers, skilled at guiding diverse teams. Tepper cultivates these qualities through the transformational tools of team-based learning and one-on-one leadership coaching. Throughout your MBA journey, you'll create a custom road map as you learn to lead from a place of authenticity and empathy.
Are You a "Right Fit" Candidate?
The Admit.me Index (AMI) — a free, automated profile review for MBA candidates — gives you a candidate profile score, details of what affected your score, and recommends opportunities to strengthen your candidacy. 
Get your report in just 5 minutes and see how your profile compares to the "perfect" candidate and to the schools you are targeting. The score is not expressly indicative of your likelihood of being admitted into the Tepper MBA program and we encourage you to contact our admissions team to discuss your results.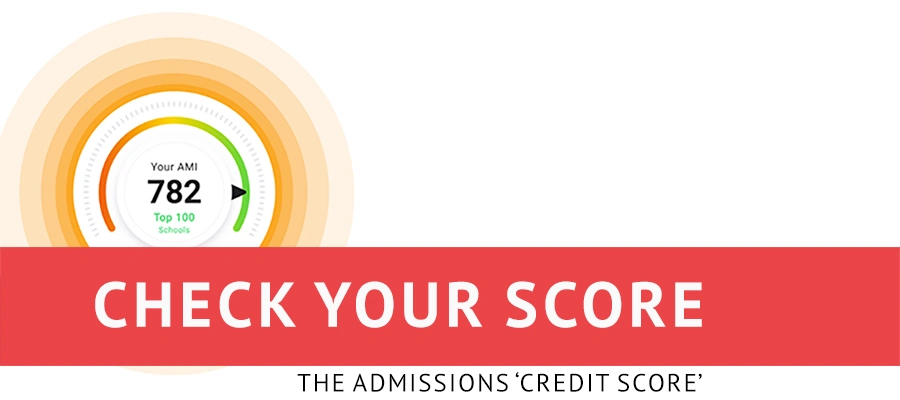 Close-Knit Community
The Tepper culture is as welcoming as our work is challenging. Here, you'll pursue bold goals in an intimate setting that's defined by small, team-based classes. In our close-knit community, success is collective — it depends on students coming together to learn from diverse perspectives and skill sets.
You'll grow your network with ample opportunities to connect outside of the classroom. Take a trek to Silicon Valley. Join one of 40+ student clubs. Get together at a local microbrew pub or explore Pittsburgh's burgeoning foodie scene. Here, you'll find more than 200 miles of riverfront hike and bike trails and a welcoming entrepreneurial vibe.
At Tepper, you're part of something bigger.
Cross-Campus Collaboration
At the heart of the university, the Tepper Quad is an innovation hub where all of Carnegie Mellon comes to collaborate. There's no better place to ignite new ideas. You'll connect with future-thinkers from every discipline: from researchers and architects to AI engineers and entrepreneurs.
Incubating your own business idea? Get traction and find resources at The Swartz Center for Entrepreneurship — a hive of strivers with a track record of success. More than 260 startups have roots at Tepper, including ModCloth and DuoLingo.