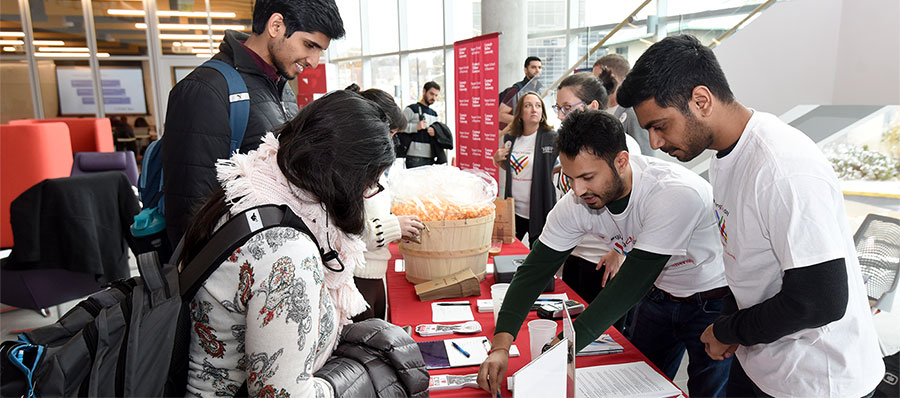 Give to the Tepper School
Giving is personal, and at the Tepper School, we provide our alumni, friends, faculty, staff, and students with the means to be philanthropic and effectual in ways that reflect their interests, lifestyle and financial situation.
Philanthropy for a Lifetime
There are various opportunities to support the school and affect change. Loyalty, leadership, and legacy serve as the three pillars that capture these opportunities and allow you to impact real programs, real outcomes, and real lives.
Loyalty: We value our loyal supporters who participate in annual giving each year. Annual investments demonstrate your belief in our brand of education and form the backbone of the school. Consistency, not dollar amount, is the base of this pillar.
Leadership: Contributions at the W.L. Mellon Society level ($2,500+) provide a catalyst for you to greatly impact the school. Specifically, major gifts at the $50,000+ level are used to endow scholarships and fellowships to attract the most exceptional students, create professorships to retain top faculty, and enhance the overall Tepper School experience for all stakeholders. Contact us to begin planning your leadership gift today.
Legacy: Leave a lasting impact on the Tepper School by making a planned gift. Carnegie Mellon University provides many ways to support your estate planning and financial needs. Planned gifts ensure the success of the school well into the future.
Ways to Make Your Gift
Online
Visit our secure online giving form and make your gift on credit or debit card. Use the online form to set-up single payment and recurring gifts using the gift frequency option.

Hint! Recurring gifts allow you to make budget-friendly payments (monthly, quarterly, biannually, etc.) that renew automatically every year without the need for calendar reminders. Select "Recurring" as the gift frequency to get started.
Phone
Our team is happy to take credit card gifts over the phone at 412-268-2582.
As with the online form, Visa, MasterCard, or American Express are gladly accepted.
Mail
Make checks payable to "Carnegie Mellon University" and indicate "Tepper School Annual Fund" in the memo line. Mail to:
Carnegie Mellon University
Tepper School of Business
PO Box 371525
Pittsburgh, PA 15251
If your checks do not possess a current, pre-printed address, or if your address has changed, please include a note with your updated information so we can be sure to make those changes in our system as well as send your tax receipt to the proper address.
Wire Transfers, Stocks, and Securities
Learn more about how to make a gift via wire transfer or with securities. For questions about wire transfers or stock gifts, contact Dawn DiBartolo (412-268-2024).
Matching Gifts
Many companies sponsor matching gift programs and will match contributions made to CMU by their employees. Double or even triple the amount of your gift if you or your spouse are affiliated with one of the many organizations that match gifts to educational institutions.