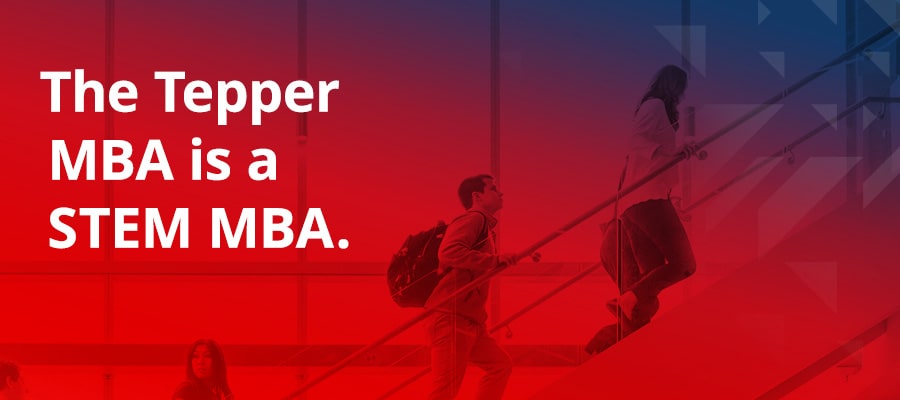 Tepper MBA: A STEM MBA Program
Our STEM MBA designation reflects the program's analytical, data-informed curriculum with roots in management science.
Across every industry, employers are seeking analytical thinkers and decision-makers — management talent who know how to lead and solve problems in a business environment infused with technology.
Our STEM MBA program prepares future business leaders to harness the science of management by utilizing technology, data, and analytics to make better business decisions.
What is a STEM MBA?
A STEM (science, technology, engineering, and mathematics) MBA offers business education with STEM applications. The analytical and data-informed curriculum of a STEM MBA prepares students for business careers in fields related to technology and analytics. 
STEM Is in the DNA of a Tepper MBA
Since 1949, the Tepper School has stood out for challenging conventional problem-solving approaches. By introducing a new approach to solving business challenges — now known as management science — we integrated scientific methods into complex problem-solving. Some form of Carnegie Mellon's original management science model is still taught at every leading b-school.
Today, our STEM MBA program is a future-focused business school experience, designed for the complexity of today's marketplace. We prepare students for 21st-century changes by emphasizing the application of technology within business. 
On day one as a Tepper MBA student, you'll begin a deep dive into analytics. Throughout the core curriculum, you'll master analytical tools that are critical for tackling complicated business challenges.
The increasingly interdisciplinary nature of the Tepper MBA program blends together foundational business disciplines and incorporates expertise in technology, engineering, and science from across the Carnegie Mellon campus.
STEM MBA Designation an Added Benefit for International Students
For international students, the STEM MBA designation offers an additional advantage. Optional practical training (OPT) provides many F-1 visa students with the opportunity to work in the U.S. for up to 12 months, gaining valuable experience related to their field of study.
Students graduating from STEM MBA programs may apply for a 24-month extension to their post-completion OPT, providing up to 36 months of temporary employment in the U.S.