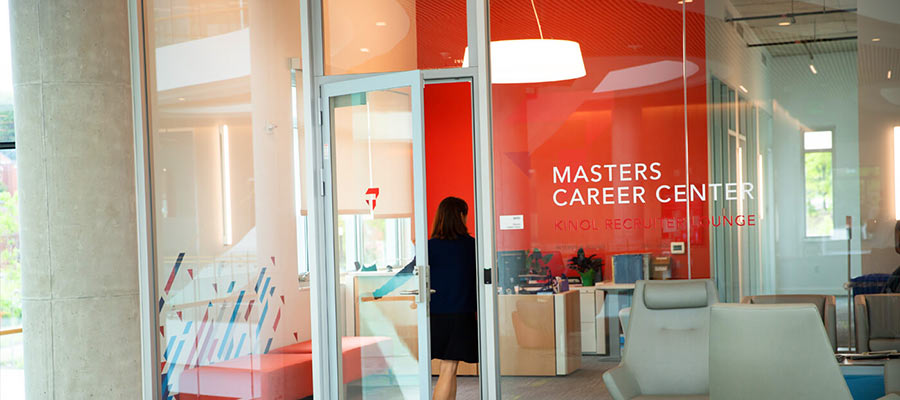 Tepper School Masters Career Center
The Masters Career Center is your coach and accountability partner as you navigate MBA career planning. 
Our mission is to guide and advise you in your career planning and job search. We provide a portfolio of services, including corporate presentations, one-on-one career counseling, mock interviews, workshops, online resources, self-assessments and on-campus recruiting.
We're proud of the fact that the Masters Career Center is ranked by Tepper School students and alumni among the leading MBA career centers in the world. Advising and benefits we provide include:
Industry Expertise
We are subject-matter experts in the career paths that our students typically pursue. The Masters Career Center counselors are all certified career coaches and offer the benefit of their many years of relevant industry and functional experience.
Job-Specific Coaching
We want to empower you with the resources and tools to explore and attain your career goals. Career counselors partner with you to explore your "fit" with various careers and help you understand what is required to achieve your goals.
Proven Techniques
The Masters Career Center is among the highest-ranked MBA career centers globally because we know and teach the most effective means of career planning, networking and interviewing. One-on-one career counseling and group workshops are designed to anticipate many of the questions and concerns you will have along the way.
Recruiter Relationships
We maintain an active dialogue with more than 200 top companies in order to provide a robust on-campus recruiting roster, a pipeline for job postings and connections for Tepper School club treks. Our counselors jointly manage student advising and employer relations in order to foster strong and effective recruiting partnerships.
Skills Development
We proactively collaborate with student clubs, third-party training providers and alumni to identify, assess and hone specific skills that are required for interviews, summer internships and beyond. Our goal as coaches, counselors and accountability partners is to equip you with effective, lifelong career management skills.