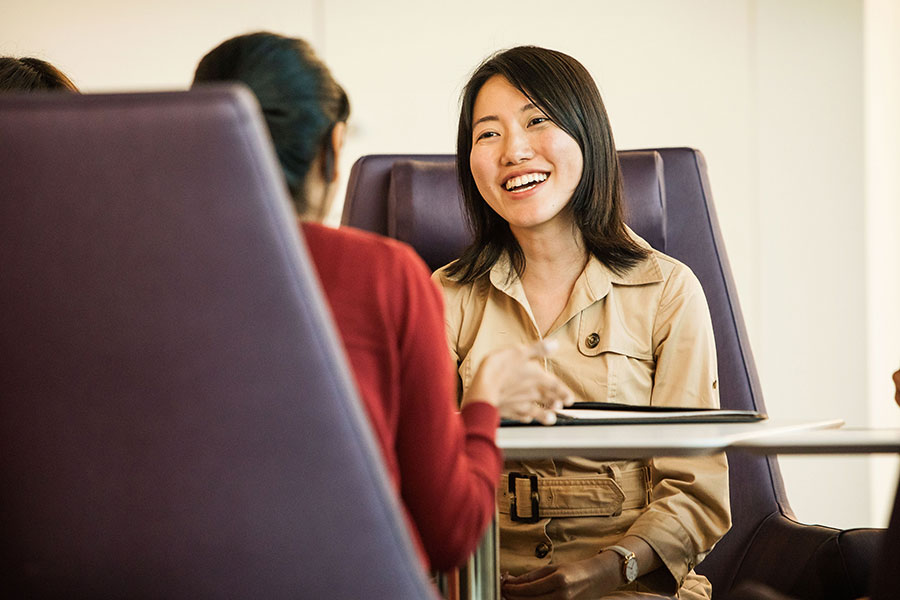 MBA Leadership Development
It's not enough to be the smartest person in the room. 
---
While hard work and smarts were key to your early career, post-MBA potential is measured not just on how well you perform — that's the assumed minimum — but on how well you manage people, build networks of influence, and share your innovative and visionary thoughts.
The Accelerate Leadership Center is the headquarters for all co-curricular leadership support within the Tepper School. We are dedicated to the development of your leadership potential and communication skills that will ensure your long-term professional success.
Here's what you can expect from Accelerate.
Discover and Take Stock
Incoming students begin their leadership journey by completing an assessment that provides a personal baseline for where their leadership skills currently lie. Upon completion of the assessment, students meet one-to-one with a leadership coach for detailed feedback and tips for enhancing their leadership skills.
Purvil Patel
"I was Peter Parker before he became Spider-Man ... I used resources that Tepper provides to help me build my confidence and the skills I needed to succeed."
Accelerate Leadership Certification Recipient
Tepper MBA Class of 2019
 Develop Your Toolkit
With opportunities for leadership coaching, peer communication coaching, and programming, Tepper MBA students have myriad touchpoints with the Accelerate Leadership Center throughout their time in the program. Each encounter with Accelerate is designed to enhance leadership skills, adding more tools to a students' toolkit, and preparing them for their internships and the working world.
Deploy Through Practice
With a student's personalized toolkit in place, it's time to put theory into practice. Specific behavioral opportunities, ranging from internships and jobs to student club leadership roles and team-based initiatives give our students ample opportunities to flex their leadership muscles.
Students who wish to fully immerse themselves in their leadership development join our Leadership Development Certification program where we create experiences that focus on self-awareness, reflection, and practical application of leadership principles. Each year, more than half of our students join the LDC.
Accelerate Program Offerings