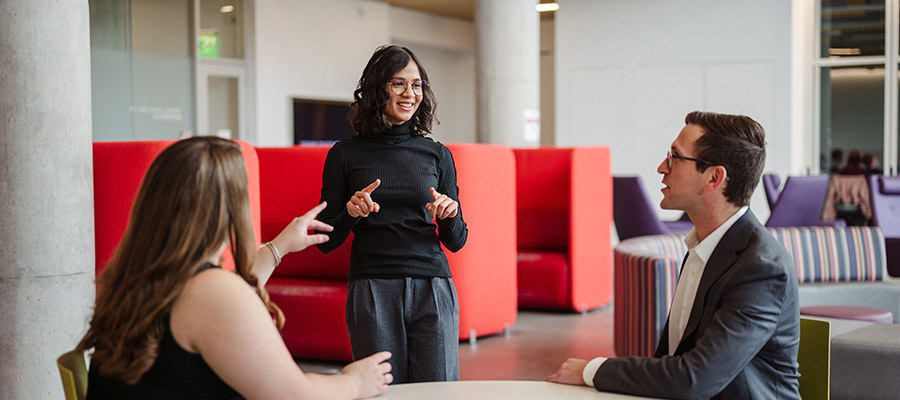 MBA Leadership Development
Become a Next-Generation Leader 
Your success as a leader depends on self-knowledge, empathy, and the ability to inspire tomorrow's workforce. Tepper's individualized leadership coaching will help you step forward as an innovative and visionary leader.
The Accelerate Leadership Center is the headquarters for all co-curricular leadership support within the Tepper School. Here's what you can expect from Accelerate.
Discover and Take Stock
You'll begin your leadership journey by completing an assessment that provides a personal baseline for where your leadership skills currently lie. After the assessment, you will meet one-to-one with a leadership coach to get detailed feedback and tips for enhancing leadership skills.
 Develop Your Toolkit
With opportunities for leadership coaching, peer communication coaching, and activities, you'll have myriad touchpoints with the Accelerate Leadership Center throughout your time here. Each encounter with Accelerate is designed to enhance your leadership skills, adding more techniques to your toolkit, and preparing you for internships and the working world.
Deploy Through Practice
With your personalized toolkit in place, it's time to put theory into practice. Specific opportunities ranging from internships and jobs to student club leadership roles and team-based initiatives give you ample opportunity to flex your leadership muscles.
To further immerse yourself in leadership development, you can join our Leadership Development Certification program, an experience that focuses on self-awareness, reflection, and practical application of leadership principles. Each year, more than half of our students join the LDC.
Accelerate Program Offerings