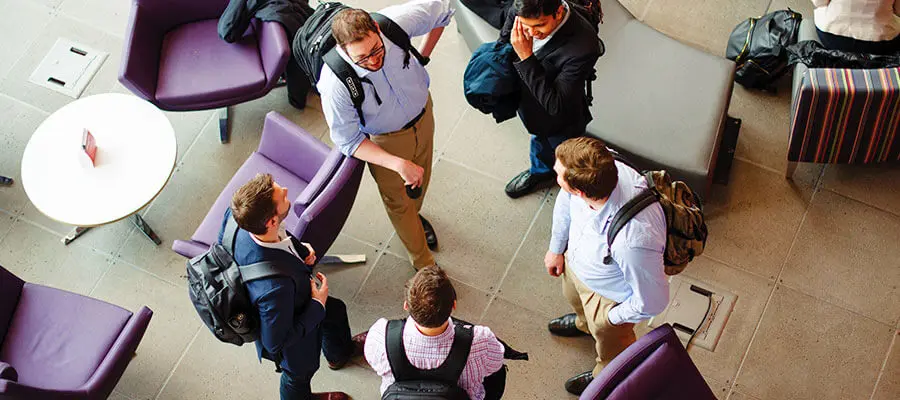 Frequently Asked Questions About the Tepper School Online Hybrid MBA
You can find answers to the most commonly asked questions about our Online Hybrid MBA here. Find the answers to other frequently asked questions in our application instructions.
How does the Online Hybrid MBA format work?
The program is made up of Access Weekends, live weekly online classes with faculty, and offline content.
Learn more about how it works.
What is an Access Weekend?
Access Weekends are opportunities for students to immerse themselves in the program through various activities which may include classes, Carnegie Mellon speakers, professional development workshops, leadership development, career management, and networking with other students. Access Weekends give you the opportunity to connect with the Tepper community, develop your skills, and build strong connections with your colleagues.
What's included in an Access Weekend?
When attending on-campus Access Weekends, we cover the cost of a hotel near campus so that you can focus on scheduled activities. Meals and transportation during the Access Weekend are also on us. 
How do weekly classes work?
Two classes per mini will meet twice per week for 75 minutes in the evening (with both east and west coast time slots) via an online platform that allows you to see and interact with faculty and classmates. Visit a class to see what it's like.
What does the offline content look like?
Each class includes offline content in addition to the weekly class sessions that you complete at your own pace. This may include lectures recorded by professors, assignments or group work to augment and reinforce the classroom learning.
Will I be able to handle the rigor of a Tepper MBA program while working full-time?
Absolutely! We carefully review your application to ensure that you have the experience and aptitude to thrive at the Tepper School. Once you are admitted, we are confident that you will be successful in the program.
We are mindful of the fact that you are a working professional. Students take classes just twice a week for 75 minutes; each class includes additional offline content that you complete at your own pace. It's a schedule that works for your busy, professional life.
How much time should I expect to spend on school work each week?
It depends on your comfort level with the material. You will attend two 75-minute live class sessions every week and then you can expect about 3-5 hours of offline content, assignments, readings and group projects that will require your attention. How long you spend per class will depend on your background. If this is the first time that you have been exposed to accounting, you may find yourself at the higher end of the time range during that mini.
Can I waive any classes?
Yes. We offer exemption exams for most of our core classes. If you pass the exam, then you can take an elective in its place that will better fit your academic and career goals.
Are career services available to online students?
Yes. Our online students have access to the same highly regarded Masters Career Center that other Tepper MBA students have. That means you have access to industry-specific career coaches, career-related workshops, preparation programs, and on-campus recruiting.
Can I utilize the Accelerate Leadership Center as an online student?
Yes. Students in the online program have full access to the Accelerate Leadership Center, which includes leadership workshops, a certificate program, and leadership coaching (done virtually).
Will I be able to build a strong connection with my classmates if I'm taking classes online?
Definitely. Between Access Weekends, weekly discussion sessions, and group assignments, our students make friends and professional connections that last a lifetime.
Can I apply my company tuition benefits at the Tepper School?
Check with your benefits office, but many of our students take advantage of their company tuition remission program to help fund their education. Since our program covers three calendar years, you may be able to use three years of benefits to reduce your out-of-pocket costs. Our Financial Aid office is available to answer your financial aid questions.
What are the application requirements for the online MBA format?
The application requirements for the online MBA are exactly the same as the full-time MBA requirements. See the application instructions for more information about the process.