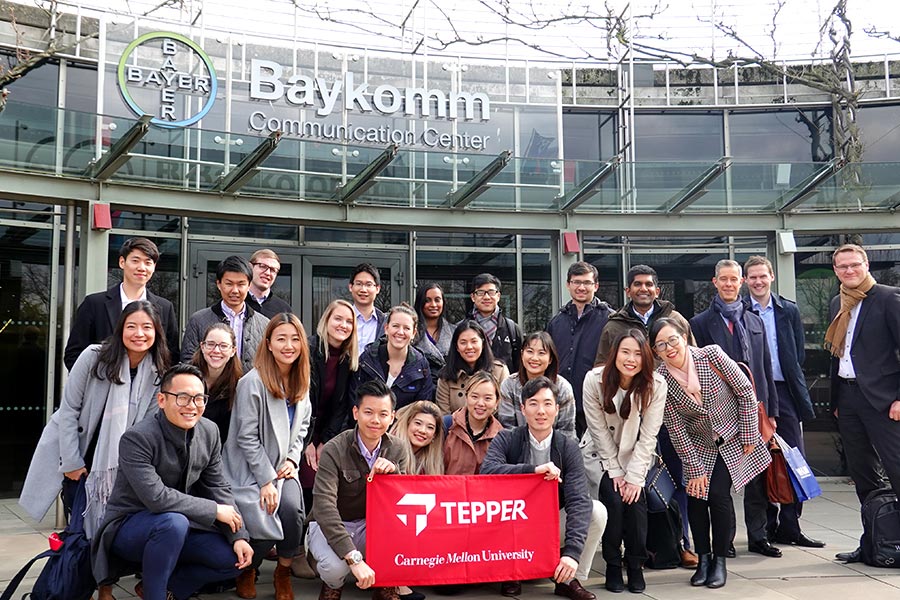 International Opportunities for MBA Students
The best global perspective is your own.
---
Outside of the classroom, Tepper MBA students can pursue opportunities to deepen their understanding of international business and explore other cultures. Through our global travel and study options, students may participate in an intensive four-week global study experience or be part of a student-led international trek.
Global Study Capstone Course 
For MBA students interested in studying abroad, two opportunities take place during the program: a four-week experience either in Germany or in Hong Kong and mainland China. Company tours and meetings with local business leaders expand students' understanding of business issues beyond the U.S. context.
Germany Global Study capstone: Participating MBA students will study with our partner school, WHU, Otto Beisheim School of Management, in Koblenz, Germany. Students can also travel to Berlin as well as Bratislava, Slovakia and Prague, Czech Republic.
Hong Kong Global Study capstone: The Chinese University of Hong Kong Business School is our partner for this Global Study capstone. Most classes take place in Hong Kong. Students also have the opportunity to travel to Macau, Shenzhen, and Guangzhou in mainland China. 
Global Treks
Student-led international adventures between semesters and during spring break provide an opportunity for MBA students to experience a different culture; build relationships with classmates, alumni, and international business leaders; and relax and have fun!