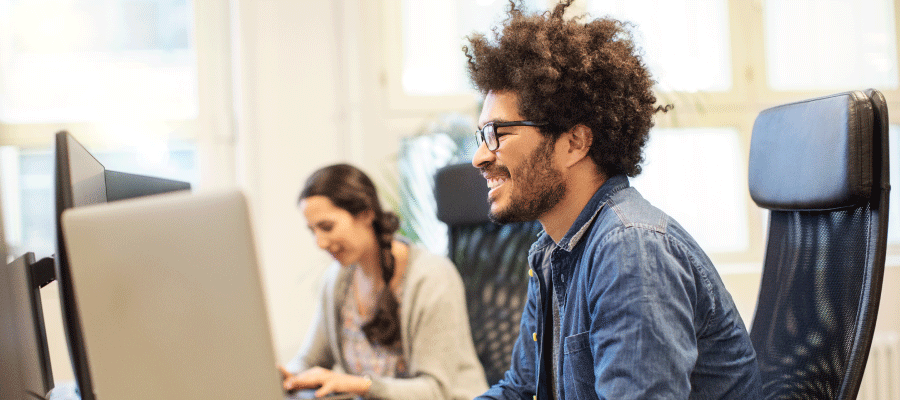 Master of Science in Management Curriculum
Customize Your MSM Degree with a Flexible Curriculum
The business world is agile, innovative, and full of opportunity. Your master's degree should be the same.

Our MSM degree is a two-semester program that will light the spark in your business career by equipping you with business fundamentals and the opportunity to specialize in Finance, Marketing, or Operations.
A Data Informed, Human Driven Approach to Business
The Intelligent Future℠ needs intelligent leaders. What better place to become one than Carnegie Mellon's Tepper School of Business, the birthplace of the data-informed, human driven approach to decision-making?
Our curriculum reflects our analytical approach to business and provides students with exposure to emerging technologies. Here, you'll be challenged with practical applications of your studies through project-based work.
MSM Curriculum - YEAR ONE
SUMMER - Orientation (4 weeks, 3 units):
Introduction to Business
Job Search Prep
Math Prep
MINI SEMESTER 1
Managerial Economics
Finance I
Probability & Statistics
Accounting I
MINI SEMESTER 2
Operations Management
Marketing Management
Presentations
Elective
MINI SEMESTER 3
Optimization
Behavioral Strategy & Macro-Management
Elective
Elective
MINI SEMESTER 4
Elective
Elective
Elective
Elective
Tailor Your MSM Degree to Your Career Goals
Tailor your career path by completing a specialization in Finance, Marketing, or Operations. A specialization requires 5 content area courses (30 units):
Three required: cover content applicable to most roles in the area
Two elective: more advanced content or explore sub-areas
MSM Specialization Areas:
Finance
Want to further your knowledge in Finance? While all MSM students take a core course in Finance, if you choose to specialize in Finance, you'll take a deeper dive into Finance with courses in Corporate Finance and Investment Analysis. You'll also have the opportunity to take additional Finance elective courses of your choice.
Marketing
All MSM students will engage core Tepper Marketing courses which cover the fundamentals of creating, communicating, and delivering value to customers. In addition, Tepper Marketing courses teach students to leverage analytical techniques and skills in order to drive and make informed decisions. With a Marketing specialization, you'll have the opportunity to take additional courses in Digital Marketing, Marketing Research, and Consumer Behavior.
Operations
MSM students who participate in the Operations specialization will be primed for careers that support the design, delivery, and development of products and services across a variety of industries. As part of the Operations specialization, you'll have the opportunity to take additional courses in Six Sigma, Operations Strategy, and Service Management. 
MSM Specializations: Required and Elective Courses**
Required Specialization Courses
MARKETING
Digital Marketing and Social Media Strategy
Marketing Research
Consumer Behavior
OPERATIONS
Six Sigma 
Operations Strategy
Service Management
FINANCE
Finance II
Corporate Finance
Investment Analysis
Any 2 other marketing electives.
Any 2 other OM electives.
Any 2 other Finance electives.
Possible Electives May Include

Technology Strategy
New Product Management
Consumer Brands
Supply Chain Management
Risk Analytics
Sustainable Operations
International Finance
Debt Markets
VC and the Finance of Innovation
Electives
Taking courses outside of the core curriculum and your specialization is a key component to Tepper's MSM program. Electives build upon the foundations that are set in core courses and allow students to develop deeper knowledge of these areas. You'll have the opportunity to take electives across Tepper's various areas of instruction, including Communications, Strategy, and more. MSM students may choose to begin their leadership journey by taking courses in Organizational Behavior like Negotiations or improve analytical skills in End-to-End Business Analytics. 
**Courses are subject to change