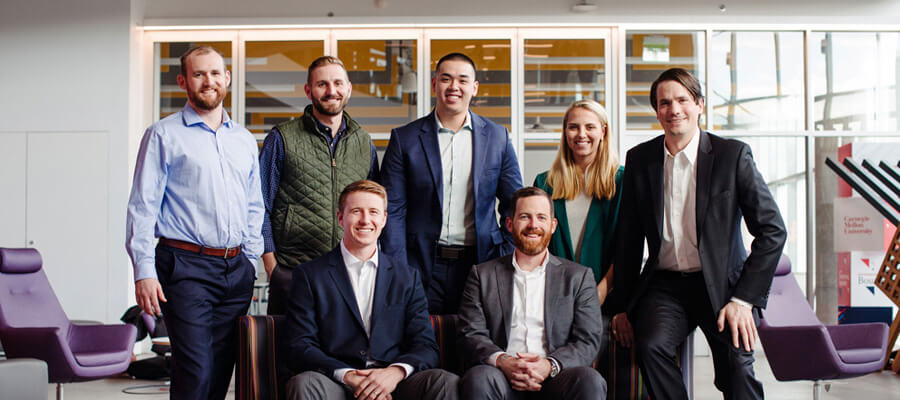 MBA Veteran Community
At the Tepper School, veterans are challenged, mentored, and educated to become the next generation of business leaders while preparing for a rewarding and successful civilian career.
Camaraderie and leadership are vital characteristics of a successful tight-knit community and are core to the Tepper MBA program and experience. Each MBA class at includes veterans from multiple nations and service branches.
An instant connection with your classmates provides you with a strong support team who will help you to navigate coursework, network to expand your career options and adapt to the lifestyle change that occurs when transitioning from a military career to a civilian one. Staff and faculty prepare you for career opportunities across every industry and with the most prestigious firms in the world. You will have the resources you need to create a new, successful career path.
Tepper Veterans Club
The Tepper Veterans Club supports prospective military MBA candidates as they navigate the admission process, provides career information and alumni veteran network support during the summer and full-time career search process, and maintains the camaraderie and esprit de corps in business school that is found in the military. The club is composed of both American and foreign veterans, as well as active duty service members.
The Tepper Veterans Club is open to the Carnegie Mellon community, in particular to veterans and current members of the U.S and foreign militaries, their families, and any other students interested in learning more about the experiences, qualities, and characteristics of veterans.
MBA Partnership Organization: Military MBA
The Tepper School of Business is a proud member of Military MBA. Military MBA is an education network for military officers and non-commissioned officers who are interested in obtaining and applying their MBA graduate degrees for career advancement.