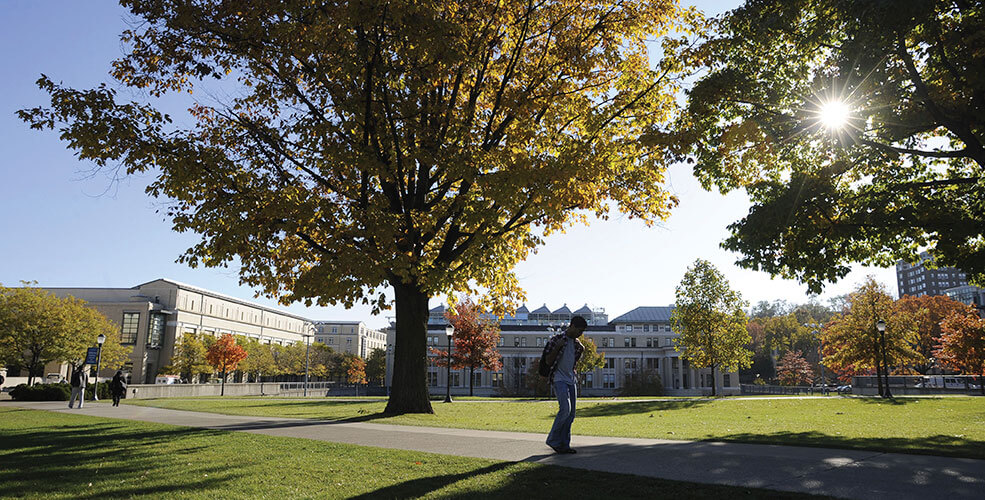 MBA Life at Carnegie Mellon University
The Tepper School and Carnegie Mellon provide exceptional access to campus-wide programs, coursework, clubs, and professors through our interconnected campus model.
---
Visit our campus, and you might bump into a festooned bagpiper, lively robot, or fast-moving Buggy. But what most visitors enjoy about the beautiful Carnegie Mellon campus is the unmistakable culture of innovation. Ideas, knowledge, discovery, and exploration are part of our DNA. 
A Community Marked by Innovation and Collaboration
Carnegie Mellon is world-renowned for pioneering artificial intelligence and advancing numerous technology fields such as robotics, big data, cybersecurity, autonomous motion, and software engineering. Establishing the Tepper Quad at the center of campus is reflective of today's innovative business models — embedding multifunctional, interconnected collaboration among the key disciplines that drive progress and innovation.
Carnegie Mellon's mission focuses on the creation and dissemination of knowledge, to serve our students and to encourage the exchange of ideas where discovery flourishes. Ultimately, it is these goals that help us solve the problems that matter in order that our graduates and faculty will make a difference in the lives of people around the globe.
Carnegie Mellon encourages all students to pursue innovation and collaboration, connecting, and engaging with the multifaceted Carnegie Mellon community. Tepper School students are surrounded by high-achieving students pursuing exciting research in a wide variety of fields through the university's world-class offerings in engineering, computer science, robotics, art and entertainment, life sciences, and music. 
"My Heart Is in the Work"
The university was founded in 1900 by well-known industrialist Andrew Carnegie, whose motto was "my heart is in the work." We live our founder's motto each day through a commitment to exceptional standards of academic and research rigor as well as a commitment to every student's desire to discover and achieve his or her personal and professional dreams and goals.