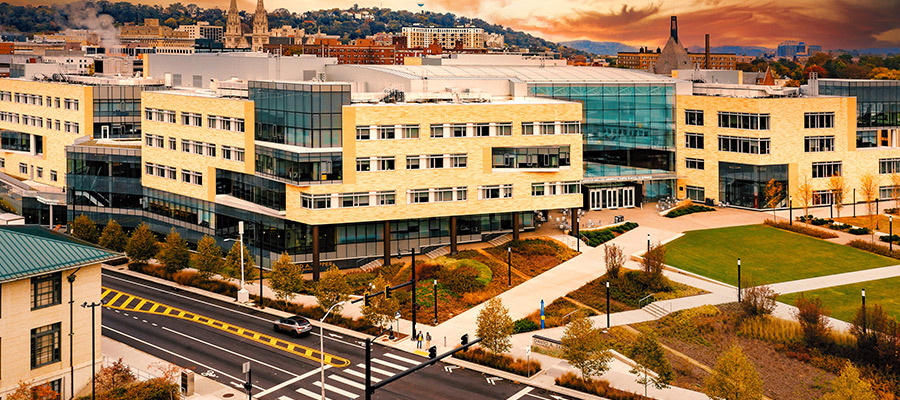 MBA Life at Carnegie Mellon University
Add a cross-disciplinary edge to your MBA degree with classes at any of Carnegie Mellon's six other world-renowned schools.
---
At the Tepper Quad — centrally located on CMU's campus and buzzing with possibility — you can exchange ideas with robotics experts, drama students, health care pros, and environmental researchers.  Ideas, knowledge, discovery, and exploration are part of the CMU DNA.
As a Tepper student, you'll draw on the brilliant minds and depth of knowledge that power innovation across campus.
"Any time you're in the Tepper Quad or out somewhere, Carnegie Mellon people are asking each other what they're working on. People are genuinely interested in topics outside their niche."
Erik Steeb, MBA 2022 (he/him)
Associate Director
Wunder Capital
A Community Marked by Innovation and Collaboration
Carnegie Mellon is renowned for leading next-generation advances in artificial intelligence, robotics, big data, cybersecurity, autonomous motion, and software engineering. Establishing the Tepper Quad at the center of campus reflects today's innovative business models — embedding multifunctional, interconnected collaboration among the key disciplines that drive progress and innovation. Our culture encourages cross-campus, multidisciplinary efforts that draw on the diverse perspectives of individuals to make a positive impact on the world.
Carnegie Mellon's mission focuses on creating a collaborative environment open to the free exchange of ideas, where research, creativity, innovation, and entrepreneurship can flourish. Ultimately, it is these values that help us take on problems that matter. Our graduates and faculty make a difference in the lives of people around the globe. 
A big draw to Tepper was the chance to take classes from other Carnegie Mellon schools. I've taken applied machine learning, designing human-centered software, and others, and that's been a really valuable part of my MBA.
Jack Guda, MBA 2022 (he/him)
Product Manager
Microsoft
"My Heart Is in the Work"
The university was founded in 1900 by industrialist Andrew Carnegie, whose motto was "my heart is in the work." We live our founder's motto each day — not only through a commitment to exacting standards for academics and research, but also by celebrating each student as an individual who brings their unique strengths and insights to a collective endeavor.