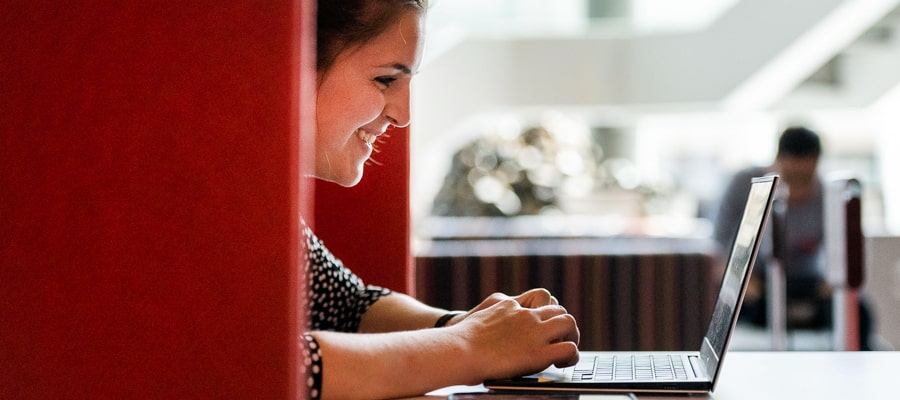 MBA Admissions Events
While we can't see you in person quite yet, there are countless ways for you to connect with us virtually.
Virtual Fairs
While we would love to meet you in person, virtual fairs are the next best option! Join us to meet our admission officers and learn about how the curriculum, career support, and culture at the Tepper School will support your experience and career aspirations.
Connect With Current Students
Tepper Student Convos
Tepper Student Convos are your chance to chat with a current student about their experience. We encourage you to ask questions about why they selected Tepper for their MBA, their experiences inside and outside of the classroom, their career plans, and how they would describe the Tepper community. 
Tepper Student AMAs
Ask Me Anything events are also hosted by students and each one covers different topics including academics, the social scene – life in Pittsburgh and student social clubs, life at Tepper outside of the classroom – extracurriculars, affinity clubs, Graduate Business Association as well as Recruiting & Professional Clubs.
Discover the Difference Webinars
Attend our Discover the Difference webinars to hear about MBA life at the Tepper School directly from students who represent various diverse communities.
Application Workshop
Join us for a webinar to learn how to make your application as strong as possible.
Information Session Webinar
Join us for an online webinar to learn more about the Tepper School MBA program and the admission process. Sessions are only an hour long and include opportunities to ask questions.
Demystifying the Tepper MBA Interview
Join us for a webinar that pulls back the curtain on the Tepper MBA interview process and provides insight into the elements of a successful interview.
Online Class Visit
There's no better way to learn about our MBA classes than to participate in one. Join us from wherever you are, because the class is online.

Class visits are in high demand, so we ask that you please limit your registrations to no more than two class visits. We suggest that once you attend an online class, you consider registering to attend an upcoming Tepper Student AMA, other admissions events, or connect with some of our MBA student ambassadors.
Virtual Tepper Quad Tour
We're disappointed that we can't host you in person, but we'd still love to give you a tour, virtually. Join MBA student Katie on a walk through the Tepper Quad to see all that life at Tepper has to offer.
Tepper Talks
At each Tepper Talk, you'll find out what makes the Tepper School MBA program different, learn how the Masters Career Center can change your career trajectory, and meet alumni and fellow prospective students to start building your network.
Diversity Weekend
At Diversity Weekend, Tepper School representatives highlight the value of the MBA and the strengths of our program and showcase the differences and advantages of our diverse community, program, and global alumni network. We also share tips on the MBA application process, as well as financing your MBA.