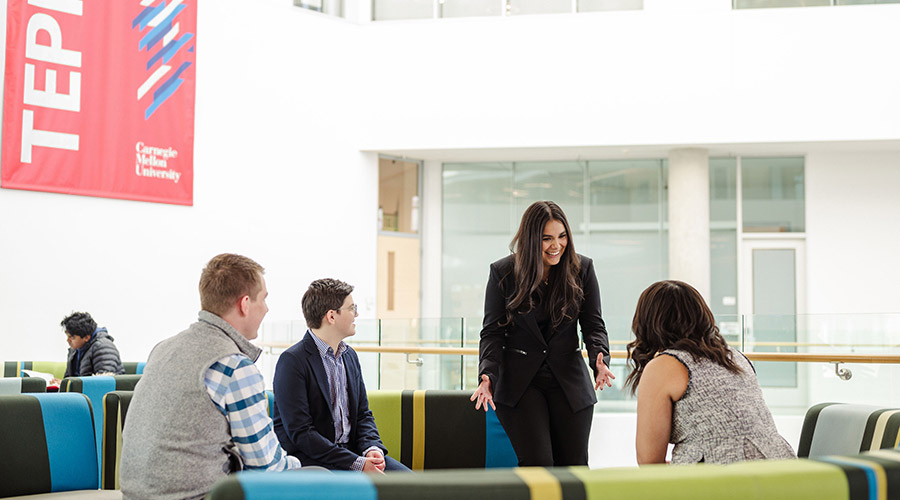 What is the ROI of a Tepper MBA?
We understand that return on investment is a critical factor when considering an MBA program. Will your commitment of time and money pay off?
At the Tepper School, the answer is yes. In addition to the unparalleled skill set that you will build through leadership development and advanced analytics, a Tepper MBA accelerates your career trajectory. Tepper 2021 MBA graduates saw an average increase on pre-MBA salary of 136 percent.
By the Numbers
$148,067
Mean base salary of 2022 MBA graduates
97%
2022 Tepper MBA grads who report job offers within three months
Factors That Influence Your MBA ROI
How you finance your graduate degree and the quality of your post-MBA career placement will significantly impact your MBA ROI. That's why we provide high-caliber financial aid and career services.
As you're working through the details of how to pay for your MBA, the HUB can help guide you through the process. Through the generosity of alumni, friends, corporations, and foundations, a variety of scholarships and fellowships are awarded to full-time and part-time MBA candidates.
To ensure that you are ready to land the right job upon graduation, the Masters Career Center works with you from day one, providing one-on-one career counseling, mock interviews, workshops, online resources, self-assessments, and on-campus recruiting. More than 80 percent of Tepper MBA graduates find jobs through the Masters Career Center.