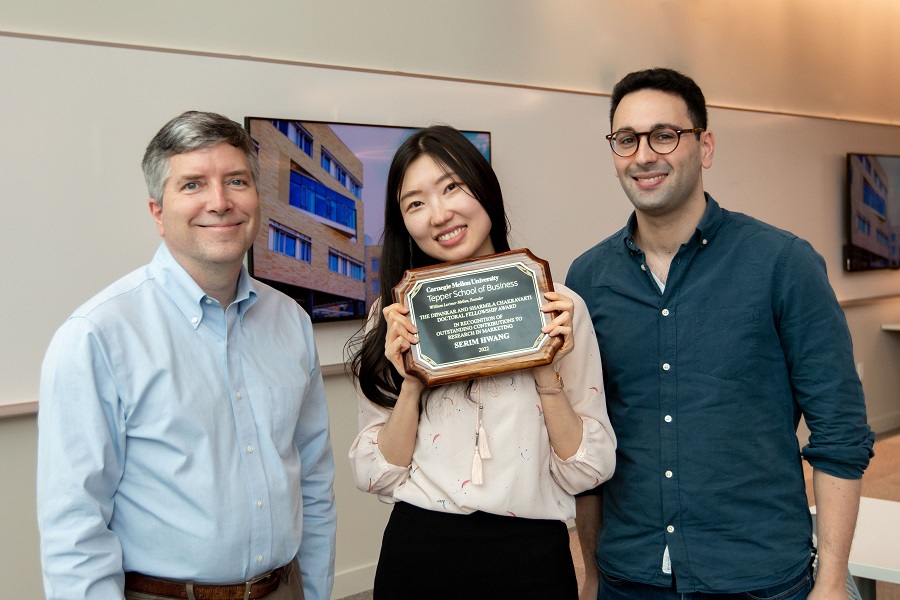 Ph.D. Program in Marketing
Studies include brand-choice models, analytical and structural models, marketing/operations interface, marketing/IT interface, and theories of consumer behavior.
The Tepper School's doctoral program in marketing has a reputation of producing highly skilled and innovative researchers who are well grounded in the basic disciplines underlying marketing thought and who practice and create the state-of-the-art in marketing. Most go on to become faculty members at premier academic institutions throughout the world.
The Ph.D. program offers one of the most complete and solid sequence of Ph.D. courses among leading universities in the world. Students usually take one and a half years of required courses offered by the marketing, economics, psychology and statistics departments. After passing the qualifying exam at the end of one and a half years, they begin the research stage, find advisors according to their own research interests, and start writing their Ph.D. dissertation under the guidance of the advisors. Typically, it takes four to five years to complete the program and obtain the Ph.D. degree. In addition to rigorous course work, students benefit from the weekly seminars in which scholars from all over the world come present their most recent research. Students also have their own workshops in which they present their own research work.
Research
The Tepper School boasts excellent faculty, specializing in adopting analytical, empirical and consumer behavior approaches to address fundamental marketing problems. Historically, Tepper School faculty and graduates have made fundamental contributions to marketing theory in the areas of brand-choice models, analytical models for marketing strategy, empirical structural models, conjoint analysis, marketing and operations management interface, marketing and information systems interface and theories of consumer behavior.
A few examples of research topics that students and faculty members have recently worked on are:
How a manager allocates marketing resources to various alternatives such as promotion, advertising and sales force. By developing decision support systems to aid managers, we hope to understand better the allocation problem and to improve marketing efficiency.
How to design new products while simultaneously considering consumer preferences, engineering constraints and design aesthetics.
How to understand latent preferences of online customers by statistically analyzing their web browsing patterns.
Psychological processes that drive consumer choice among alternative products. How we can help them make better decisions.
Starting from 1971, the Tepper School has produced a significant number of leading researchers in marketing, including at least ten chaired professors at top-ten business schools and many other world-renowned marketing researchers (high ratio given the size). Recent students who graduated from the Tepper School marketing program have obtained faculty positions at top research schools such as Chicago, Columbia, Duke, Stanford and New York University. More recent graduates have won dissertation awards from the American Marketing Association, the Association for Consumer Research, and the American Psychological Association.
Given the size of our Ph.D. program, these achievements of our Ph.D. alumni demonstrate the outstanding quality of our Ph.D. program and also win us the reputation as one of the best schools that produce the most promising marketing researchers.
As a Ph.D. student of marketing at the Tepper School, you will notice a few things that distinguish your experience at the Tepper School.
Outstanding Training in Economics, Psychology and Statistics Foundations
As a tradition, our students are required to obtain rigorous training in economics, econometrics, psychology and statistics. The comprehensive and rigorous training equips our students with a solid understanding of economics and psychology, the state-of-the-art research techniques, and cutting-edge approaches for solving fundamental research problems. Historically, this approach has had high payoffs - our students are not only capable of solving ground-breaking research problems using the most cutting-edge techniques, but also demonstrate great endurance in their future academic careers.
Comprehensive Sequence of Marketing Doctoral Courses
We offer the most complete sequence of Ph.D. courses. You will find many Ph.D. courses offered by marketing faculties that cover their research expertise. These marketing Ph.D. courses progressively and comprehensively introduce cutting-edge research methodologies, the development of literature in each discipline, and the most recent research interest of each faculty member. Faculty are almost available 24/7 to work with Ph.D. students. They also spend an enormous amount of time preparing students for their job market. Most students continue working with faculty at CMU even after graduating and enjoy a lifetime of support and friendship from them.
Close and Caring Working Relationship Between Faculty and Students
At the Tepper School, our most important mission is to produce the best Ph.D. students. We treat Ph.D. students as junior faculty and the excellent mentoring system guarantees enough time from faculty to each Ph.D. student. The school typically admits only a few students each year. The doctoral program is intentionally kept small in order to increase faculty-student interaction and to take advantage of the business school's resources. They develop, in close conjunction with the faculty members, flexible programs addressing their specific research interests. Our students have access to award-winning faculty - many of whom are leaders in their field. Our faculty works closely with students creating new knowledge on a daily basis with their students.
Inspiring and Innovative Inter-Disciplinary Research Environment
Recognized for our unique interdisciplinary environment, students are often encouraged to work across departmental lines. As a result, our graduates have opportunities to engage in groundbreaking research and sharpen their ability to solve complex problems through leadership and collaboration.
In summary, the marketing group has a strong commitment to research and devotes considerable resources to training future scholars. We emphasize the development of sophisticated, state-of-the-art research skills that are required to solve fundamental research problems and create new knowledge in a chosen area of marketing. The Ph.D. program welcomes applications from candidates from all countries with distinguished academic backgrounds who are interested in pursuing a career in research universities. Admission to the marketing program at the Tepper School offers the student an opportunity to continue in this tradition of high achievement and excellence.
Research Topics
The research focus of our program directly translates in their early involvement in research projects. Our doctoral students work closely with faculty members to produce high quality research in several relevant marketing topics.
Behavioral and Experimental Economics
Charitable Giving and Nonprofit Marketing
Consumer Financial Decision Making
Consumer Happiness/Satisfaction
Electronic Commerce
Hedonic Adaptation
High Tech Marketing
Judgment and Decision Making
Micro-marketing
Optimal Pricing Strategies
Service Productivity and Performance Pay
Sports Marketing and Celebrity Endorsements
Structural Estimation Methods
Two-sided Market Pricing
Please visit our Ph.D. Student Profiles page to view the profiles of our current doctoral candidates.