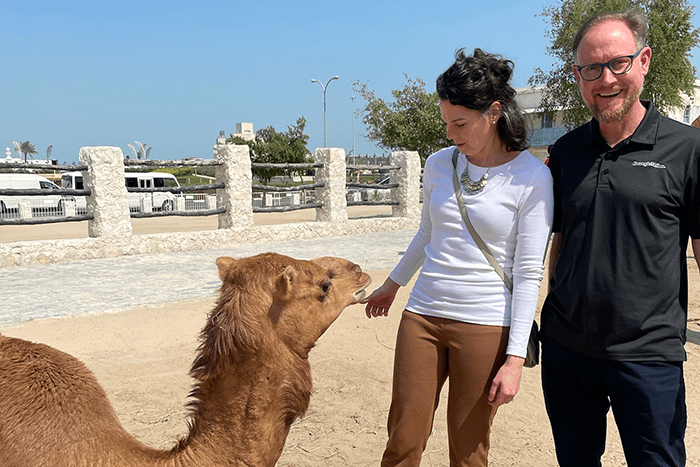 May 30, 2023
Building Connections with Our Colleagues in Qatar
Earlier this year, members from the Office of Human Resources traveled to Doha, Qatar to deliver training, facilitate team building and build relationships with CMU-Q staff members. Training manager Adam Marks and HR business partner Heidi Bachner spent a week meeting with colleagues and exploring the Qatar campus.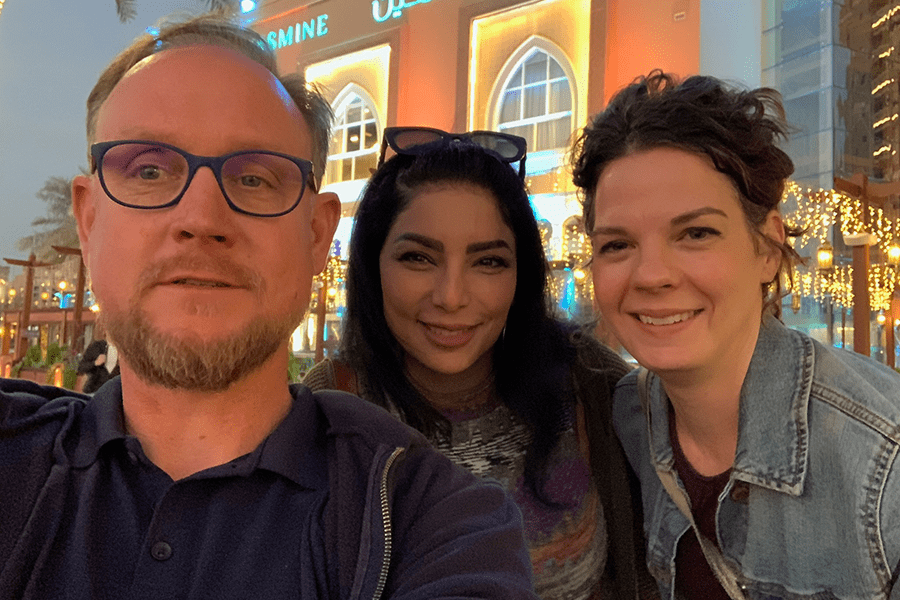 Both Bachner and Marks appreciated the opportunity to visit Doha and experience a bit of campus life there. Bachner said of their trip, "What struck me most about Qatar was the incredible diversity of people from all over the world in every place we visited. I found the vibrant mix of people very energizing. It was also fantastic to take advantage of the excellent food scene and we shared many outstanding meals with our CMU-Q colleagues."
Marks added, "I agree with Heidi, the diversity of people and all the different languages and cultures was amazing. I had never been to the Middle East before and was not exactly sure what to expect but Doha was a very beautiful city."
During the visit, Marks led DiSC training sessions for several of CMU-Q's teams. DiSC sessions provide insights into your own working style as well as the styles of others. Participants prepare by taking an assessment to determine their personality type and priorities. During the session, they share their results with the team. This shared understanding can help teams communicate better and improve working relationships.
Marks also conducted two sessions designed for staff supervisors. The sessions addressed performance management, setting expectations, workforce planning, corrective actions and hiring. This training ensures that staff supervisors have the tools they need to effectively lead their staff. Participants come away with an understanding of core HR concepts.
Bachner used her time in Qatar to forge connections with CMU-Q staff. She was able to build important relationships that would be difficult to cultivate through a Zoom call. "It was great to have conversations with faculty and staff from various areas of the CMU-Q campus to learn more about their priorities, challenges and needs," said Bachner. "It was especially rewarding to contribute to training for supervisors and to meet with members of the IDEA (Inclusion, Diversity, Equity, Action) Committee to discuss strategies for educating hiring teams on best practices in recruiting and interviewing."
Marks and Bachner were able to spend some time off campus exploring the area. "I'm a big soccer fan and Qatar just hosted the World Cup, the first country in the Middle East to do so," said Marks. "So it was amazing to me to see the stadiums that I had watched on television in person. They were in the process of taking some of the stadiums down but I was able to get a few pictures."
Bachner enjoyed the region's tradition of falconry. "Over the past few years, I have become increasingly interested in (obsessed with?) birds, so I was in heaven visiting the Falcon Souq and Falcon Hospital at Souq Waqif. It was incredible to be so close to these amazing creatures. It was also lovely to be out and about in the warm sun in contrast to the cold, gray February weather in Pittsburgh."
Looking ahead, the Bachner and Marks agreed that their time with staff members in Qatar set the foundation for a meaningful partnership. Said Marks, "Conducting a DiSC session with a group and spending three hours really getting to know them creates a lasting connection, and I think this applies with the staff at CMU-Q. I can't speak highly enough of their engagement in these sessions and the hospitality they showed us throughout."
Bachner added, "The trip gave me the opportunity to develop a more nuanced understanding of the culture of CMU-Q. The conversations we had during our trip set the stage for future collaborations on professional development opportunities and improved support for employees at CMU-Q. I'm excited for our partnership in these areas."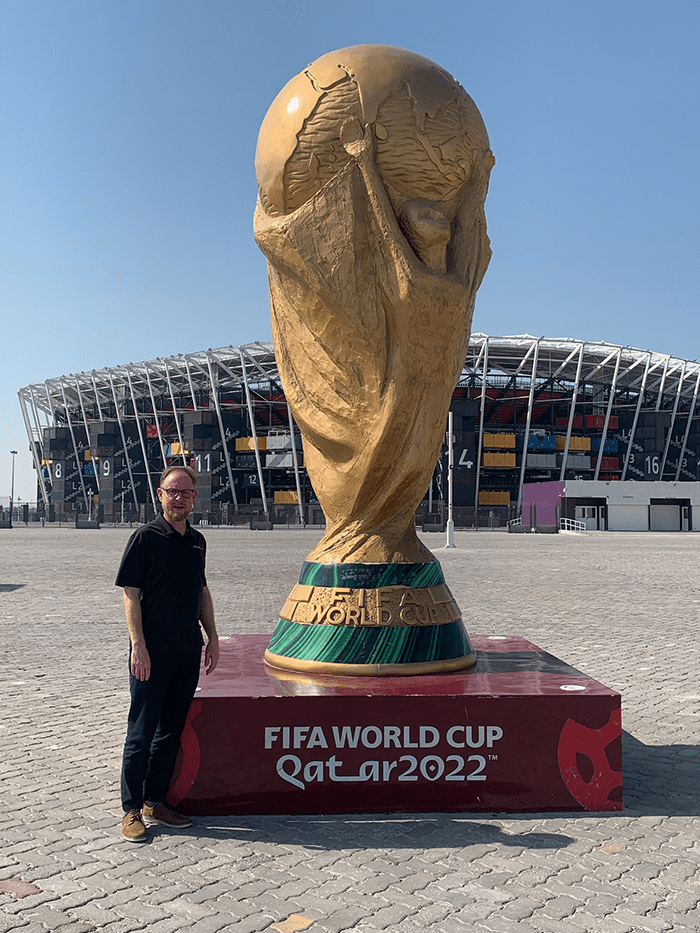 Marks, an avid soccer fan, poses with the FIFA World Cup statue.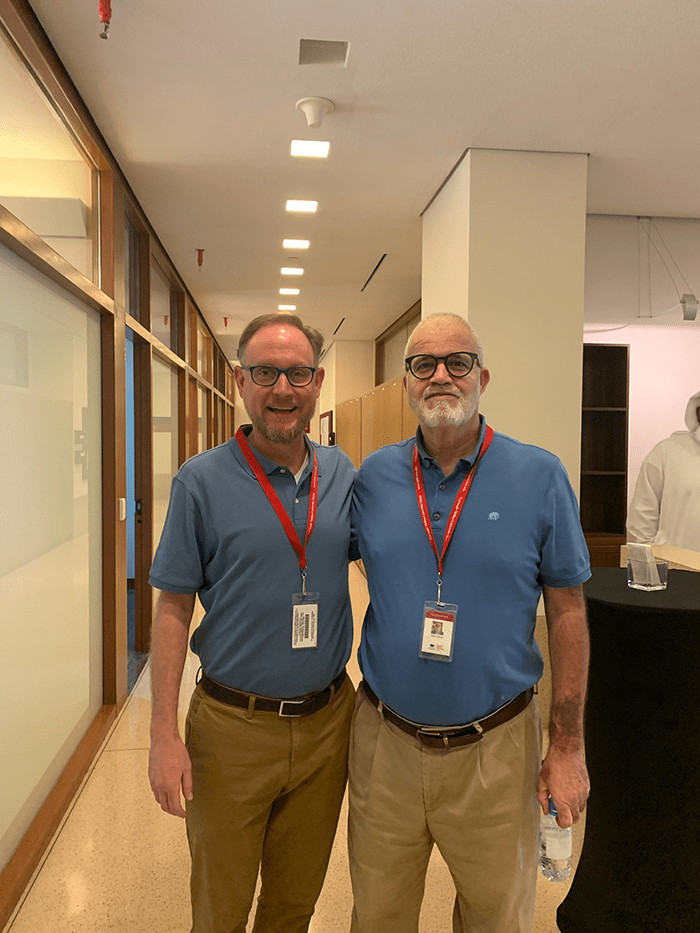 Marks twinning with Taher Giaedi, CMU-Q's director of Human Resources and Operations