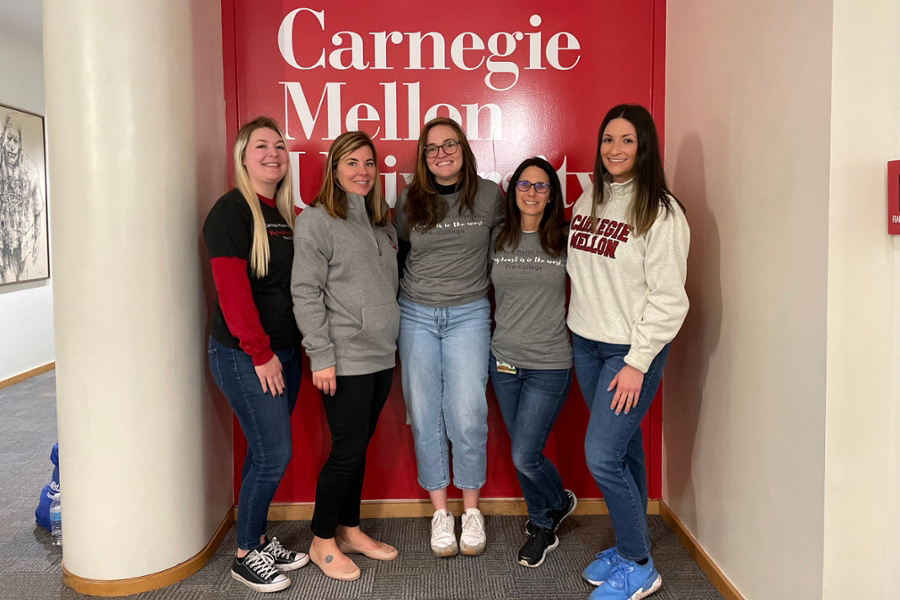 August 23, 2022
Staff Highlight: HR Strategic Initiatives
As part of the continuing Office of Human Resources Staff Highlight series, we would like to introduce you to members of the HR Strategic Initiatives team. This team's responsibilities include managing HR's strategic plan projects and associated initiatives, HR policy and compliance, facilitating completion of Child Protection Clearances (Act 153) for the campus community and managing the minor program registration process to support compliance with the university's Policy on the Protection of Children in Carnegie Mellon Programs, Activities and Facilities.
Introducing the Team
Each member of the Strategic Initiatives team plays an essential role within the team as well as the Office of Human Resources:
Karen Eck, Senior Director of HR Strategic Programs and Services: Karen serves as the leader of the Strategic Initiatives team and provides support and guidance to the team on all policy and compliance and child protection related matters. With her oversight, the Strategic Initiatives team works to collaborate effectively and efficiently within and outside the Office of Human Resources to drive HR projects and initiatives forward while also contributing to the university's environment of compliance. Karen also serves as the project manager on many key HR projects and initiatives.
Dawn Fisher, Manager of HR Policy and Compliance: Dawn supports the development, implementation and ongoing review of HR policies and guidelines, interacts with auditors on HR audit related matters, and manages the department's compliance monitoring and self-audit program.
Holly Ryan, Senior Child Protection Operations Specialist: Holly manages and monitors compliance around the registration process for all university programs, activities and courses involving minors, including facilitation of Child Protection Clearances for those directly interacting with minors. Holly meets regularly with members of campus involved with programs for minors to provide guidance on policy requirements. Holly will be leaving Carnegie Mellon University as of September 1, 2022. Her position has been posted and will be reporting to Karen Eck; please view the job posting for a full description and/or to apply.
Markie Harrison, Child Protection Operations Specialist: Markie supports the process for registration and monitoring programs involving minors. Markie provides an overview of Child Protection Clearances and the university's associated requirements at the monthly New Hire Orientation.
Katie Ludwig, Recruiting Operations Specialist: Katie is responsible for managing the pre-employment background check process for all staff hires, including monitoring and reviewing results to ensure they comply with university policies, procedures and applicable employment laws. Please note that Katie's role, and the Background Checks function, will be transitioning beginning with the new academic year from the HR Strategic Initiatives team to the Talent Strategy team.
Resources and More Information
The Strategic Initiatives team is here to support and drive forward the strategic priorities of the department as well as mitigate risks, maintain compliance, and protect the safety and well-being of the campus community.
For more information on our work as it relates to programs involving minors and child protection, please reach out to Child Protection.
For information or questions relating to background checks, please reach out to Background Checks.