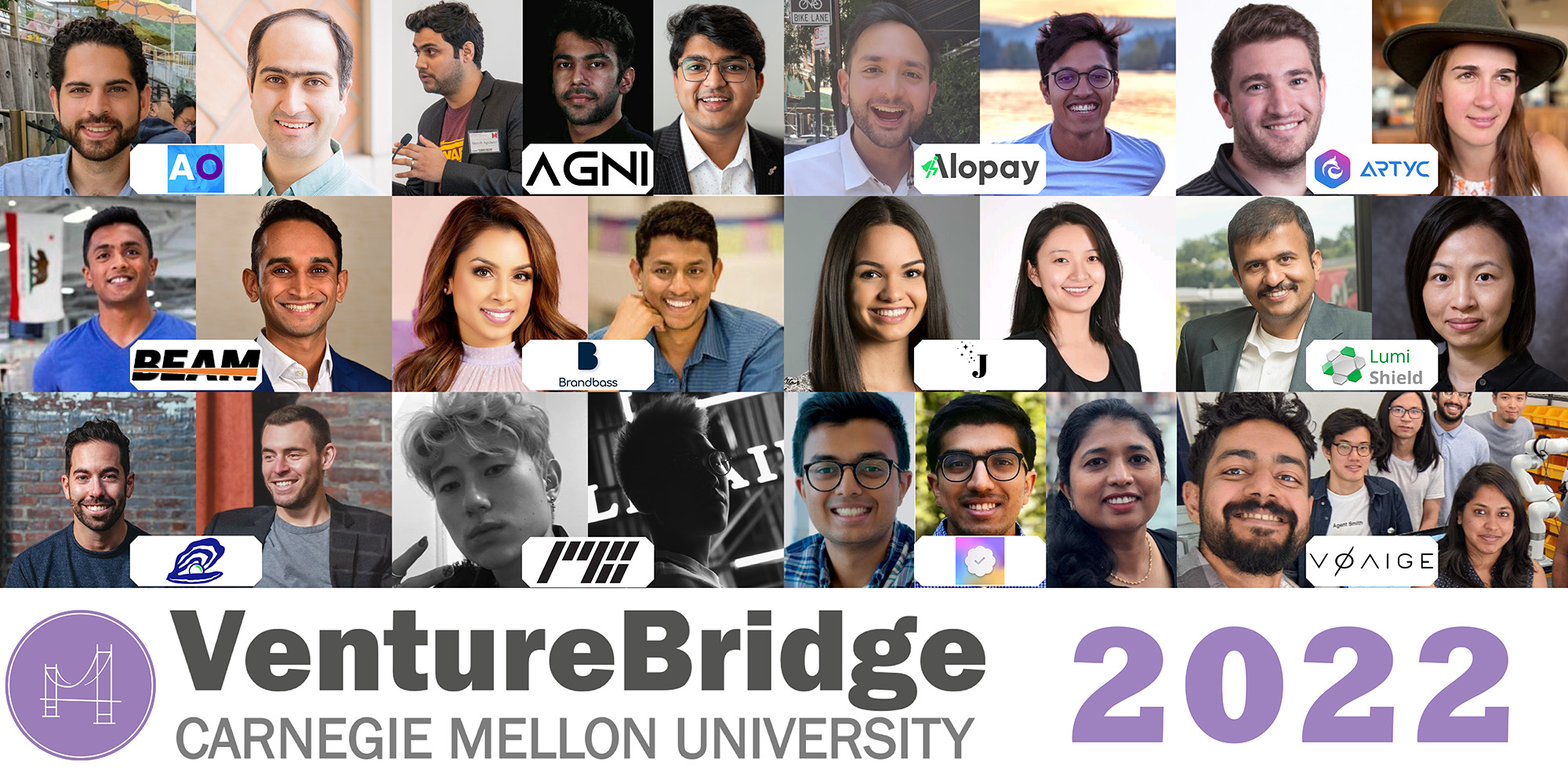 Meet the VentureBridge '22 startups
June 14, 2022 - Namrata Banerjee
The VentureBridge program, part of the Swartz Center for Entrepreneurship at Carnegie Mellon is excited to announce its investment in 12 startups headquartered out of San Francisco, New York, and Pittsburgh, representing brilliant and ambitious alumni founders of Carnegie Mellon, Emory, Harvard, NYU, Rochester Institute of Technology, Stanford, University of California at Santa Barbara, Georgia Institute of Technology and University of Missouri at St Louis. 
These 12 startups are engineering innovative solutions to combat corrosion, decarbonize cold chain logistics, improve indoor and outdoor heating efficiency, convert future receivables into income generating assets, pre-packaged options trading for casual traders, help small businesses develop high-quality short-form content, make giving gift cards exciting, help small businesses facing labor shortage with easily re-programmable robotic arms, aid surgeons performing cochlear implantation surgery reduce outcome variability, blend the fashion (physical) and digital (metaverse) worlds, build the next-generation on-chain protocols and professional tools where individuals own their information, and bring efficiency to the legal contract reviewing industry. 
Congratulations teams! 
---
Lumishield
Vertical: CleanTech, Material Science
Founder: Hunaid Nulwala, PhD Material Science, UC Santa Barbara, Rochester Institute of Technology Chemistry
LumiShield has developed a sustainable, high performance protective coating technology to combat corrosion problems ($2.3 Trillion/year) and accelerate industrial decarbonization. Its superior technology includes an aluminum oxide pretreatment that is non-toxic, environmentally responsible (no heavy metals), has no Hazardous Air Pollutants (HAPS), and has zero Volatile Organic Compounds (VOCs). Its technology replaces current toxic and low performing solutions. 
Artyc
Vertical: CleanTech/Environment, EnergyTech
Founders: Hannah Sieber, Stanford GSB, and Mark Langer, Carnegie Mellon ECE
Artyc is on a mission to decarbonize cold chain logistics with refrigerant-free, reusable, active cooling containers. Refrigerants are quickly becoming the largest source of greenhouse gas emissions and, in combination with the loss of agricultural, pharmaceutical, and medical goods in transit, are expected to have an impact of 160 gigatons of carbon dioxide equivalent emissions across the next decade. Artyc is developing an active-cooling system for cold shipping and storage; their boxes are battery-powered for long-duration cold storage, lightweight with no refrigerants, and reusable for thousands of shipments. 
Beam
Vertical: AI, CleanTech, EnergyTech, IoT
Founders: Rohan Pandya, Carnegie Mellon SCS, GA Tech ME and Raj Tilwa Emory, Stanford, Harvard 
Beam is a smart, high-efficiency heating system that provides personalized warmth to people both outdoors and indoors. Their spot heating technology utilizes robotics and precision heating to provide a focused beam of heat targeted at people - akin to a spot light, but for heat. This is in contrast to central or space heaters that wastefully heat up an entire space.
Alopay
Vertical: FinTech, Web 3, Cryptocurrency
Founders: Rishabh Chatterjee - Carnegie Mellon SCS, Aditya Jain - Stanford Economics, Management and Engineering
Alopay enables individuals to convert their "liabilities" and future receivables into income generating assets to build wealth and create a more holistic financial picture for them. Traditional finance recognizes only savings accounts, homes, vehicles, and investment accounts as assets, Aloplay is building a platform that evaluates and prices-in these alternative assets.
Optionality
Vertical: FinTech, 
Founders: Alec Baum, Carnegie Mellon Tepper and Adam Castelbaum, Carnegie Mellon Tepper
Optionality is a street-smart app designed to increase the transparency and accessibility of the options trading space, one trader at a time. By pre-packaging options into a streamlined menu, we have completely re-imagined the trading process, where the focus is on risk-management and more defined outcomes. Trading and transparency should go hand-in-hand.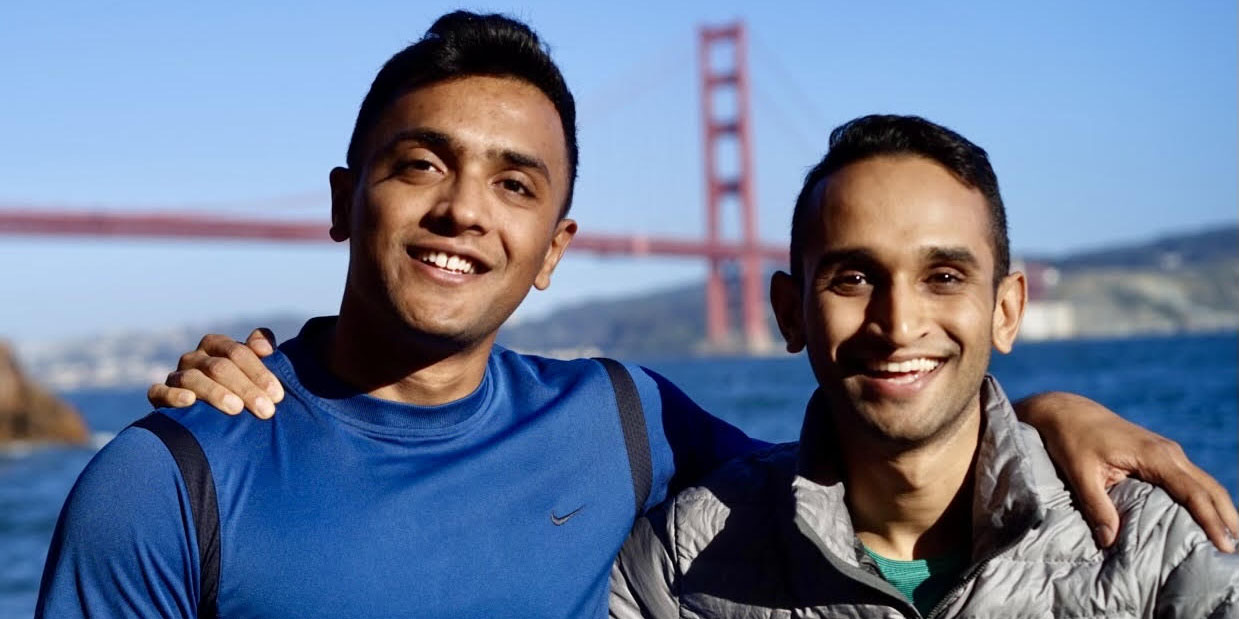 Beam Founders: Rohan Pandya and Raj Tilwa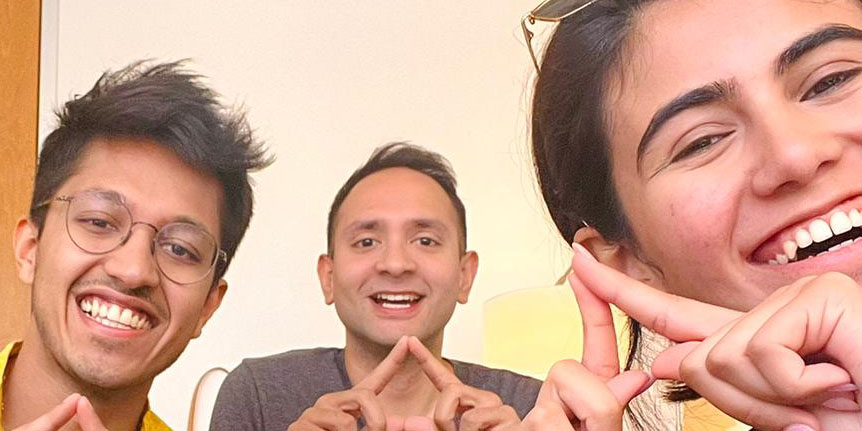 Alopay Founders: Rishabh Chaterjee and Aditya Jain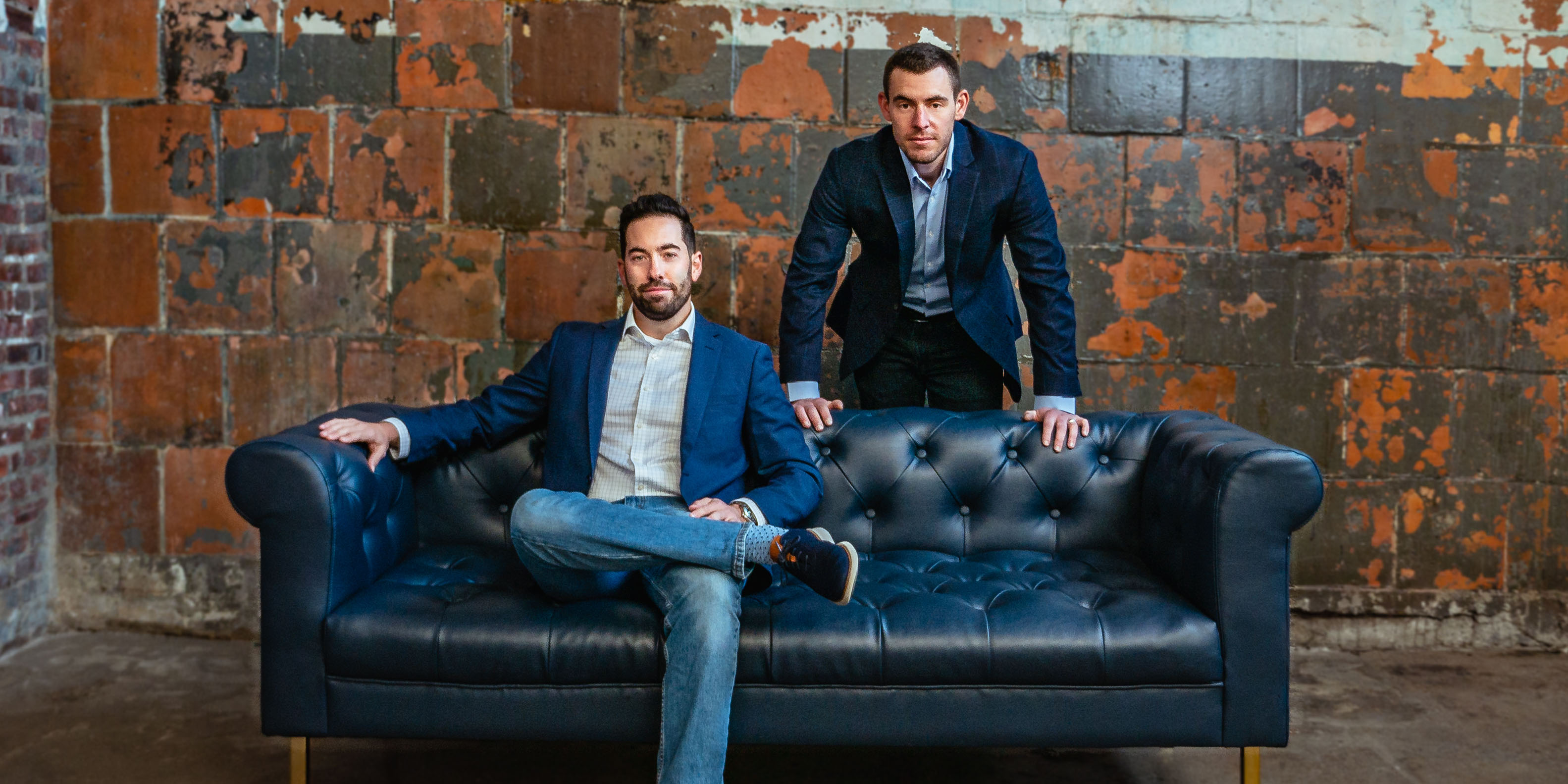 Optionality Founders: Alec Baum and Adam Castelbaum
Brandbass
Vertical: Gig Economy, Marketplace, E-commerce
Founders: Mya Papolu, Carnegie Mellon Dietrich, NYU Stern and Vamsi Nagavarapu, University of Missouri-St Louis
Brandbass is an on-demand social content app that connects brands, especially small businesses, with vetted, everyday ambassadors to create high-quality short-form content such as social video. Unlike influencer marketing companies, Brandbass is cost-effective and focused on results, not follower counts.
Jisell
Vertical: Retail, Commerce, AR/VR, Direct-to-Consumer (DTC)
Founder: Alex Cusell, CMU III
Jisell makes digital gift cards the most exciting, thoughtful and personalized gift on the market. Gift cards are the #1 most requested gift in the U.S., but gift givers find them impersonal. With Jisell, gift givers can fully customize an augmented reality gifting experience that delivers their gift card with exhilaration! Jisell's universal e-wallet also means that users never have to carry around plastic gift cards ever again.
Voaige
Vertical: AI, Robotics
Founder: Dipan Pal, Carnegie Mellon University ECE
Voaige has developed a first-of-its-kind re-programmable operating AI-based robotic system (drone, humanoid) that can perform key repetitive tasks without the need to re-program. Voyage's mission is to make physical labor as cheap as electricity. They are currently deploying their robotic technology at small- to medium-sized logistics and manufacturing businesses.
Advanced Optronics
https://advancedoptronics.com/
Vertical: Medical Devices
Founders: Jay Reddy - Carnegie Mellon University ECE and Maysam Chamanzar, CMU Associate Professor
Advanced Optronics has developed a technology that reduces outcome variability and surgical risks during cochlear implantation. They are selling their sensors to Cochlear Implant manufacturers to enable smarter surgery.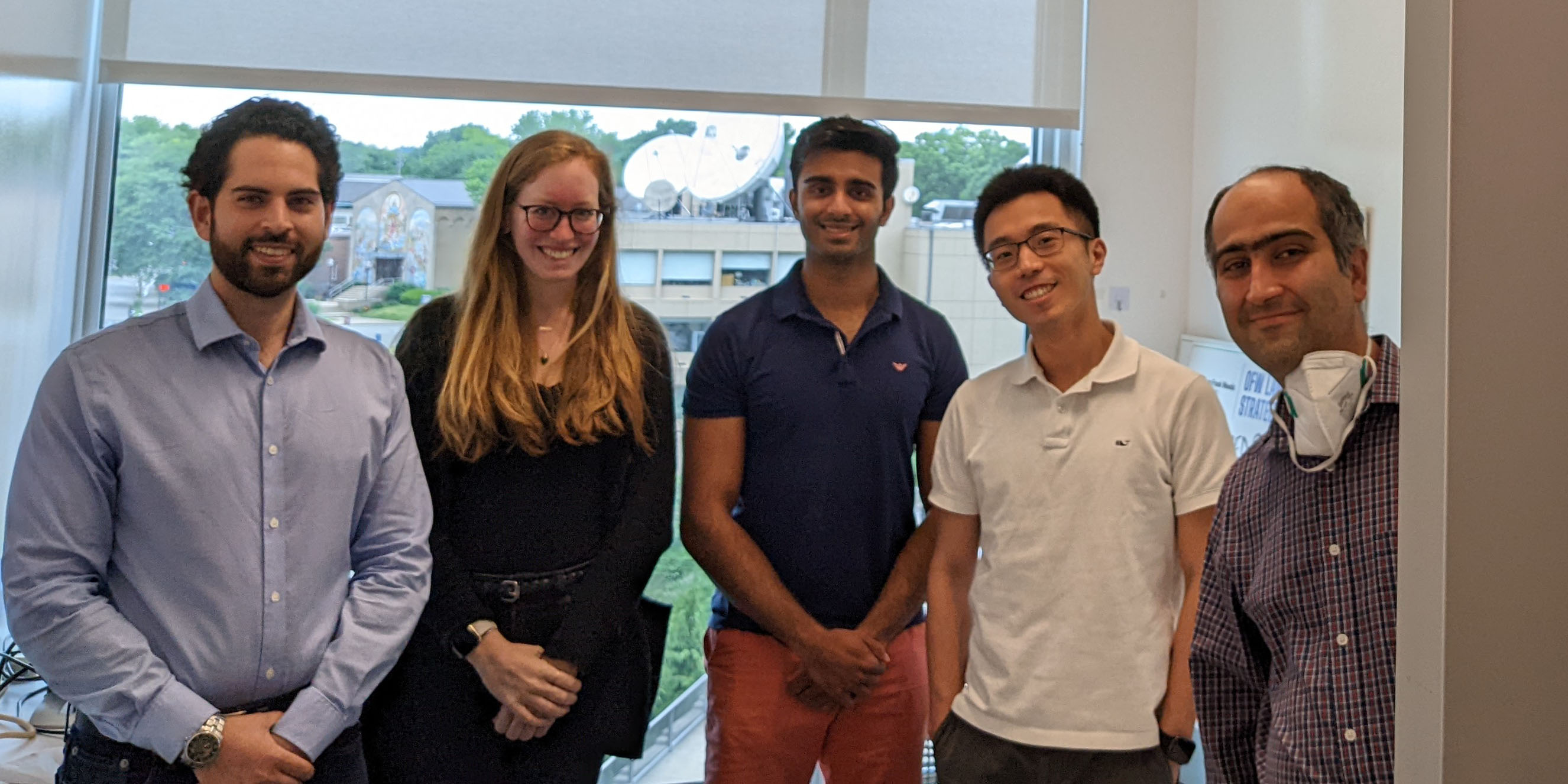 Advanced Optronics Founders: Jay Reddy, Maysam Chamanzar and Team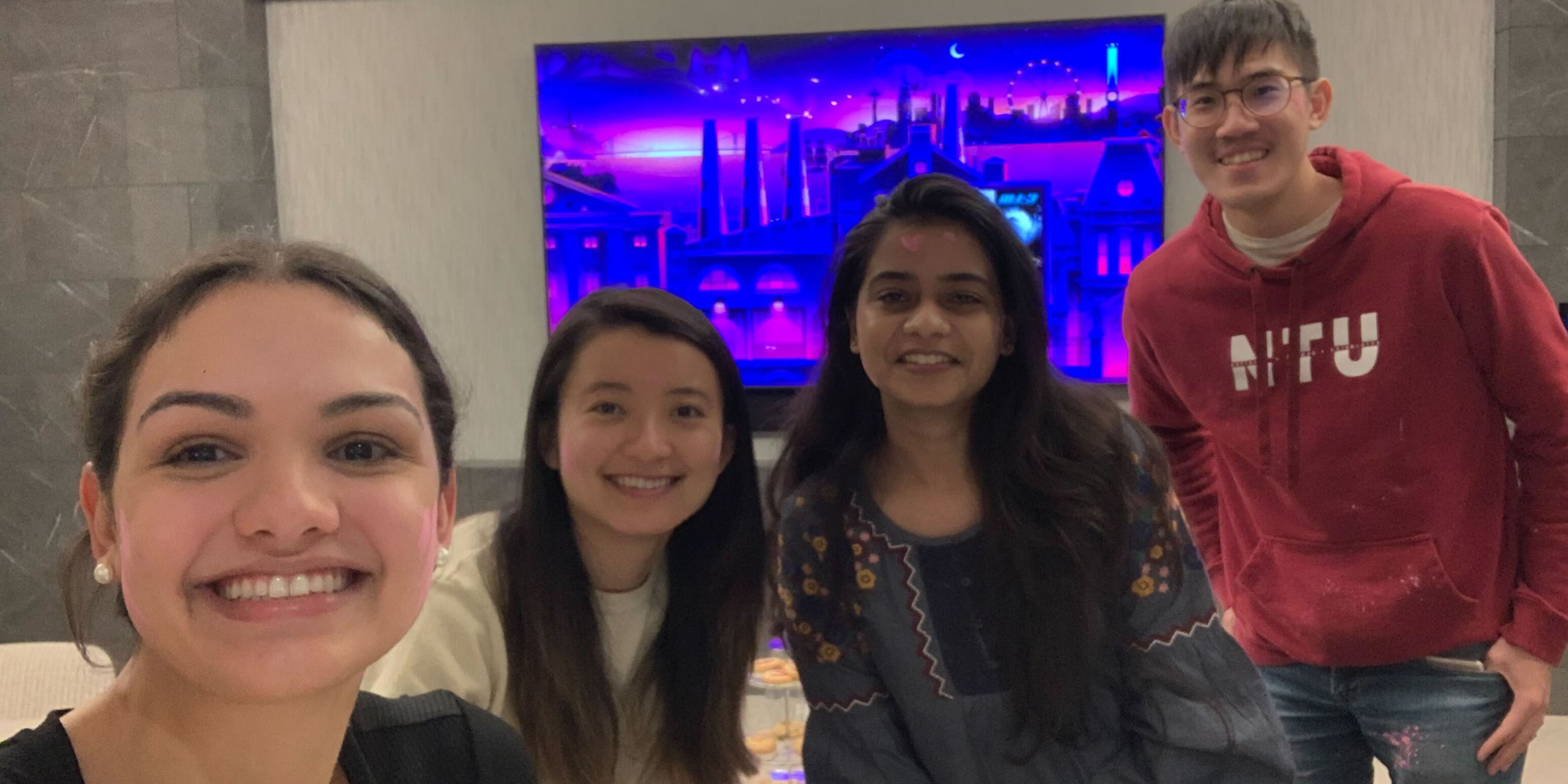 Jisell Founders: Alexandra Cusell, Yunfan Jiang and Team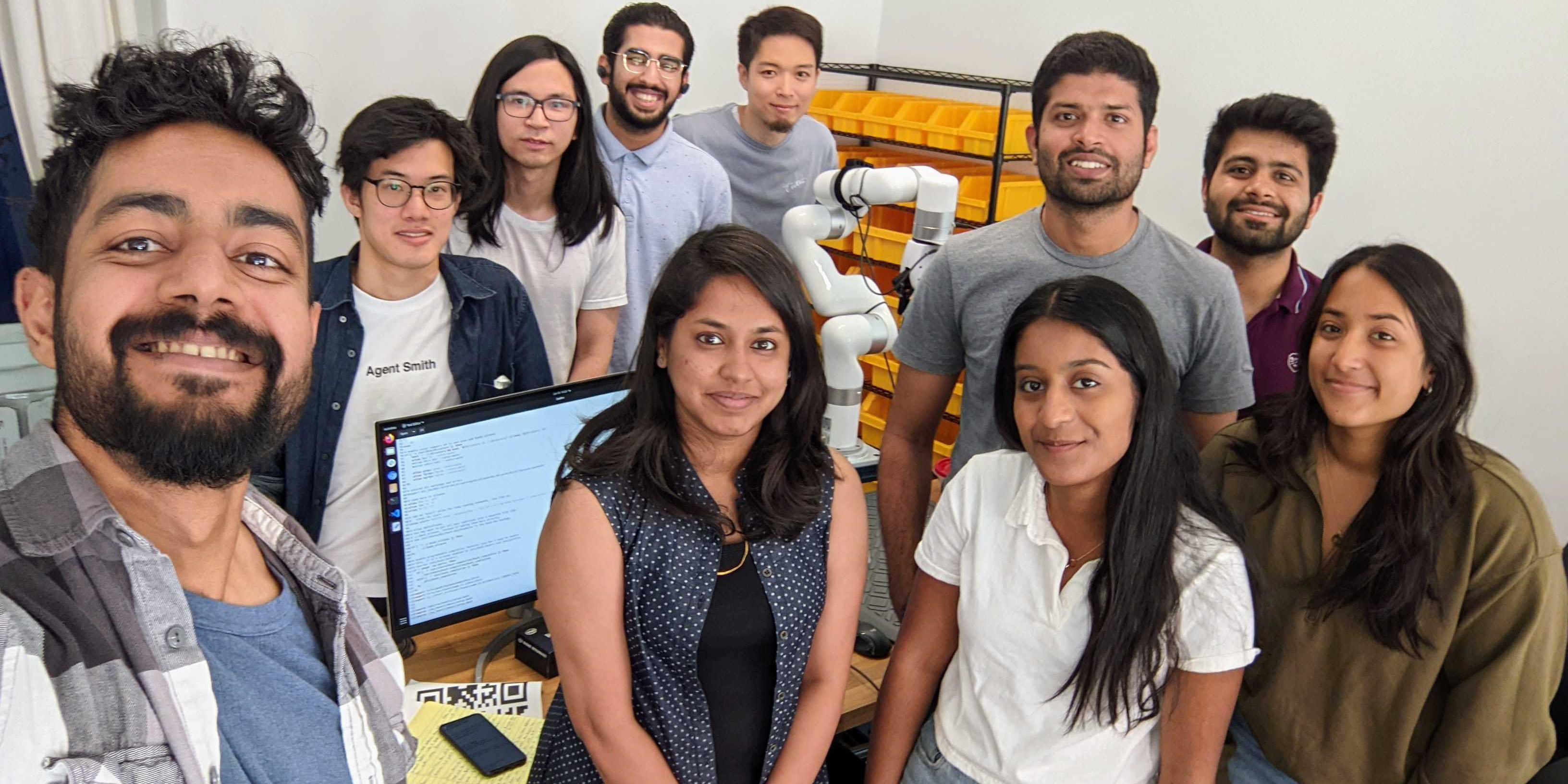 Voaige Founder Dipan Pal and Team
Pyx Labs
Vertical: AR/VR, Blockchain, Fashion, Web3, Direct-to-Consumer (DTC)
Founders: Darren Mok, CMU SCS, and Charles Wang, Carnegie Mellon TPR
PYX_LABS aims to create an ecosystem that allows users to outfit, interact, and evolve garments in real-life and metaverse experiences, blurring the line between the physical and digital worlds by using Web3 and Augmented Reality technologies.
ahta
Vertical: Web 3, Sports Media 
Founders: Samarth Gowda, Carnegie Mellon University Statistics 
ahta is a web3 sports media network. Our thesis is that the next ESPN will be built in a web3 world. ahta lets athletes, brands, teams, and fans create on-chain sports content and fully control the monetization efforts which unlocks unique fan and content experiences.
Agni
Vertical: LegalTech
Founder: Manish Agnihotri, CMU SCS Dietrich, Aditya Rathod, CMU SCS and Chirag Mehta, CMU SCS
Agni is an AI-based legal language understanding system that analyzes clause-level risks to review contracts efficiently. Our novel system allows us to deliver a robust and customizable contract review experience. 
---
To learn more about these founders, email Aleks Petkov.