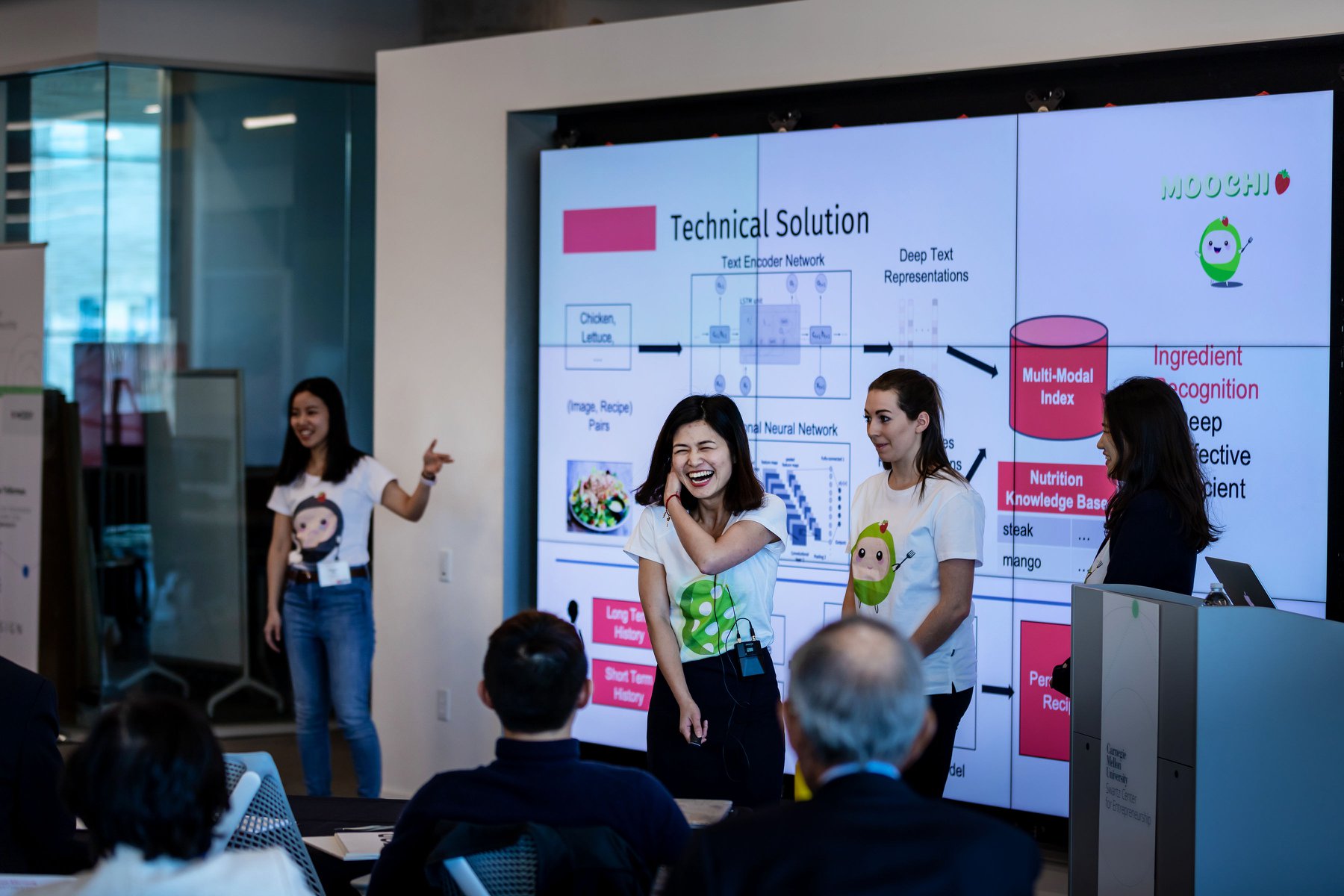 McGinnis Venture Competition Past Winners
Congratulations to our previous McGinnis Venture Competition winners. 
2023 Winners
Graduate Track
First Place: D.Sole is an accesible and affordable wearable device that utilizes early intervention technology to reduce the risk of peripheral neuropathy-induced amputation by 95% and significantly enhance the quality of life for diabetic patients. Team members include Saisri Akondi, Zilin Zhang, Aman Sinha, Je-han Yang and Dina Kaganer.
Second Place: Edulis Therapeutics is pioneering a breakthrough drug-delivery system to manage inflammation in the gut. Team members include Spencer Matonis and Vladimir Lamm.
Third Place: ReRoad Robotics is a pavement maintenance company leveraging robotics technology to slash road repair costs. They are addressing the root cause of road degradation with unprecedented efficiency and simultaneously revolutionizing worker safety. Team members include John Harrington, Ryan Lee, Alex Pletta and Russell Wong.
Third Place: Right One is an automated candidate sourcing using generative AI. Team members include Thomas Park and Erika Chao.
Undergraduate Track
First Place: Clutch Car Management is the new age of roadside. Team members include Isaiah Rodgers and Zamir Rodgers.


Second Place: ScOAPe is looking to solve the issue of endoscopes becoming dirty and visualization being blocked mid-surgery due to accumulation of debris by creating an attachment that allows for on-demand clearing of the lens, eliminating the need for the surgeon to remove the endoscope, clean it and reinsert it every time the lens is occluded. Team members include Rohit Mantena, Brandon Lee, Kamil Nowicki, MD, PhD, Adi Mittal and Michael McDowell, MD.
2022 Winners
Graduate Track
First Place: NiFTy is a platform for blockchain based games where gamers can access games and buy, sell or trade their in-game assets as NFTs. Team members include Pranjal Chavarkar, Adithiyajothiram L and Kyle Snyder.
Second Place: Advanced Optronics is developing flexible, biocompatible electronic and optical systems to enable smarter, less invasive surgery for a variety of medical applications. Their first product provides real-time feedback to reduce surgical trauma during cochlear implant surgery. Team members include Jay Reddy and Ruth Segall.
Third Place: E-Carebetics is an AI-Powered Diagnostic Solution on Mobile Device for Diabetic Retinopathy. Team members include Bingda Li, Devansh Parikh and Mukunthan Tharmakulasingam.
Undergraduate Track
First Place: Flurry's tagline is never slide on slick roads again. Team members include Miguel Brandao, Jack Winters and Steven Wu.
Second Place: BAM! Bottle is for those everyday moments where you need a little BAM! The team includes Kaitlyn Chow.
2021 Winners
Graduate Track
First Place: Mach9 Robotics is a remote sensing startup creating Google Maps for subsurface utilities. Team members include Alexander Baikovitz and Joshua Spisak.
Second Place: Clean Sea Robotics will transform the modern shipping industry by offering an on-demand, disruption free, robotic hull cleaning and inspection service to ship owners and operators. Team members include Daniel Vedova, Stefan Zhu and Evan Myers.
Third Place: Savor Robotics is making multipurpose robots to bring freedom and flexibility to food production. Team members include Connor Colombo and Emily Ellis.
Undergraduate Track
First Place: Moonpy is a Python distribution that allows for rapid code development without sacrificing performance. Team member includes Benjamin Graham.
Second Place: The Student Community's goal is to help colleges and corporations create a community where their students and new hires, respectively, feel professionally and personally supported during and after the pandemic. Team members include Snehita Sana, Nina Zanarelli and Sarayu Namineni.
2020 Winners
Graduate Track
First Place: Aruga Technologies is a medical device company that integrates a new nature-inspired, surface technology into the design of synthetic vascular reconstruction devices. Team includes Joseph Pugar.
Second Place: Fibulas freezes time, not just your samples. Team includes Xiaotian Ma and Ying Pan.
Third Place: Sparkline is a Proptech startup which uses computer vision and predictive AI to monetize excess parking capacity. Team includes Vai Viswanathan and Max Henkart.
Undergraduate Track
First Place: Agot provides analytics and self-service checkout for food service brands with our deep learning enabled AI. Team includes Alex Litzenberger and Evan DeSantola.
Second Place: Swaset is an everyday clothing rental/sharing app based platform where users who value variety, quality, convenience, and savings can build their closet. Team includes Shadie Ellington, Anthony Attipoe, Adriana Pink, Evangeline Mensah-Agyekum and Seth Setse.
2019 Winners
Graduate Track
First Place: Delta Band is a wearable strength training platform that brings automatic workout tracking, intuitive goal setting and personalized recommendations right to your wrist in the gym. Team includes Matt Spettel and Gabriel Madonna.
Second Place: LittleMoochi is a mobile app that encourages children to form healthy eating habits through an AI-based virtual pet. Team includes Summer (Qinxian) Xia, Yi Xu, Zhuyun Dai, Molly Vierhile and June Byeon.
Third Place: Tarseer is designing a headset to detect and monitor glaucoma, the leading cause of irreversible blindness, everywhere around the world. Team includes Jorge Antón Garcia and Michael Tatum.
Undergraduate Track
First Place: Ecotone Renewables makes sustainable food and agricultural systems more accessible and prevalent outside the industrial scale, closing the food loop and creating a 21st century food system. Team includes Sasha Cohen Ioannides, Vinh Luong, Catherine Schrading, Alexis Hoane, Dylan Lew, Kareem Rabbat and Adam Balick.
Second Place: Glow Up is the Marketplace for all Hairytypes: the first platform and community focused exclusively on black hair care with content made by black women for black women. Team includes Mayowa Hannah Osinowo, Obed Appiah-Agyeman and Mecca Parker.
2018 Winners
Graduate Track
First Place: Zensors is an AI powered visual sensing that runs on existing cameras to create smart offices, shops and restaurants for data driven answers to critical business questions. Team includes Gierad Laput, Anhong Guo, Chris Harrison, Jeffrey Bigham and Anuraag Jain.
Second Place: TalkMeUp is an AI based software company who provides on-demand and personalized communication training at 1/10th of the traditional training costs. Team includes JJ Xu, Leon Du and Grey Yang.
Third Place: Nabla Ascent is bringing Data analytics to high value commercial applications through drones. Team includes Sankalp Arora, Geetesh Dubey and Daniel Maturana.
Undergraduate Track
First Place: EmboQuant is designing a smarter catheter to make embolization, the primary treatment procedure of liver cancer, safer and more effective, improving the standard of care for patients in need. Team includes Julia Luo, Prateek Gowda and Tatiana Gelaf.
Second Place: InvenTower LLC is a physical search engine looking to change the way people shop in retail stores. Team includes Mat Spettel and Jerry Yu.
2017 Winners
Graduate Track
First Place: RoBotany is a robotic indoor vertical farming using automated robotics and software analytics to transform modern agriculture. Team includes Austin Webb, Austin Lawrence, Daniel Seim and Brac Webb.
Second Place: Teratonix converts ambient radio waves to electricity and provides a maintenance-free replacement for batteries in low-power IoT devices. Team includes Ivan Pistsov and Dr. Yi Luo.
Third Place: 101 builds active learning tools that promote student engagement in college STEM courses. Team includes Justin Weinberg and Igor Belyayev.
Undergraduate Track
First Place: Inventory Connection provides Direct Store Delivery (DSD) sales representatives with real-time inventory and point of sale data allowing them to stock their supermarket's shelves better. Team includes Kerolos Mikaeil and John Lipari.
Second Place: Juvi is an online marketplace for senior homes. Team includes Stella Han and Jason Huang.
2016 Winners
Graduate Track
First Place: Blast Radius is building easy-to-use, inexpensive tools to deliver big data insights by using maps generated on the fly to create visualizations that are accessible, personal and explorable. Team includes Alison Alvarez (CS 2007; TPR 2017), JiaJia Zhang (TPR 2018), Derek Gregg (TPR 2018), Tomer Borenstein (CIT 2015; E 2018) and Ming Xing (CFA 2018).
First Place: Forest Devices is providing a non-invasive, diagnostic technology that can identify stroke in ambulances, nursing homes and other pre-hospital environments. Team includes Matt Kesinger (HNZ 2017), Dan Willis and Steve Morrow.
Third Place: Micetro (pronounced "mice-tro") connects live streamers to brands to facilitate high-engagement influencer marketing campaigns.. Team includes Thomas Shelley (HC '17), John McCutcheon and Nathan Hefner.
Undergraduate Track
First Place: Flagtag is changing location-based advertising through an interactive map that motivates users to "capture" virtual flags in targeted places. Team includes Blake Chasen (TPR 2016), Jesse Mendelson (TPR 2016), Matt Hillman (DC 2017), Omar El-Sadany (CS 2016) and Ian Go (DC 2016).
Second Place: e. e. books, a company changing the publishing landscape of enhanced e-books, is developing software that enables writers to easily create media-rich e-books for electronic reading devices. Team includes Eleanor Haglund (DC 2016) and Melody Ting (CMU 2018).
2015 Winners
Graduate Track
First Place: Rorus, Inc. is developing a new class of water purifiers based on nanoparticle technology. The company's first working prototype targets the $70 billion market of emergency response after natural disaster. Team includes Corinne Clinch (E 2014) and Uriel Eisen (CFA 2015) and Ardon Shorr.
Second Place: DataSquid uses data visualization science to unlock the power of big data on mobile and desktop computers. With the help of cutting-edge multitouch visualization technology, DataSquid delivers faster decisions and deeper insights anywhere and anytime. Team includes Jeff Rzeszotarski (CS 2013; CS 2016) and Niki Kittur.
Third Place: Nebulus Audio is the only real-time project management and arrangement platform for making music. Find collaborators to help finish your projects or add your talent to other's songs, all while making the collaboration process as fast and simple as possible. Team includes Hayden Cardiff (TPR 2015), Kyle Henson (TPR 2014), Robert Kotcher (CFA 2012; BCSA 2012), Andrew Russell (CFA 2014) and Nick Coronado.
Undergraduate Track
First Place: Soterias Medical is developing a new electronic injection system for introducing stem cells into the skin of patients enrolled in therapeutic studies and clinical trials. The new system decreases the chances that the stem cells will be dead or contaminated, and increases the success of stem cell therapy for wounds, rashes and burns. Team includes Alex Steere (CS 2018), Annabeth Rodriguez, Arianne Papa, Angelica Herrera and Jack Jung.
Second Place: VIT is a consumer electronics company focusing on bringing the medical and biotechnology advancements to the masses. VIT aims to change an industry lacking consumer-driven designs and functionalities by providing simple, elegant solutions. The company's first product is a smart knee brace. Team includes Andy Chan (E 2016), Alex O'Neill (CS 2017) and Connor Young.
2014 Winners
Graduate Track
First Place: Impaqd is a real-time, GPS-enabled app that connects shipping customers directly to freight carriers, allowing them to identify and fill empty cargo space. Team includes Jason Cahill (TPR 2014) and Neel Kishan (TPR 2014).
Second Place: Solvvy, Inc. is an intelligent problem-solving assistant that significantly enhances a user's ability to find Web content by using state-of-the-art text analysis technology. Team includes Justin Betteridge (CS 2006) and Medhi Samadi (CS 2014).
Third Place: Appbase provides a unified database interface to handle all of the data syncing and querying needs for app developers. Team includes Anuj Kumar (CS 2012, 2014), Siddharth Kothari and Shannan Sullivan.
Undergraduate Track
First Place: Tailored Fit is an online shopping service that learns an individual's preferences over time and makes personalized shopping suggestions while providing products and services from multiple retailers on one website. Team includes Kate Vogt (CS 2014), Nathaniel Eliason (DC 2015), Heidi Yang (TPR 2014), Zach Bush (TPR 2016), Matt Baker, Soloman Benjamin, Zach Piekut and Leanna Verderese.
Second Place: Captions is a new application that projects translations for any foreign language being spoken onto a special pair of eyeglasses. Team includes Elizabeth Ottens (E 2015), Joel Lu (MCS 2014) and Brian Yasukochi.
2013 Winners
First Place: SolePower is an energy harvesting startup dedicated to developing mobile and renewable power sources that capture wasted energy from human motion and convert it into usable electrical energy. SolePower's first product is a power-generating shoe insert that charges small, portable electronics such as a cell phone. Team includes Matthew Stanton (E 2012) and Hahna Alexander (E 2012).
Second Place: Lumator is an intelligent, automated services company aimed at helping residential electricity consumers save money, time and resources by optimizing how to buy and use electricity. Lumator's service uses machine-learning technology to offer personalized solutions to consumer energy choices. Team includes Prashant Reddy (SCS, Ph.D. 2013).
Third Place: Playpower Labs is a new company combining game design and learning science. Its first commercial product, Fraction Planet, is a game-based supplemental curriculum for fractions instruction that provides comprehensive coverage of the new nationwide Common Core State Standards. Team includes Derek Lomas (SCS, Ph.D. 2015).