Friday, November 16, 2018
IAM Robotics has raised $20M from KCK Ltd. to expand deployment of Swift™, the world's most advanced autonomous mobile picking robot. IAM is responding to the growing need for flexible automation systems in logistics environments. The investment will be used to accelerate robot production and to build a sales, marketing, and delivery organization that works closely with leading distributors to transform the supply chain.

IAM Robotics was founded by world-class robotics engineers, Tom Galluzzo and Vladimir Altman, who worked at CMU's Robotics Engineering Center.

Read more at IAM Robotics
Friday, November 16, 2018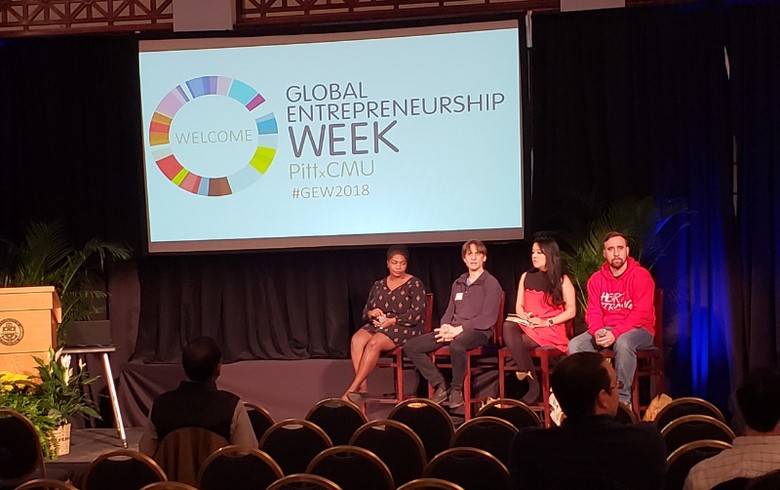 CMU and Pitt Wrap Up Global Entrepreneurship Week 
Carnegie Mellon University and the University of Pittsburgh hosted a robust week of events during Global Entrepreneurship Week (GEW), which was celebrated on both campuses November 9-16, 2018. The events included:

• Money Table graduate investor competition
• Kickoff reception and panel discussion
• PDMA Pittsburgh pitch competition
• Fireside chat with four local impact investors
• Startup Job Fair
Over 200 guests packed Newell Simon Hall Atrium at CMU on Thursday, November 15, 2018 to attend the annual Startup Job Fair. Close to forty local startups looking to hire full-time, part-time and interns participated in the annual event.
The winners of the Money Table investor competition, which was held at  Pitt and CMU on Friday, November 9 and Saturday, November 10, 2018, respectively, were:

First place: Iota Capital; Joel Perdzoc (CMU), Rick Goldstein (CMU), Wei Tu (CMU), John Wright Cordier (Pitt), Naval Gupta (Pitt) and Tingting Xie (UPitt). Second place: Group4 Capital, LLC; Ishan Wahi (CMU), Lucy Luo (CMU), Noah Carlson (CMU), Ernest Kabuye (Pitt), Jingyi Li (Pitt) and Xiang (Pitt).

The winners of the PDMA Pitch Competition were:

Graduate (CMU): Talent IPO; Aashay Doshi and Michael Lai
Graduate (Pitt): MeBot

Undergraduate (CMU): Delta Band, Matt Spettel (Innovation Scholar)
Undergraduate (Pitt): Root Health

Best in Show (CMU): Heart I/O, Nick Flanigan
Friday, November 9, 2018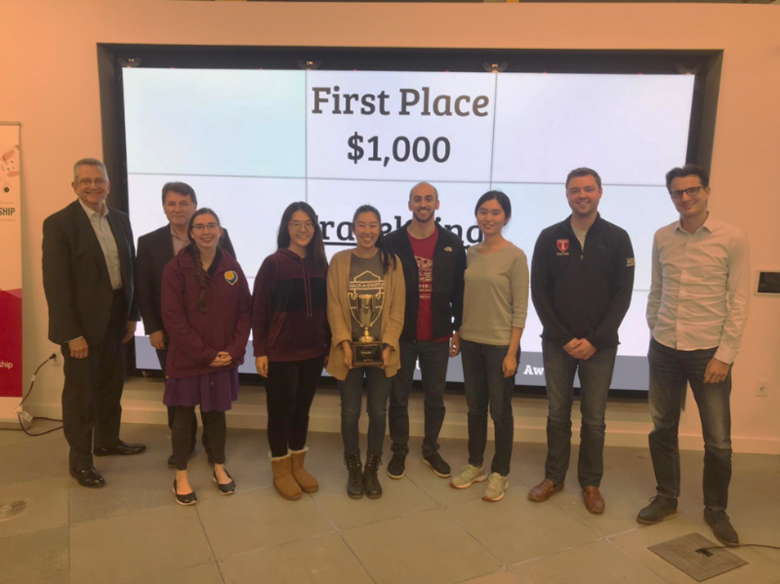 CMU GEC Hack-a-Startup Winners Announced
This past weekend, CMU's Graduate Entrepreneurship Club (GEC) hosted its annual Hack-a-Startup Competition at the CMU Swartz Center. Amazing ideas were presented ranging from automated meeting software, camera tech and salary negotiation technology. This year's competition was co-hosted by the CMU US-China Innovation and Entrepreneurship Association and the CMU Undergraduate Entrepreneurship Association (UEA). 

Winning first place at $1K was Travel Ping, a personal travel assistant that uses a native optimization algorithm to help users plan the perfect travel itinerary. The second place prize of $500 went to Rayar for their idea of using computer vision calibration for autonomous vehicles. Scribe, an automated meeting software extension, was awarded the third place prize of $250. The People's Award of $100 went to the Hack the Bar team.
Friday, November 9, 2018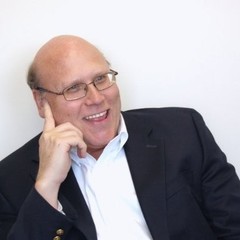 CMU spinoff Voci Technologies is moving to Robotics Row. Co-founded by CMU alumnus Anthony Gadient, Voci's technology empowers enterprises to make informed decisions based on actionable insights extracted from their voice data. The company raised $8M in March, 2018.

Read more at BizJournals. This article requires a subscription
Friday, October 19, 2018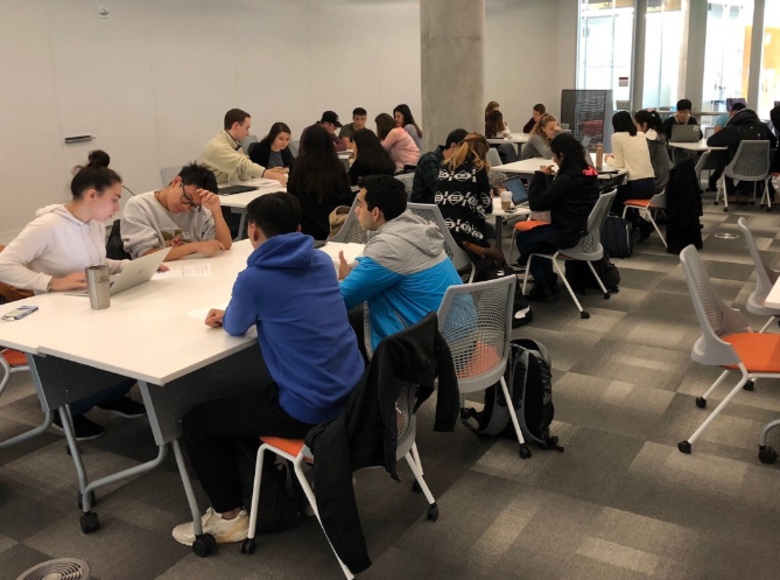 New Innovation and Entrepreneurship Mindset Course at Carnegie Mellon University
This week, undergraduate students from across Carnegie Mellon University participated in a new class designed to give them a taste of what innovation and entrepreneurship is really like. The Innovation & Entrepreneurship Mindset class, taught by CMU Swartz Center Entrepreneur-In-Residence and Tepper School adjunct professor Will Kaigler, has been in design for some time and is now in its inaugural mini semester. 

The goal of the course is to immerse undergraduate students in the amazing CMU innovation and entrepreneurship ecosystem as early as possible, giving them time to work on their dreams before they graduate.

During the first Innovation Challenge, students used the skills and behaviors introduced in the class to solve important world problems, including coming up with ideas to ensure the quality of sources of news (to prevent "fake news").  

The Innovation & Entrepreneurial Mindset class is held in Mini 2 and Mini 4 of the school year.
Friday, October 19, 2018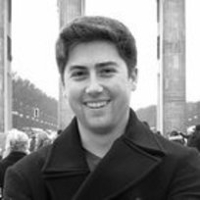 Among his many interests, including boosting the CMU Venture Challenge to the next level, CMU alumnus and former CMU Undergraduate Entrepreneurship Association president Benjamin Beltzer has created a new app called Paw. The app allows dog owners to save money on dog care items while creating opportunities for people without dogs to spend time with one.  

Paw introduces dog owners to neighbors who genuinely want to take care of their dog out of kindness and creates a safe and trustworthy environment by verifying user profiles and providing 24/7 customer support. Launched in San Francisco this summer, Paw is actively creating friendships that are saving people hundreds of dollars.
Friday, October 19, 2018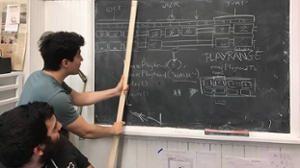 Wick Editor, a free and open-source tool for creating games, animation and interactive media founded by recent School of Art alumni Luca Damasco and Zachary Rispoli, is the winner of a $79K grant from the Mozilla Open Source Support Program.

A CMU NSF I-Corps Site Team, Wick Editor has grown from a class project to an online tool used by aspiring artists and creatives across the U.S.
Wednesday, October 16, 2018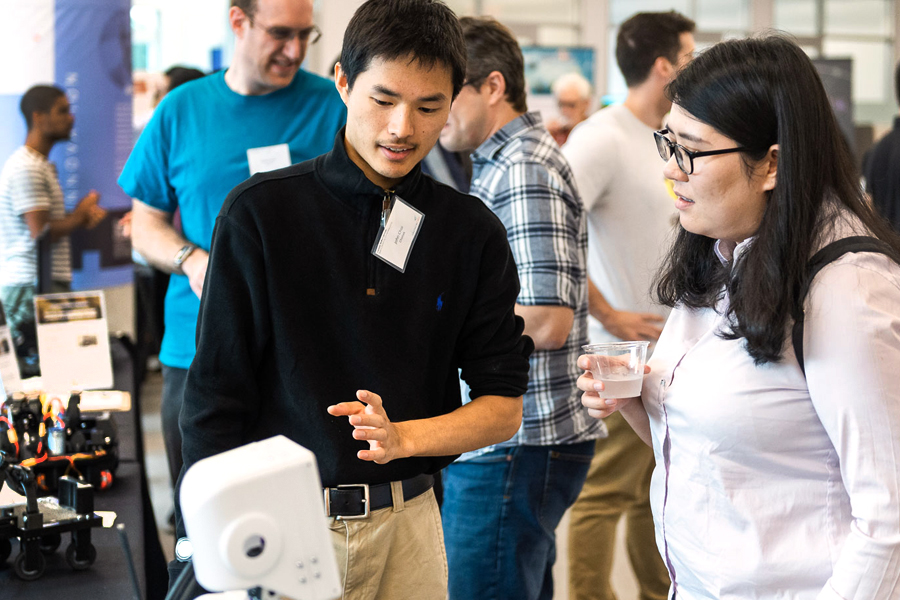 Carnegie Mellon University celebrated new space for the Swartz Center for Entrepreneurship and groundbreaking scientific startups at LaunchCMU, an entrepreneurial showcase featuring technology and research.
Titled "Science@CMU," this year's event featured companies such as LumiShield Technologies, a Carnegie Mellon spinoff developing sustainable aluminum electroplating to be used as an alternative to heavy metal-based anti-corrosion coatings.
"The Swartz Center recognizes and celebrates the changing role of universities, not only as originators and keepers of knowledge, but also as engines for discovery and innovation," said Carnegie Mellon President Farnam Jahanian during the event. "In the last five years alone, CMU has generated 1,900 invention disclosures; more than 1,500 patents; and more than 1,300 licenses, options and other agreements executes for more than 2,300 inventors. And since 2008, more than 280 companies have been started."
Friday, October 12, 2018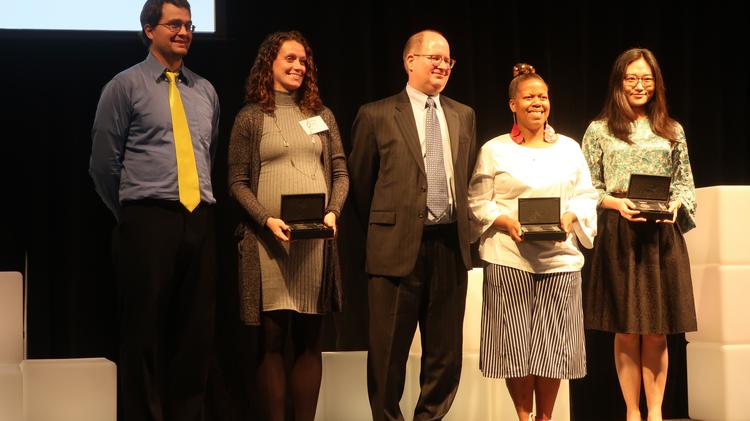 Talk Me Up, an artificial intelligence-based software company focused on providing communication training to marginazlied populations, founded by CMU alumna, Swartz Fellow and NSF I-Corps program participant JJ (Jiaojiao) Xu, took home the first prize of a $150,000 grant from BNY Mellon's Social Innovation Challenge, UpPrize, Thursday evening.
Sign Track, an automatic sign language recognition system founded by alumnus and Innovation Fellow Brandon Taylor, won third place and earned a $50,000 grant.