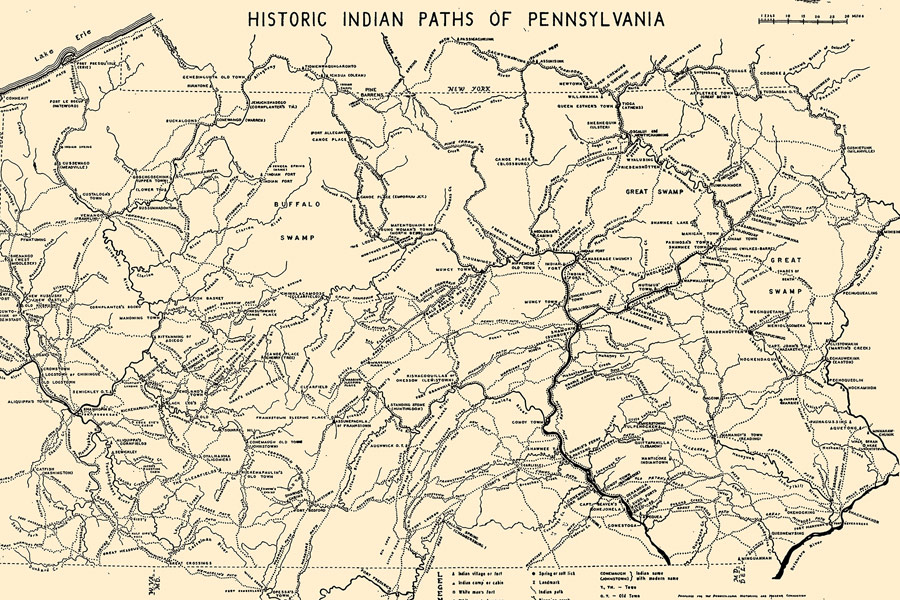 Settler Colonialism in the United States
Saturday, Sept 7, 2019 

During this one-day event hosted by CMU's Center for Arts in Society, we will learn about the underlying narratives of settler colonialism in the United States such as Terra Nullius, Manifest Destiny, and Doctrine of Discovery: How did these narratives develop? How were they implemented? How do they continue to shape United States-Indigenous relations and the current experiences of Indigenous and non-indigenous peoples alike? We will also explore the history and legacy of settler colonialism in Pittsburgh and Pennsylvania.

Morning Symposium
Porter Hall 100
9:15am-1:15pm; opening remarks at 9:15am

Speakers (abstracts and bios below):
Roxanne Dunbar-Ortiz - "Settler Colonialism as Genocide"
Mishuana Goeman - "Beyond the Grammar of Settler Landscapes and Apologies"
Walter Hixson - "Past as Prologue: Settler Colonialism over the Longue Durée of American History"
Alaina E. Roberts - "The Wages of Settler Colonialism within Indian Country: A Discussion about Tribal Disenrollment"
View the full schedule

Coffee, tea, water, and juice will be available all morning. Light snacks will be provided during the morning break.

In the afternoon, our CMU and Pittsburgh communities will gather informally to ask the four experts questions (see topics below), discuss ways in which the topic impacts our lives here in Pittsburgh, and brainstorm forms of community engagement.

These are some of the topics that the speakers look forward to discussing in small groups:
Haudenosaunee Art and Philosophies
Ethnic Cleansing of Pennsylvania and Ohio
Anti-Black racism in Indian Country
Native resistance and survival
Native Feminist geographies
Native sports mascots and legacies of conquest
Black and Native interaction and antagonism
Land and sovereignty issues today
Location: Center for Student Diversity and Inclusion, Lower Level, Cohon University Center, Carnegie Mellon University

2:30pm-4:30pm; space will be open starting at 2:15pm

Coffee, tea, water, and juice will be available. Light snacks will also be available.
"Settler Colonialism as Genocide"
Abstract: The history of the United States IS a history of settler colonialism. The objective of settler-colonialism is to terminate and replace the presence of Indigenous Peoples as peoples—not as random individuals. This is the very definition of genocide. So, what constitutes genocide? It is sometimes incorrectly thought that genocide means the complete and definitive destruction of a race or people.  The Genocide Convention, however, defines genocide as any killings on the basis of collective identity, or, in its specific words, as 'killing members of the group.'  Any intent to destroy, in whole or in part, a national, racial, ethnic or religious group is genocide, according to the Convention.  Also, the Convention states, 'causing serious bodily or mental harm to members of the group,' is genocide as well as 'killing members of the group, and creating conditions that lead to the viability of the group to function. The terms of the genocide convention are essential for historical analysis of the effects of European and Euroamerican colonialism, particularly Anglo-American settler-colonialism that led to the establishment of the United States, inherently committed to elimination of the Indigenous nations, but also including the transatlantic slave trade, slavery, and the situation of descendants of enslaved Africans, the annexation of half of Mexico and contemporary treatment of Mexicans/Mesoamerican. But most importantly, the Genocide Convention is applicable to US policies and actions today, and since 1988, when the US Senate ratified it, 40 years after its issuance. There is no statute of limitations once the convention is ratified.

Roxanne Dunbar-Ortiz is a historian, writer, and professor emeritus in Ethic Studies at California State University. She is author or editor of 15 books, including Roots of Resistance: A History of Land Tenure in New Mexico and the literary memoir trilogy:  Red Dirt: Growing Up Okie; Outlaw Woman: A Memoir of the War Years, 1960-1975; and Blood on the Border: A Memoir of the Contra War, and her award winning 2014 book, An Indigenous Peoples' History of the United States. Her most recent book is Loaded: A Disarming History of the Second Amendment. Forthcoming is a book on the US claim to be "a nation of immigrants."
"Beyond the Grammar of Settler Landscapes and Apologies"
Abstract: This talk focuses on the Indigenous methodology of creating anti-colonial networks through the form of introductions. By looking at the place-based practice of an introduction in the case of UCLA, I engage with what it means to live, learn and work on occupied territory. In examining the colonization of California in relation to the rise of the UC system, we will engage with the following questions: How do we move past mere acknowledgement of dispossession and move toward better work with indigenous communities?  How do apologies, while evoking empathy, fail to provoke action in relation to opening spaces on our campuses? What must we consider in the very process of acknowledgements and moving our educational settings forward? How do settler grammars threaten a fertile terrain for Indigenous futurities?

Mishuana Goeman, Tonawanda Band of Seneca, is an Associate Professor of Gender Studies, Chair of American Indian Studies Interdepartmental Program and the Special Advisor to the Chancellor on Native American and Indigenous Affairs at UCLA. She is the author of Mark My Words: Native Women Mapping Our Nations (University of Minnesota Press, 2013) as well as a Co-PI on two community based digital projects, Mapping Indigenous L.A (2015), which gathers alternative maps of resiliency from Indigenous LA communities, and Carrying Our Ancestors Home (2019), a site concentrating on better working tribal relationships and communications as it concerns repatriation and NAGPRA.
"Past as Prologue: Settler Colonialism over the Longue Durée of American History"
Abstract: Schoolchildren learn to attribute the American Revolution to "taxation without representation," but the ignition of the colonial rebellion in 1763 actually had at least as much to do with British efforts to constrain settlers from crossing the crest of the Appalachian Mountains and forging new settlements in places like Pittsburgh and the Ohio country. Once the French had been driven out of Fort Duquesne and most of the rest of the continent, the Euro-American settlers meant to take the land, which they viewed as inhabited by an inferior race of savages.

Settler colonialism drove and to a greater extent than is generally understood defined American history. Over the course of three centuries of settlement across a vast continent, Americans "tamed the frontier," forging a militant national identity in the process, and relegating indigenous people to the margins of society. History is never a simple matter, however, and many ambivalences, negotiations, alliances, resistance and "third spaces" between the colonizers and the colonized emerged throughout the long process of settlement.

Though a relatively recent concept, settler colonialism thus offers broad explanatory power to enrich understanding of the linkages between local, national, and global history over a longue durée. It simultaneously illuminates past crimes against humanity while providing a liberationist framework to promote social justice in the present and future.

Walter L. Hixson is a diplomatic and cultural historian and author of several books and articles primarily focused on American foreign relations. His books include Israel's Armor: The Israel Lobby and the First Generation of the Palestine Conflict (Cambridge University Press, 2019); American Settler Colonialism: A History (Palgrave Macmillan, 2013); The Myth of American Diplomacy: National Identity and US Foreign Policy (Yale University Press, 2008); Parting the Curtain: Propaganda, Culture, and the Cold War, 1945-1961 (St. Martin's Press, 1997); Witness to Disintegration: Provincial Life in the Last Year of the USSR (University Press of New England, 1993); George F. Kennan: Cold War Iconoclast (Columbia University Press, 1989); and the textbook American Foreign Relations: A New Diplomatic History (Routledge, 2016). Hixson is distinguished professor at the University of Akron and contributing editor of the magazine Washington Report on Middle East Affairs.
"The Wages of Settler Colonialism within Indian Country: A Discussion about Tribal Disenrollment"
Abstract: Settler colonialism in the United States is usually portrayed as a system enacted externally upon Indian Country by Euro-American governments and settlers, historically and in our modern day. In this talk, I discuss the way settler colonialism has also affected Indian Country from the inside out. I take the position that one of the many ways in which settler colonialism's influence on Native communities can be seen is in the relatively recent issue of tribal disenrollment. Tribal disenrollment is when tribal governments remove people formerly enrolled as members from their membership rolls and all of the rights and privileges of tribal citizenship. These tribal councils, governments, or elders most often use a strategic new requirement (such as raising a blood quantum prerequisite from one-fourth to one-half or requiring that all citizens live on tribal land) and/or refuse to even allow the enrollment of some groups. Settler colonialism is a system that aims to eliminate Native people (literally and culturally) and separate them from their land, and tribal disenrollment aids both of these goals to the benefit of a small group of tribal insiders, who put their own material gain above the greater communal goals of cultural retention and tribal sovereignty. How can the Native community identify this as a destructive practice, and come together to curtail it, while maintaining the belief that Indian nations should be able to regulate their own nations, including who is and is not a tribal citizen?

Alaina Roberts is an Assistant Professor of History at the University of Pittsburgh. Dr. Roberts' current work examines African Americans' and Native Americans' relationships to land and identity in the Civil War and Reconstruction Eras. Her research has been funded by the Richards Civil War Era Center, the Center for Research on Race and Ethnicity in Society, and the American Philosophical Society.
 

Free event: open to all CMU students, faculty, staff, and the general public

More Info contact: Alexa Woloshyn

This event is part of "Decolonized Futures," a CAS Narrative Initiative led by Prof. Alexa Woloshyn, and is sponsored by the Center for Arts in Society.

Dunbar-Ortiz's visit is co-sponsored by the University Lecture Series. The Department of History is also hosting Dunbar-Ortiz on Friday, Sept 6 from 4:00-5:30pm in the Connan Room (CUC) to discuss her latest book Loaded: A Disarming History of the Second Amendment. All questions regarding that event should be directed to the Department of History.