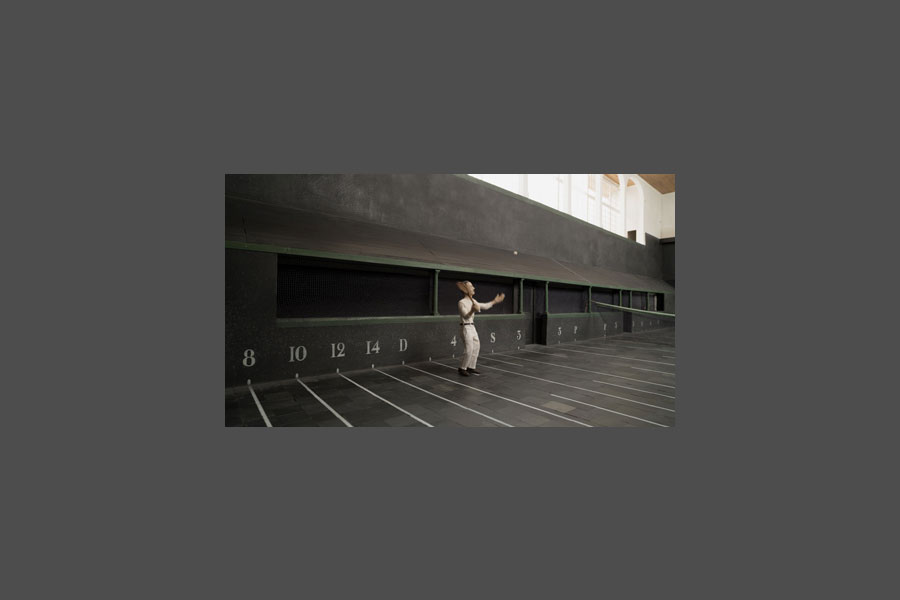 April 17, 2020
Joshua Mosley - Jeu de Paume
Joshua Mosley - Jeu de Paume
Length: 2:52 minutes

With Jeu de Paume Joshua Mosley creates a Stop Motion Animation depicting a tennis match set in 1907 at the Chateau de Fontainebleau in France. Set in a five-meter long miniature reproduction of the Fontainebleau court as it stood before its renovation in 1990, the video employs irregular editing rhythms, shots that stray from the central gameplay, and floating, dance-like camera movements that capture, along with the players' action, the slanting angles of the architecture, the play of sunlight, and the visibility of the white ball against the dark court. Acknowledging that one's concentration, both as player and spectator, ebbs and flows over the course of a match, the camera similarly responds to this idiosyncratic focus and the particularities of the environment to capture a shifting sense of human awareness.
The video is courtesy of the artist and will be available to view through April 24, 2020. After that date, visit the artist's website to watch an excerpt of the video.
Jeu de Paume premiered at 2014 Whitney Biennial. Joshua Mosley is Professor in the Weitzman School of Design at the University of Pennsylvania. He is a recipient of the Joseph H. Hazen Rome Prize, the Pew Fellowship in the Arts, and the Louis Comfort Tiffany Foundation Award. His exhibitions include: the Venice Biennale, the Museum of Modern Art, NY, the Museum für Gegenwartskunst, the Art Institute of Chicago, SITE Santa Fe, and the Museum of Contemporary Art San Diego.