The How Well? Project
Intersections of well-being and social justice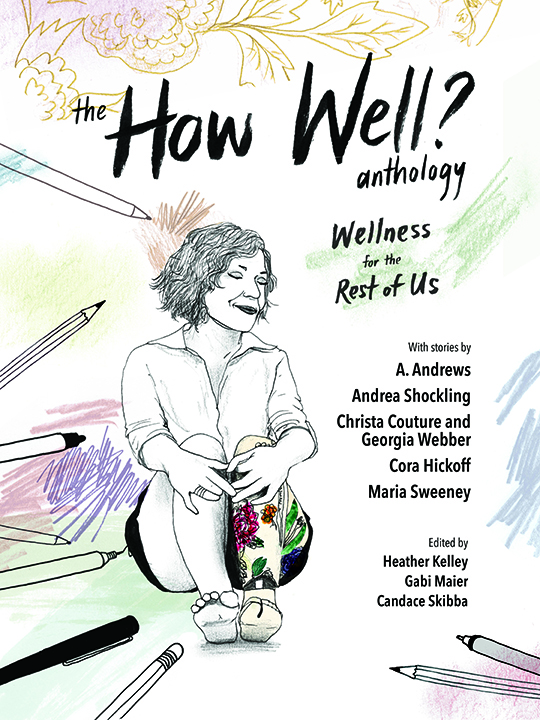 The How Well? Projects Website with links to ordering or downloading the How Well? Anthology.
'Wellness' is a relatively new concept in contemporary thought. A 2010 New York Times article attributes the term to a 1979 segment of the television program 60 Minutes , where it was derived in opposition to 'illness.' Therefore, one might assume that the pursuit of wellness is simply that of staving off sickness. Yet, current trends show 'wellness' as a consumer-based, neoliberal, capitalistic, and divisive concept, nearly religious in the ethical role it has taken in our culture. This new 'wellness' is highly exclusive; the billion-dollar wellness industry is geared toward those who have the financial resources to participate in this rarified form of individualized self-improvement. How has the pursuit of "being well" morphed into a drive for physical and moral perfection (read physique perfection)? The Be Well project aims to understand the conflation of wealth, privilege, and health in the narratives of contemporary Western culture.
Our project aims to open up the concept of wellness, to look beyond the beauty trends, colon cleanses and juice diets, to reclaim wellness as a human endeavor. Wellness is something that potentially connects us all, rather than dividing us into haves and have nots.
In order to understand the shifts in trends, we plan to undertake an initial narrative analysis and inquiry. We intend to create a story map of Pittsburgh that showcases the landscape of wellness in each neighborhood as well as access to health care in general. By capturing the voices of people living in those communities we intend to collect a plethora of narratives on what it means to the people of Pittsburgh to be well and what can be done to improve the status quo. Our hope is to highlight narratives by underrepresented communities and produce interventions that share those narratives and create new ones, as a community, as an inclusive collective.
As further steps we plan to compare and contrast our findings in Pittsburgh with more global narratives of wellness, in particular from the Hispanic and German-speaking world in order to investigate cultural norms and expectations.
Overall, our main goal is to contribute to communities in Pittsburgh by bringing in artists (e.g. rapper Sammus [Enongo Lumumba-Kasongo]), working with community-based projects such as Arts Greenhouse and creating spaces for the community (immersive theater) that will enhance wellness and cultivate a dialogue among various stakeholders.