Trans-Q Television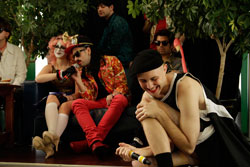 This project is focused on the production of Trans-Q Television (TQTV), a playful and provocative web-based video variety show reveling in the mutability of genders and sexualities; moreover, n connection with this project a course, "Trans-Q Television," has been offered twice.  Collaborating with a wide range of talent, we create programs that include music, performance, comedy, fashion, stand-up theory, dance, animation, poetry and more. A Dadaist Variety Show for the 21st Century, Trans-Q Television is a truly twisted mix of Sonny and Cher, The Muppet Show, Andy Warhol's TV, Ernie Kovacs, Flip Wilson, and Pee Wee's Playhouse.

To date (June 2014), three 25 - 30 minute episodes and one special program featuring a drag/queer docent tour of the Carnegie International have been completed. Guests for the first completed programs include: Alaska Thunderfuck, Zackary Drucker/Rhys Ernst, Le1f, Veruca la'Piranha, House of Ladosha, Dani Lamorte, Mikey McParlane, Vaginal Davis, SSION, Narcissister, Shana Moulton, Nick Hallett and Carletta Sue Kay.  We have a large backlog of guests awaiting editing and post-production to be included in future episodes including: Susan Stryker, Sean Dorsey Dance, Jack Halberstam, Pyuupiru, AK Burns/AL Steiner, Pat Loud, Jason Martin, Max Steele, Zanele Muholi, LJ Roberts, Allyson Mitchell/Killjoy's Kastle, David Cale, Jinx Monsoon, Sabrina Chap, Christeene, Genesis P-Orridge, The Blow, Katie Torn, John Musser, Jenny Johnson and Sister Spit.

TQTV has developed ongoing collaborations with local art institutions and organizations including: The Andy Warhol Museum, The Carnegie Museum of Art and the Kelly-Strayhorn Theater. Additionally in the fall 2014 we will begin working with Dreams of Hope and Garden of Peace.   As part of our ongoing collaboration with the Andy Warhol Museum, Trans-Q Live, a live, sold out, queer variety show was staged at the Andy Warhol Museum Theater on September 7, 2013. This will become an annual event beginning fall 2015.  TQTV is actively seeking funding to continue its mission into the future.