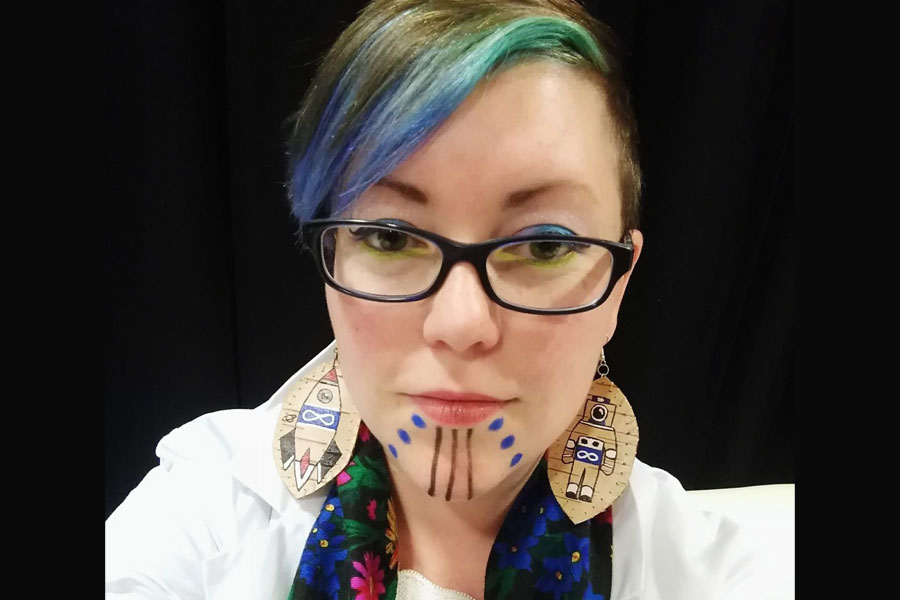 April 24, 2020
Chelsea Vowel - A Lodge Within Her Mind
Chelsea Vowel - A Lodge Within Her Mind
She opened the box carefully, and pulled off the brown corrugated packing material to uncover a white VR headset. She looked at it in confusion, disappointment settling into her stomach. Maybe the powers that be had decided on top of the weed and alcohol, the masses needed virtual reality? No doubt plenty of households had given that a shot too, but she wasn't particularly interested. She sighed, and lifted it out of the box.

It wasn't made of plastic, as she'd thought, but a much heavier material. Creamy white, glass? Ceramic? She flicked a cracked fingernail against it, definitely not metal. And instead of the elastic head band she was expecting, something unfolded that looked like a silver spiderweb, little shining circles like dewdrops spread throughout. She accordioned the spiderweb in and out a few times, until it suddenly clicked, and the whole thing became rigid, like the top half of a geodesic dome. Surprised, she put the whole thing down on the table. Looking back into the box, she found an envelope.
Recommended listening while reading:
Reckoning  by Anishinaabe musician Melody McKiver from Treaty 3
Chelsea Vowel is Métis from manitow-sâkahikan (Lac Ste. Anne) Alberta, residing in amiskwacîwâskahikan (Edmonton). Mother to six girls, she has a BEd and LLB, and is currently a graduate student and Cree language instructor at the Faculty of Native Studies at the University of Alberta. Chelsea is a public intellectual, writer, and educator whose work intersects language, gender, Métis self-determination, and resurgence. Chelsea is cohost with Molly Swain of Indigenous feminist sci-fi podcast Métis in Space, and author of Indigenous Writes: A Guide to First Nations, Métis & Inuit Issues in Canada. Chelsea blogs at apihtawikosisan.com and makes legendary bannock. Visit Chelsea's Patreon for more of her speculative fiction.