April 12, 2010
StrataSpore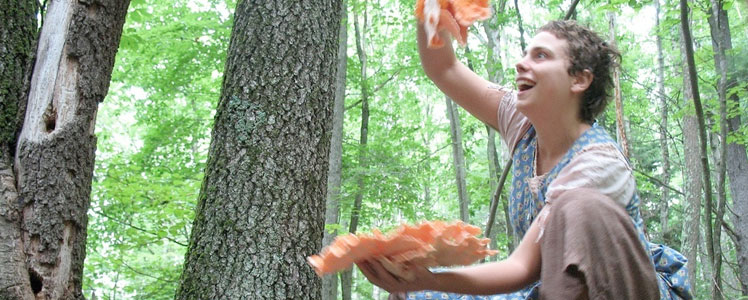 CMU STRATASPORE INTENSIVE WORKSHOPS
APRIL 12-14 2010
Schedule
April 12, 2010
4:30-5:20pm Public presentation/performance by the members of StrataSpore collective
Purnell Center for the Arts, Checco Studio (3rd floor)
April 13, 2010
9:00-11:00am Intensive Workshop I
Schenley Park Panther Hollow
April 13, 2010
1:30-4:20pm Intensive Workshop II
Schenley Park Panther Hollow
April 14,2010
9:30am-12:30pm Intensive Workshop III
Schenley Park Panther Hollow
April 14, 2010
5:30-8:00pm Dinner/Performance - Waffle Shop, East Liberty (RSVP: cstanley@andrew.cmu.edu)
Overview
StrataSpore is a platform for collective learning about mushrooms. StrataSpore will facilitate a workshop intensive that will frame one narrative of our lived collaborative experience: foraging, cooking/eating and performing. A final public workshop will gather interested participants to form a community of practice specific to Pittsburgh and its ecology.

The intensive will comprise three workshops with a final public performance. Each workshop will engage students in a different lecture about our project. The idea is to frame each experience as an experiment (for us and for students) as to how to appeal to people, draw them in, draw them out, implement alternative means of learning that opens up minds and avenues for collaborative communication. We will focus on uncovering the existing local networks (The Western Pennsylvania Mushroom Club, CMU Students/Artists) that students can connect to such as local mycological groups, the underground mushroom rhizome/plant network, culinary enthusiasts and each other.

Each day we will reveal a different narrative about the project, that may happen in any order depending on weather conditions. Day to day narratives will often overlap, build upon each other and draw connections between past experiences. We are interested in making games, cooking food, looking outside of the classroom and experiment with ways we could merge and bring the elements of drama to what students do outside of drama. What is the distinction between drama and outside of drama? How can we learn from each other?
Co-sponsored by the Center for the Arts in Society Performance and Ecology Project and by CMU's Vice Provost for Education. Please contact Wendy Arons (warons@andrew.cmu.edu) for more information.