September 29, 2016
Drama Queens!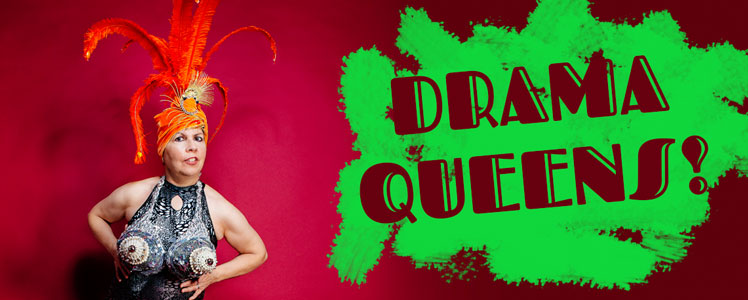 Thursday, September 29: An Evening of Short Performances by Six World-Renowned Performance Artists
Tickets and More Information
6:30-9:30pm, Rauh Studio Theater in Purnell Center
This is a ticketed FREE event.
Tickets available at the Purnell Box office beginning Monday September 26
Performances
Holly Hughes is a writer and performer who launched her thespianic career at NYC's infamous WOW Cafe. Her work maps lesbian desire, earning her critical kudos, a 2010 Guggenheim Fellowship, and a starring role in the 1990s Culture Wars as one of the NEA Four. She has authored many books including Clit Notes: A Sapphic Sampler, O Solo Homo: The New Queer Performance, (Grove, with David Roman) and Animal Acts: Performing Species Today, (University of Michigan, with Una Chaudhuri.) She is a professor at the University of Michigan, where she directs the BFA in Interarts Performance.
Erin Markey is a New York based performance artist, comedian, writer and composer named a "magnetic diva" by the New York Times and a Time Out New York Top Ten Cabaret Performer 2013-2015. Her work has been shown at BAM, Under The Radar Festival (Public Theater), New Museum, PS122, Bard Spiegeltent, New York Comedy Festival, San Francisco Film Society, and regularly at Joe's Pub at the Public Theater. She is a member of the Obie Award- winning theater company Half Straddle, where she performed in and co-composed music for the company's Ghost Rings in April 2016.
Deb Margolin is a playwright, actor and founding member of Split Britches Theater Company. The author of ten full-length solo performance pieces and recipient of an OBIE Award for Sustained Excellence of Performance, her play Imagining Madoff was nominated in 2012 for the Helen Hayes Award for Outstanding New Play. She also received the Helen Merrill Distinguished Playwright Award. Currently an Associate Professor in Yale University's undergraduate Theater Studies Program, Deb lives in New Jersey, which she denies.
Desiree Burch is a writer, performance artist, actress and comedian currently based in London. She is known for her full-length solo shows, "52 Man Pickup" and "Tar Baby" which have toured internationally. "Tar Baby" was awarded the Fringe First Award for new writing at the 2015 Edinburgh Festival Fringe. It was also shortlisted with High Commendation for the Amnesty International Freedom of Expression Award. Desiree plays Former Mayor Pamela Winchell on the hit podcast, "Welcome to Night Vale" and is the current winner of the UK's Funny Women Award for stand-up.
Carmelita Tropicana has been performing in New York's downtown arts scene since the 1980s, straddling the worlds of performance art and theater in the U.S., Latin America and Europe with her irreverent humor, subversive fantasy and bilingual puns. She received an Obie for Sustained Excellence in Performance (1999) and is a recipient of the Performance and Activism Award from the Women in Theater Program / American Theater in Higher Education (2015). She received a Creative Capital award (2015) for her new collaboration with playwright Branden Jacobs-Jenkins. She is indebted to her long time collaborators: Ela Troyano and Uzi Parnes
Becca Blackwell is a NYC-based trans actor, performer and writer. Existing between genders, and preferring the pronoun "they," Blackwell works collaboratively with playwrights and directors to expand our sense of personhood and the body through performance. Some of their collaborations have been with Young Jean Lee, Half Straddle, Erin Markey, Jennifer Miller's Circus Amok, Richard Maxwell, Sharon Hayes, Theater of the Two Headed Calf and Lisa D'Amour. Becca is a recipient of the Doris Duke Impact Artist Award 2015 and recently wrote a solo show, They, Themself and Schmerm, that will tour to a city near you in 2017.
Friday, September, 30: Panel Discussion with the Artists Facilitated by Jill Dolan and Emily Klein
12:00-1:30pm, CFA, Room 303
Jill Dolan is the Dean of the College and the Annan Professor in English and Professor of Theater at Princeton University. She also directed the Program in Gender and Sexuality Studies from 2009-15.  She is the author of The Feminist Spectator as Critic (1988); Utopia in Performance:  Finding Hope at the Theatre (2005); Theatre & Sexuality (2010); The Feminist Spectator in Action: Feminist Criticism for Stage and Screen (2013); and many other books and essays.  In 2013, she received a Distinguished Scholar Award for Outstanding Career Achievement in Scholarship in the Field of Theater Studies from the American Society for Theater Research
Emily Klein is Associate Professor of English and Modern Drama at Saint Mary's College of California. Her first book, Sex and War on the American Stage: Lysistrata in performance 1930-2012 was published by Routledge in 2014. Her articles have appeared in Frontiers, Women and Performance, and American Quarterly. Her latest work examines affect and intimate justice in Spike Lee's Chi-raq and she is also co-editor, with Jill Stevenson and Jennifer-Scott Mobley, of Performing the Family Dream House: Space, Ritual, and Images of Home forthcoming from University of Iowa Press in 2017.
#Drama Queens! is co-sponsored by: the Carnegie Mellon Department of English, the School of Art, and the School of Drama.