April 09, 2015
Dangerous Acts
Starring the Unstable Elements of Belarus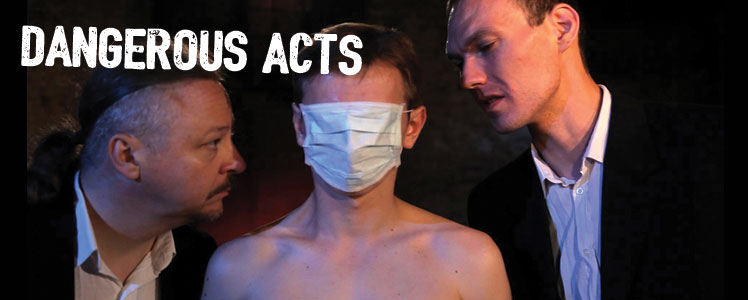 April 9, 2015
 "Sackler's engrossing documentary chronicles upheaval in 'the last dictatorship in Europe' through the viewpoint of an underground theatre company."—WNYC, The Leonard Lopate Show

"This kind of dissent, artistic rather than overly political, is powerful." —MSNBC, The Cycle
4:30-6:00 Film Preview and Q&A
Film Preview and Q&A with Oleg Sidorchik; hosted by Prof. Caden Manson in the School of Drama
Rauh Theater in the Purnell Center
7:15pm Film Screening
McConomy Auditorium, Cohon University Center, Carnegie Mellon University

In Belarus where loved ones disappear, elections are rigged against popular vote, and the people are silenced, a team of eight people have been branded political enemies of Europe's last dictator for their acts of rebellion in the form of balloons, a cigarette, and plastic wrap. Belarus Free Theatre, an underground theatre company, raised their voice on taboo subjects and honesties in Minsk to secret audiences until the rigged voting fraud of the 2010 presidential elections branded them as threats to the dictatorship of Alexander Lukashenko. Using smuggled and uncensored footage of Belarus protests.

Oleg Sidorchick will be in attendance. Sidorchick is one of the veteran performers and lead actors of the dangerously daring performance group Belarus Free Theatre who is now based in London, UK to escape arrest and imprisonment in his own country after Alexander Lukashenko returned to power. Although separated from the rest of the team in his political asylum, he still collaborates with them via Skype to continue bringing truth and voice to the people of Belarus.
Ticket purchase via the International film festival website.
Co-sponsored by the CMU 2015 International Film Festival Faces of Work