March 30, 2016
Facing Avatars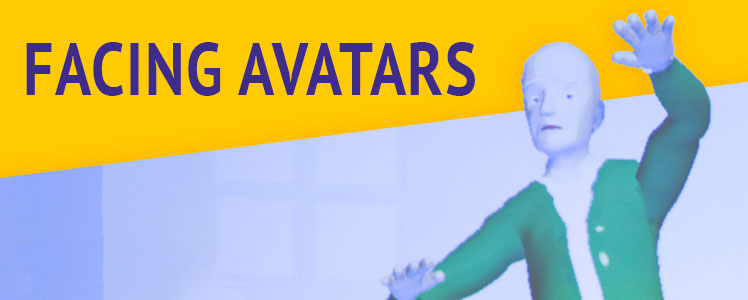 CAS Speaker Series Presents:
Semi Ryu
This lecture will show the artist's work with virtual puppetry, investigating emotional and psychological effects of user-avatar interaction. Emotional flow between virtual and actual bodies will be analyzed in terms of Korean ritual and philosophical paradox, exploring notions of "sensing without sensing" and "impossible love". The discussion will culminate with a consideration of the aging psyche, gerotranscendence and the artist's latest project, VoicingElder.

VoicingElder is a reminiscence storytelling platform for older adults, using interactive avatars to reflect live speech and gestures. Users act out representations of themselves, significant others, or fictional characters at four developmental stages (child, teenager, adult, elder), shaping and reflecting their life history in a playful in an engaging way.
The avatar mimics the user's gestures and lip-syncs with the user's voice. VocingElder detects the emotional contents of live speech via Natural Language Processing, and adjusts lighting, sounds, and background images, to facilitate immersion into the affective memory.
The project strives to enhance  quality of life by engaging seniors with their memories and emotions. They can experience their life stories as "thick" documentation, developing new perspectives and revealing deep memory and feeling.
Bio
Semi Ryu has been working as an associate professor in the Department of Kinetic Imaging, School of the Arts, Virginia Commonwealth University. Ryu received BFA from Korean National University of Arts and MFA from Carnegie Mellon University. Ryu is a media artist who specializes in experimental 3D animations and virtual puppetry, based on Korean shamanism and oral tradition of storytelling. Her animation won numerous awards, including "The Best Young Animated Film Award" at International Festival of Animated Film, Stuttgart, Germany. Her artworks have been widely presented in exhibitions and performances in more than 15 countries, including Chelsea Art Museum-New York, Red Gate Gallery -Beijing, Antonin Artaud- London, Galelia Olido- Sao Paulo, Museum of Modern Art-Mexico and De Balie-Amsterdam. Her academic papers have been extensively published in international journals and conferences. One of her papers "Ritualizing Interactive Media" was mentioned as exceptional quality in Leonardo review (MIT press). She recently wrote a book "The Point of Being", co-authored with the former director of McLuhan program, "Derrick de Kerkhove" (Publisher: Cambridge Scholars, UK). In 2011, she worked as a senior advisor for the project "Avatars for virtual heritage", funded by National Endowment for the Humanities. Her recent project "VoicingElder: Improving Quality of Life for Older Adults with Avatar Life-Review" won VCU Presidential Research Quest Fund at 2014.
For More Info
Wednesday, March 30, 2016
4:30pm – 6pm
Steinberg Auditorium, Baker Hall A53