March 21, 2016
No More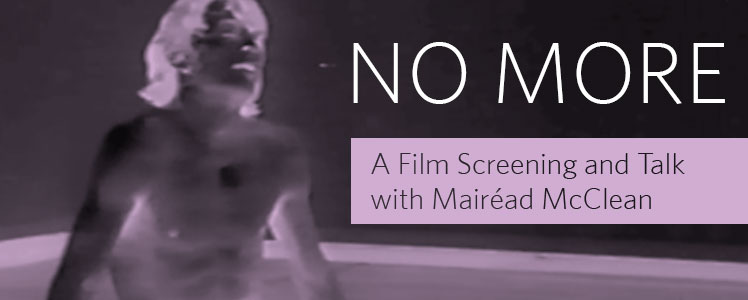 CAS Speaker Series Presents:
No More

A Film Screening and Talk with Mairead McClean
Monday March 21
4:30pm – 6pm
Porter Hall 100
Mairéad McClean's work disrupts and restructures events from the past highlighting the unreliability of histories which, once written, are not so easily altered. Through the use of sound, still and moving image, material evidence is re-opened and re-examined and a new vantage point created.

McClean, was born and grew up in Beragh, Co Tyrone, Northern Ireland and has lived and worked for the past 25 years in London. She completed a Postgraduate in Fine Art at the Slade School of Art in London between 89/91 and held the position of Reader in Film and Video Arts at the University of Greenwich, until October 2011.

Her most recent video No More, won the inaugural MAC International Ulster Bank Art Prize in Oct 2014. The winner was selected from a shortlist of 24 artists by Francesco Bonami, Artistic Director of Fondazione Sandretto Re Rebaudengo, Turin: Judith Nesbitt, Head of National and International Partnerships, TATE London and Hugh Mulholland, Curator at The Mac Belfast.

No More (16mins/video/2014)
No More is based on a memory of things, my interpretation of what resides in memory.

The Prime Minister of Northern Ireland, Brian Faulkner, made an announcement introducing Internment, broadcast on the BBC on the evening of the 8th of August 1971. My 5th birthday was just five days before and although I can't be sure I was watching TV that evening, I know I could have been. The next day my father was gone. This piece, in a sense, is based on that trauma.

The work uses this TV material alongside footage of Ryszard Cies?lak, lead actor from Jerzy Grotowski's Polish Laboratory Theater Company to conjure a memory of things past. The sounds are those that resonate from that memory but are not always directly related to it. Cies?lak, the dancer, demonstrates body exercises (derived from Hatha Yoga) designed to allow the practitioner to go beyond 'their own personal limitations'. The associated, constructed soundscape connects his movements to a space of 'the haunting' and a new memory is created.

These two events, which took place at the same time in two different parts of Europe, come together some 40 years later to open up a connected world within memory.

the political as personal,
the private as public,
the dark as light,
the closing as opening,
the real as imagined
the dream as real

MMC copyright 2016 CONTACT: m.t.mcclean@gmail.com mb:07888679028
Screenings/Exhibitions
No More (16mins/found footage/photos/sound)
Nov -Dec 2015, Sound/Image (Group show), Stephen Lawrence Gallery, Greenwich, London Sept 2015, CCA Glasgow, The Shock of Victory (group show)- reviewed Frieze Magazine, Nov 2015- (see below). Sept 2015, Bilbao Experimental Film Festival.
April/June 2015, in competition at: Now&After, Video Art Festival, Moscow, Russia. Awarded an Honoury Jury Mention. April, 2015 The 5th Alchemy Video Art Festival, Hawick, Scotland. March 2015, The Void Gallery, Derry, in association with The Garden of Reflection, 'Hope Beyond Hurt', Peace Conference.
Nov 2014-Jan 2015, The MAC International Art Show, Belfast. (group show) Nov 2014, the 27th Festival Les Instant Video, Marseille, France and Milan [.BOX] Videoart Project Space Italy.
No More was premiered in an installation format at Tulca 2013, Galway Arts Festival, Ireland.
Quotes from Recent Reviews for No More
The Shock of Victory- CCA Glasgow, Group Show reviewed in Frieze December 2015
" Scotland's recent history was this shows starting point but it was a work from another country and a different era - Norther Ireland in the 1970's - that provided the most memorable touchpoint, Mairead McClean's 'No More'"
" The contrast between a government imposing it's will be containment and Cies?lak's assertion of the human need for free expression provided a simple but compelling dichotomy - and an utterly mesmerising film" Chris Sharrett
"another highlight of Alchemy Film Festival was the hugely affecting No More by Mairead McClean" Harriet Warman, Sight and Sound, April 2015
"this work is haunting and beautifully produced" Joanne Savage, Culture Review 2014. Read more about it.
Co-Sponsored by the CMU International Film Festival