February 10, 2016
Critical Play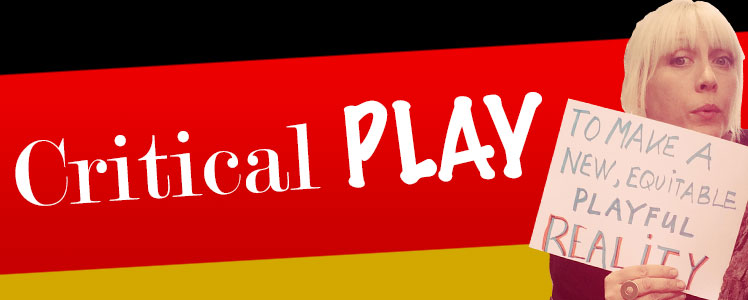 CAS Speaker Series Presents:
Mary Flanagan
From Bauhaus to today's efforts in sustainability, designers have long sought to improve society--and even create utopias— in their work. As both an artist and a designer, Flanagan has created social disruptions, artwork, and games to trigger relational conversations. Now, using a psychological approach and experimental study design, Flanagan and collaborators collect evidence of the effective impact of game design across areas as diverse as public health, wellness, and social issues like biases and stereotypes, and has formulated the beginnings of a new design methodology called Embedded Design at her game research laboratory, Tiltfactor. In this talk Flanagan will discuss the intriguing and sometimes counter intuitive notions behind Embedded Design, and go through the types of approaches in games that can successfully address wellness and social inequities.

Mary Flanagan is a well-known Ivy-league game researcher and director of the Tiltfactor game lab at Dartmouth College to invent "humanist" games and take on social issues through games. Her work has included everything from game-inspired art, to commercial games that shift people's thinking about biases and stereotypes. Flanagan's acclaimed book, Critical Play (MIT 2009) revealed the incredible art history of games, and Values at Play in Digital Games (with philosopher Helen Nissenbaum, MIT 2014), demonstrates that thinking about values is a key to innovation.

Flanagan's research was recently showcased The Atlantic, Fast Company, and NPR, and her work is regularly featured in popular game blogs such as Kotaku and Polygon. She is widely known as an expert on matters related to digital culture, publishing in venues such as USA Today, The Huffington Post, The San Francisco Chronicle, Inside Higher Education, The Daily Beast, and more.

Flanagan has served on the White House Office of Science and Technology Policy (OSTP) Academic Consortium on Games for Impact, and has been an American Council of Learned Societies fellow, a Brown Foundation Fellow, and a MacDowell Colony Fellow. Her work has been supported by commissions and grants including The British Arts Council, the National Science Foundation, the National Institute of Justice, the National Endowment for the Humanities, Robert Wood Johnson Foundation, and the Institute of Museum and Library Services. Flanagan has a PhD from Central St Martins, University of the Arts in London and is the Sherman Fairchild Distinguished Professor in Digital Humanities at Dartmouth College.
For more information
Wednesday, February 10, 2016
4:30pm – 6pm
Giant Eagle Auditorium, BH A51