Convent of Pleasure
CAS is partnering with Red Bull Theater and the R/18 Collective to present multiple events:
Convent of Pleasure
A Play by Margaret Cavendish
Directed by Kim Weild
Monday, March 14, 2022
7:30 PM EST | LIVESTREAM READING
When Lady Happy and her friends decide to ignore society's expectations and consciously choose to avoid men and marriage, they seclude themselves inside a free-thinking and joyous community, creating a radical feminist utopia: the Convent of Pleasure. Cavendish's 17th-century play imagines a space established by and for women to live for pleasure without men. But when a mysterious Princess comes to join the convent, a "princely brave woman truly, of a masculine presence," the paradise of the enclave shakes. 
First published in 1668, The Convent of Pleasure was written as a closet drama–a play intended to be read rather than performed. In its 354 year history, there have been very few public presentations and we are delighted to provide this opportunity to hear Cavendish's play read aloud with the support of Red Bull Theater and the R/18 Collective.
This is an online "Pay What You Can" event
Companion Events: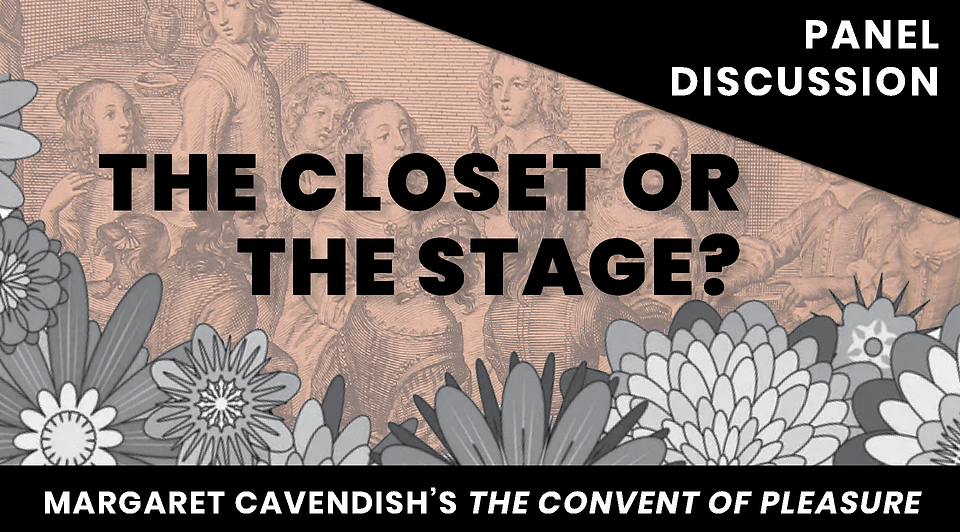 ZOOM WEBINAR & LIVESTREAM 
A Conversation about Margaret Cavendish's
The Convent of Pleasure

Monday, March 7, 2022 | 7:30 PM EST
Four experts on early modern British literature, theater and culture talk about Margaret Cavendish, a 17th-century polymath and aristocrat who wrote, among many other things, the closet drama, The Convent of Pleasure. 

BULL SESSION | LIVESTREAM
The Convent of Pleasure

Thursday, March 17, 2022 | 7:30 PM EST
An interactive discussion of the play and its themes with director Kim Weild, noted scholars, and members of the company.