July 30, 2015
A Dialogue with Charleston Artists
Honoring the Charleston 9: Why We Need a 'Requiem' for African and African-American History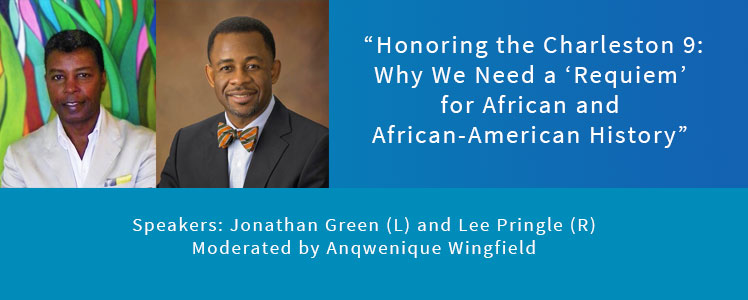 Speakers
Jonathan Green, internationally renowned painter and founder of The Lowcountry Rice Culture Project
Lee Pringle, Founder of "The Colour of Music Black Classical Musician's Festival," Charleston Spiritual Ensemble, and Charleston Gospel Choir
Moderator
Anqwenique Wingfield, Pittsburgh native; classically trained lyric soprano and jazz vocalist; founder and director of the multi-disciplinary artist collective, Groove Aesthetic.
Schedule
6:00PM-6:30PM: Light refreshments in the Frick Fine Arts Building Cloister
6:30PM-8:30PM: Dialogue
Location
Frick Fine Arts Building Auditorium
650 Schenley Drive
Pittsburgh, PA 15260
(parking available on Schenley Drive, Sennott Square, and Soldiers & Sailors parking garage)
Dialogue will be broadcast with social engagement via:
www.requiemforrice.com
www.facebook.com/requiemforrice
twitter.com/requiemforrice
Thursday, July 30, 2015
6 - 8:30 PM
Sponsored by "The Requiem for Rice," a Carnegie Mellon University Center for the Arts in Society Performance Initiative project and The University of Pittsburgh African Heritage Classroom Committee (AHCC). For more information, please call 412-403-6839.