October 06, 2013
Special Effect
Live Cinema by Peter Burr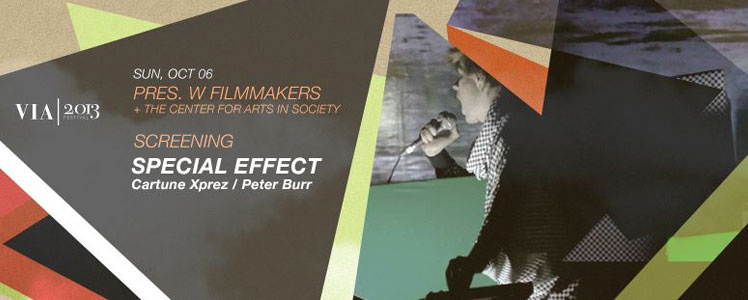 Live presentation of underground animations featuring original music by Lucky Dragons and Seabat
in conjunction with the VIA Festival, Pittsburgh Filmmakers, Carnegie International Opening Weekend
Visit the Facebook page

Video artist Peter Burr presents Special Effect, a live television show inspired by Andrei Tarkovsky's 1971 film Stalker. The performance features screenings of 18 short animations from underground video label Cartune Xprez; original music from Lucky Dragons and Seabat; and live performances by Burr involving laser beams, green screens, and a webcam.

The animations in the show, all of which are 30-second works commissioned by Cartune Xprez, were made by underground animators from across the globe (see below for contributors) and will be presented by Burr as the live host of an imagined television show. The videos as well as Burr's performance were inspired by "The Zone," an off-limits place of hope and possibility rumored to make one's deepest desires come true that is the central setting in Tarkovsky's film. Burr has toured the show across Australia and Europe throughout 2012/2013 and is touring across the United States and Canada this fall.

"It's hard to tell whether Burr has infiltrated television and is now pulling the strings, whether it has absorbed him, or somehow both. The implication is that he has collaged himself at once into television and into our heads, channeling our subconscious, co-opting our illusions."—OtherFilm Festival 2012 (Brisbane, Australia)

Contributors include James Duesing, Amy Lockhart, Yoshi Sodeoka, Billy Grant, Michael Bell-Smith, Ola Vasiljeva, Jacob Ciocci, Andrew Benson, Jeff Kriksciun, Chad VanGaalen, Philippe Blanchard, E*Rock, Luke Painter, Brandon Blommaert, Stu Hughes, Devin Flynn, Michael Robinson, Sabrina Ratté, and Brenna Murphy. Written by Peter Burr, Maya Lubinsky, and PFFR. Costumes by Diana Joy. Computer programming by Mike Heavers.
Peter Burr Biography
Somewhere in the murky recesses of childhood memories—of Sunday-morning television, mounds of improbably coloured junk food, and inane addictive jingles—lurks Peter Burr, a tech-gnostic agent. His mission: to subjugate the innerspace, chock open the escape hatch, and enable the immoderate two-way flow of synthesised realities. Burr's green-screen dream is yours too. A television is broadcasting from within you as you watch it; a boiling, aberrant, hysterical fusion of mind and matter, technology and cultural form. Confronting the malaise of too much television, Burr's diagnosis is also his prescription: more of the same!
Date & Time
Sunday, October 6, 2013; 6PM
Melwood Screening Room, 477 Melwood Ave., Pittsburgh, PA 15213