October 27, 2016
Performing Peace in the North of Ireland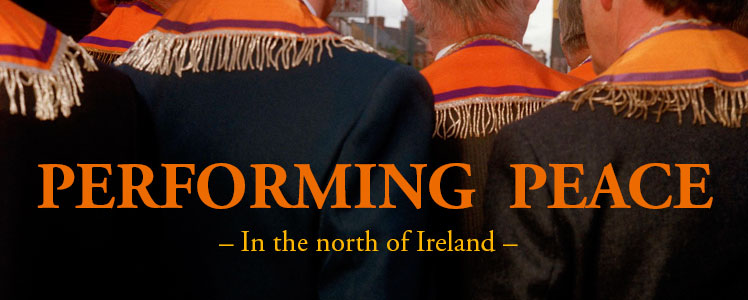 CAS Speakers Series Presents
Presentation by:
John Carson (School of Art)
Jennifer Keating (Department of English)
With respondents
Paul Eiss (Professor of Anthropology and History, Deitrich College)
Peter Gilmore (Lecturer in History at Carlow University)

Performing Peace in the North of Ireland is a Center for Arts in Society funded project by John Carson and Jennifer Keating exploring the roles, which individual citizens and artists undertake in navigating public and private spheres of a society in transition from conflict to peace.

This presentation explores the rituals and performances of specific roles in the public sphere that have come to define the Orange Order parades and associated celebrations, and subsequent civil protests and unrest that are manifest each year in Northern Ireland.

This talk is relevant to anyone interested in conflict resolution, whether in Ireland or elsewhere. Initiatives in Northern Ireland offer points of comparison to other parts of the world experiencing conflict and political intransigence.
View an up-to-the-minute video documentary on flute bands in Northern Ireland
Thursday October 27, 2016
5:00pm to 6:30pm
Room 303, College of Fine Arts
Carnegie Mellon University