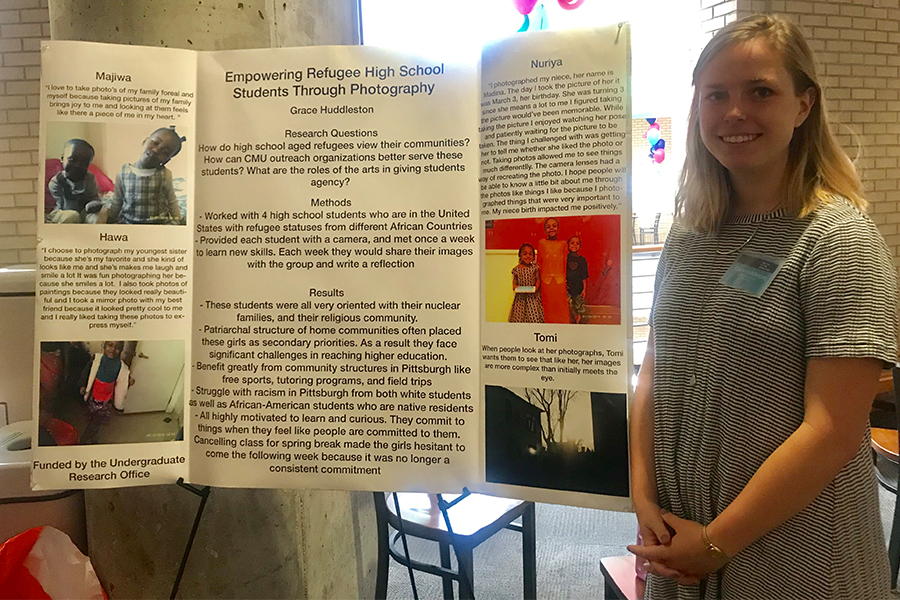 May 24, 2018
Science, Art & Progress: 2018 Meeting of the Minds
By Ann Lyon Ritchie
Carnegie Mellon University drew more than 600 students to present some of their best work at the 2018 Meeting of the Minds symposium, an annual showcase of undergraduate research.
Example projects included the following work by Dietrich College of Humanities and Social Sciences students.
Linguistics of Humor: Optimality Theory Applied to Comedy Through the Years
What makes one punch line better than another? That question became an obsession for Benjamin Hecht, a senior majoring in linguistics, who has also been known to do improv and sketch comedy. 
"When professional comedians make a joke, they will tell different versions to multiple audiences in an attempt to improve upon it. They know it needs to be perfected, but it takes continual testing because they're not exactly sure how it should be modified," Hecht said. 
Hecht undertook linguistics research to analyze spoken and written comedy for a semester-long project advised by Thomas Werner, assistant teaching professor of philosophy. 
Hecht collected comedy samples and conducted a text analysis on them based on Optimality Theory—a process of finding an ideal output for any given input. He designed and applied a long list of constraints based on comedic attributes, including: repetition, interjections and offensiveness and other characteristics, such as succinct jokes versus those that require long explanations.
Hecht found differences between older generation and modern-day jokes, in that modern jokes were more humorous when not over-explained and allowed audiences to make inferences. He also found overall successful jokes shared similarities to a good conversation, one that is targeted to the listener and feels natural and uncontrived.
Freshman CMU Student Communication Habits With Their Parents
One student team found a correlation between higher academic performance and students who talked or texted regularly with their parents. Interestingly, the result came from a survey targeted to freshman living in CMU's residence halls.  
The project satisfied an assignment for Statistics Instructor Robin Mejia's Sampling Surveys in Society course.
"It's been studied that strong family bonds are correlated to student health and student performance, and our survey results were consistent with those findings," said Jennifer Zhuge, a junior majoring in statistics and machine learning. 
She added, "Another interesting point, we didn't find too much of a difference between U.S. domestic students and international students in terms of how much they were in contact with their parents. Technology has made it so distance no longer becomes a factor in how much you're communicating with your parents."
Senior Korrawat Jianthanakanon, who has an interdisciplinary major in the Dietrich College, said the course gave him a solid understanding in the ethics of conducting research with human subjects.
Other members of the student team included junior Christopher Hwang, a statistics major, and seniors Gavin Yuen, who majored in business administration, and Jordan Wong, an economics and statistics major.
Military Coups and Civil Resistance: How Does Bloodiness Matter?
Jacqueline Puschmann (DC'18), a student in the Institute for Politics and Strategy, does not avoid conflict, and her research under John J. Chin, a post-doctoral fellow, delved into it. She waded through reports on numerous military coups between 1945 and 2017.    
She sought to figure out which coups were highly aggressive and measured their "bloodiness." To measure the degree of bloodiness, she combed through news articles looking for variables, which included a range of reported evidence, from troops mobilizing and shots fired to the number of casualties and fatalities.
Puschmann is not bloodthirsty but quite the opposite. She sought to understand whether a coup's level of aggression had an influence on the longevity and success of the post-coup regime. If coups were aggressive, would they lead to an increase in public protests that would eventually force out the post-coup leaders? 
"The research question I am proposing could benefit conflict resolution scholars. By studying coups and their after-effects, scholars would be able to better understand how unstable and autocratic countries progress into a democratic, stable society," she said. 
Her preliminary results showed that successful coups tended to have higher number of casualties. The topic was a great precursor to her summer plans; Puschmann will intern at a national security think tank in Washington, D.C.
Empowering Refugee High School Students Through Photography
After volunteering as a tutor, Grace Huddleston, a junior in the Bachelor of Humanities and Arts Program, felt compelled to learn more about refugee families in Pittsburgh.
"These students struggle with discrimination from both white students and from native African-American students because of their refugee status. The girls are also challenged because they come from home countries that do not prioritize education for girls," Huddleston said.
Through her project, Huddleston equipped four students from different African countries with a camera. They shared their photos, which often included their shots of their homes, neighborhoods, and family members, and they wrote weekly reflections. The Undergraduate Research Office funded her work.
"I hope people will be able to know a little bit about me through the photos… I photographed things that were important to me," said one study participant.
Huddleston organized an art exhibit of the project's photography on campus in May that was attended by the photographers and their families.
"Art organizations can have a role in giving these students agency," Huddleston said. 
---
Meeting of the Minds attracted participants from all of CMU's colleges and interdisciplinary degree programs. At the end of the day, 2018 awards were announced for the following Dietrich College-affiliated projects:
Award for Artistic Excellence
Sarah Stinson Hurwitz (Gender Studies and Art): "Memorial Flag: Remembering Pulse"
Nana Cheon (Humanities and Arts), "Descent: Gender, Art, and Anthropology"
Chantal Striepe (East Asian Studies and Art), "Untangling" 
Paloma Sierra (Creative Writing and Drama), "Dark Theater: A Study of Drama Performed Completely in the Dark"

Dietrich Humanities Prize
Grace Wong (Global Systems & Management and Art), "Finding Tiananmen"
Ruth Scherr (Mathematical Sciences and Drama), "Laborious"
Stephanie Haber (Creative Writing), "Pittsburgh Oddities"
Amal Nanavati (Computer Science and Global Studies), "Speak Up: A Multi-Year Deployment of Games to Motivate Speech Therapy in India"
Avi Romanoff (Cognitive Science), "Too Many Captains and Not Enough Wire"

Psychology Department Competition
Poster Competition
First prize:  Kanisha Vaughn (Cognitive Science), "Effect of Passive and Active Threats on Fear States and Attention"
Runner Up: Marissa Dominick (Neuroscience), "The Role of Alpha-Synuclein in Functional Deficits After Experimental TBI"
Oral Competition
First prize: Kimberly Hochstedler (Statistics and Psychology), "Self-Disclosure among Emerging Adults with Depression and/or Anxiety"

Statistics Oral Presentation Competition 
First place:  Apoorva Havanur (Statistics and Machine Learning), "Impact of Social Networks on Buying Behavior"
Statistics Poster Presentation Competition
First place: Chi Fang (Mathematical Sciences); Yudi Jin, Frank Kovacs, and Maria Rodriguez de la Cruz (Statistics and Machine Learning), "Predicting Delay in Freight Transportation through Socioeconomic Events"
Second place: Samuel Bolig (Economics and Statistics), Jeffrey Ho and Aijin Wang (Statistics and Machine Learning), and Antara Mondal (Statistics), "Analysis of National Hockey League Injuries"
Third place: Irina Javed (Statistics and Machine Learning), "Investigating the Relationship Between Photometric Redshift and Galaxy Properties" 
Honorable mentions:
Emily Chen and Christian Manaog (Statistics and Machine Learning), Qiuyu Wang (Mathematical Sciences), Boyan Zhang (Economics and Statistics), "Assessing the Performance of the False Discovery Rate Procedure in Detecting Cointegrating Stock Pairs" 
Jun Hee Kim and Eun Kyung Kwon (Statistics and Machine Learning) and Qian Sha (Economics and Statistics), "CID Models on Real-World Social Networks and GOF Measurements" 
Early Research Award: 
Shannon Lu (Information Systems), "Determining the Proportion of Multiple Star Systems using APOGEE Radial Velocity Data"
The Osher Lifelong Learning Institute Award
Best Multi-Year Project: Amal Nanavati (Computer Science and Global Studies), "Speak Up: A Multi-Year Deployment of Games to Motivate Speech Therapy in India"
Pictured above is Grace Huddleston with the poster for her project, "Empowering Refugee High School Students Through Photography."