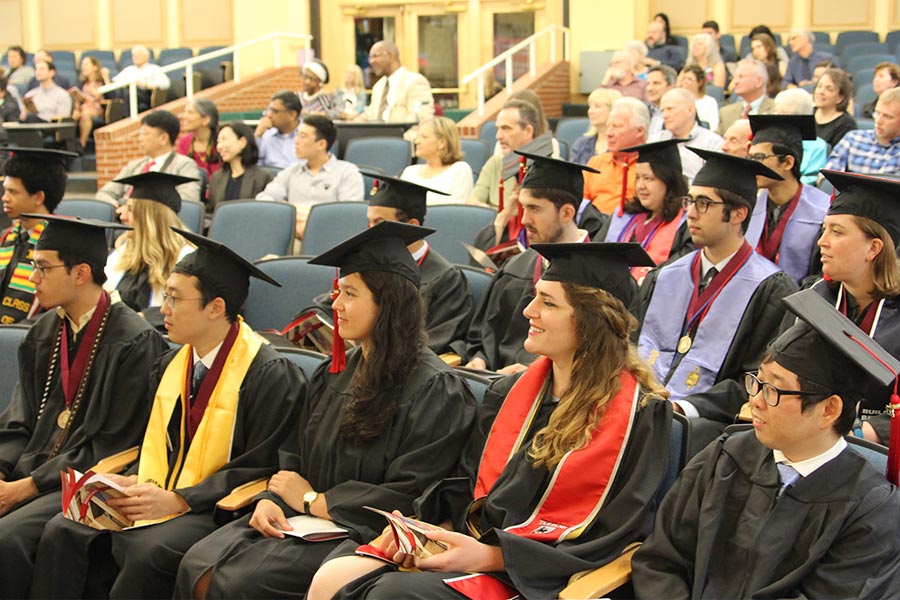 May 20, 2018
The Department of History Confers 2018 Degrees
By Jesse Wilson
Congratulations to the class of 2018!
On Sunday, May 20 at 9am, the Department of History held its diploma ceremony and graduated over 30 students in three undergraduate degree programs in addition to Ph.D. and master's students in our graduate degree program.
View photos from our diploma ceremony »
Graduate
Doctor of Philosophy - History
Michael Gallen
The Spirit of Enterprise: Christianity and Capitalism in the Colony and Republic of Liberia, 1816-1928
Advisor: Scott A. Sandage
Takashi Michael Matsumaru
Unmasking a City: Blacks, Asians and the Struggle Against Segregated Housing in 20th Century Seattle
Advisor: Joe William Trotter Jr.

Jonathan D. Neu
From Civil War to Civic Reform: Grand Army Veterans in the Progressive Era, 1890 – 1920
Advisor: Scott A. Sandage

Rachel Alayna Oppenheimer
Of Prisons and Polities: The Black Panther Party, Irish Republican Army and Radical Socio-Political Organization, 1966-1983
Advisor: David W. Miller
Master of Arts - History
Francisco Javier Bonilla Garcia
Lauren Michelle Churilla
Bachelor's Degrees
Social & Political History
with Capstone Reserach Paper Titles
Seungho Bak, B.S.
Steel and the Development of Early Railroad Lines in Pittsburgh

Eliza L. Donohue, B.S.
What Did Pittsburgh Know about Kristallnacht?

Grace M. Dzina, B.A.
Child Saving in Pittsburgh's Hill District: An African American Take on Juvenile Delinquency Prevention

Frederick Mun, B.A.
Evaluating the Behaviors of Delinquent Youth Committed to Forestry Camp in Pre-World War II Los Angeles: A Methodological Primer

Kyle J. Wing, B. Arch
The Right to the University: Protest, Place, and Power at the University of California, Berkeley and Kent State University, 1969-1977
Ethics, History, & Public Policy
EHPP Students work collectively on a common, policy relefant project:
Autonomous Vehicles and Transportation Equity in Pittsburgh

The topic of this year's Senior Capstone Project Course was the growth in autonomous vehicle (AV) development and testing in the Pittsburgh region and beyond. The surge in AV development locally has played a central role in the recent tech boom in Pittsburgh, contributing to both economic revitalization and city plans to improve livability.

The students addressed a variety of policy-relevant questions from both historical and contemporary perspectives. For example: How should city, state, and federal regulations be structured so as to best promote the safety of pedestrians, cyclists, and other drivers as AVs become a larger proportion of cars on the road? How should AVs be programmed to take into account ethical considerations about the preservation of human life and the protection of private and public property? What responsibilities do AV companies, the city, and society as a whole have to workers who are displaced in cab, delivery, and trucking industries, among others?
Ian J. Asenjo, B.A.
Cameron M. Dively, B.A.
Margaret Catherine Edwards, B.A.
Zachary T. Ettensohn, B.S.
Jeremy F. Goldstein, B.A.
Gaurav Gupte, B.S.
Alison C. Hoffman, B.S.
David J. Matvey, B.S.
Jelani M. Parrish, B.A.
Gloabal Studies
with Capstone Research Paper Titles
Ian J. Asenjo, B.A.
Discourse and Discrimination: Public Discussions of Muslim American Female Identity

Rachel S. Gomez, B.A.
Sociality, Food, and Belonging: Living with Type 1 Diabetes in Today's Spain

Guannan Liu, B.A.
The Kids Are Alt-Right: Trump, Satire, and the Search for Truth

Amal R. Nanavati, B.S.
Overcoming Racial Inequalities in K-12 Computer Science Education: A Case Study of Pittsburgh

Maria A. Navarro-Gutierrez, B.A.
Youth Migration in a Global Context

Olivia Marie Paul, B.A.
International Intervention in Rwanda

Mikaela Wolf-Sorokin, B.A.
How the Stringent Requirements of the Particular Social Group Concept Negatively Affect Honduran Women's Asylum Claims
Bachelor of Humanities and Arts (BHA)
with Capstone Research Paper Titles and concentrations in Anthropology, Global Studies, and Ethics, History & Public Policy
Ella Hepner, BHA
Exploring Alternative Modernities Through the Politics of Magical Realism

Madeline Elaine Quasebarth, BHA
Reclaiming Self: Gender Bias in Zines

Olivia E. Smith, BHA
Considerations Regarding the Stephen Foster Statue in Oakland

Emily L. Stewart, BHA
Improving the Human Condition: A Historical and Cultural Analysis of Dalcroze Eurhythmics

Colin Tait, BHA
See Senior Honors Thesis title
Senior Honors Theses
Rachel S. Gomez
Sociality, Food, and Belonging: Living with Type 1 Diabetes in Today's Spain

Maria A. Navarro-Gutierrez
Uncommon Courage: Refugee Students Persisting in Higher Education

Colin Tait
The Transnational Diffusion of Peace Agreements: Northern Ireland's Impact on the Accords Achieved in Colombia

Kyle J. Wing
Oikonomikos/Polis: The New Politics of Living

Mikaela Wolf-Sorokin
How the Stringent Requirements of the Particular Social Group Concept Negatively Affect Honduran Women's Asylum Claims
Awards & Recognitions
Goldman Fellowship Award for Excellence in Graduate Student Teaching
Jonathan D. Neu
Eugene D. Levy Award for the Most Outstanding Student in the Department of History
Mikaela Wolf-Sorokin
Ludwig Schaefer Award for Outstanding Achievement in Social & Political History

Kyle J. Wing
Indira Nair Award for Outstanding Achievement in Global Studies

Amal R. Nanavati
Maria A. Navarro-Gutierrez
Edwin Fenton - Preston Covey Award for Outstanding Achievement in Ethics, History, and Public Policy
Ian J. Asenjo
Cameron M. Dively