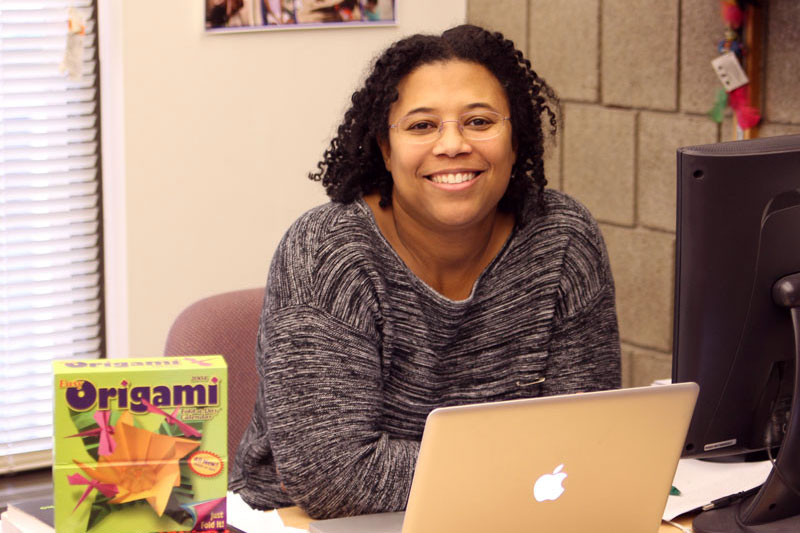 January 27, 2017
Faculty Friday: Shawn Alfonso-Wells
By Renee Madrigal
As an anthropologist, Shawn Alfonso-Wells studies people; however, her love for culture, language, and people stretches far beyond the work hours of her Carnegie Mellon classes. In her life outside of class, Professor Shawn Alfonso–Wells spends time with her family, oftentimes still teaching. Since first grade, she has been fascinated by origami and has since passed down her love for the art to her son. They even teamed up to start an origami club at his school, where she teaches his classmates that "any child can do origami." She finds it a little funny that the young kids tend to engineer unique geographical shapes while she herself is more drawn to create animals. She excitedly revealed her most beloved creation: "My favorite, favorite, favorite piece of origami is an elephant." Thanks to modern technology and sites like Youtube, she explains, "you can slow [the process] down and see exactly how to do the folds. I looked it up and I love to make these little, tiny elephants and hold them in my hand—I don't know why but I just love them! Their trunk is up, which in some cultures is good luck." A close second to the lucky, tiny elephant is a complex turkey—though it sometimes poses as a peacock, and takes nearly an hour to make!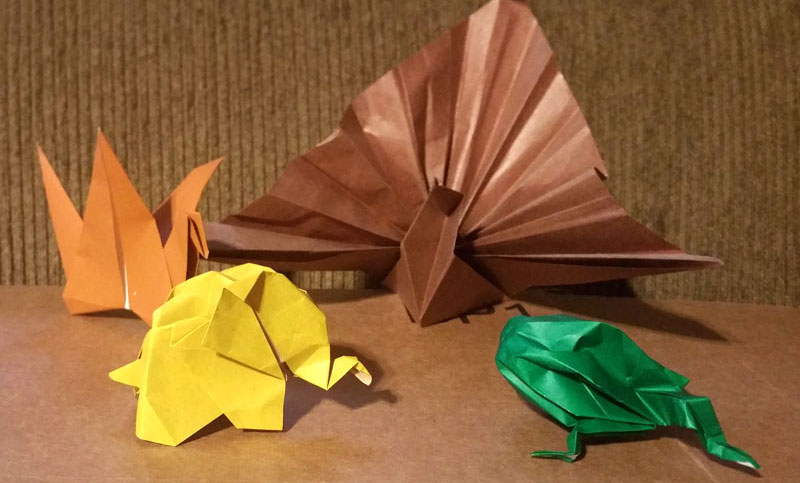 If Professor Alfonso-Wells is not teaching kids origami, she may be teaching them Spanish. Her anthropological focus is Latin America, specifically Cuba, and she enjoys teaching Spanish to children through interactive songs and games. She also loves Cuban dance—especially when she can do it with her husband. Dancing casino style salsa is one of her favorite activities, particularly with family and other Latinos. She promises, "If there is music on, we're going to get up and dance. Every single time."
Whether on the dance floor or in the classroom, Professor Alfonso-Wells exudes enthusiasm and charisma. She laughingly considers herself to be "geeky" and longs for the chance to participate in role-playing activities for TV and book series, naming Harry Potter, Star Trek, and The Hunger Games as top choices. Like all anthropologists, Professor Alfonso-Wells is a true practitioner of "participant observation;" she immerses herself in the culture she inhabits, even if she and her friends are the ones creating that world, like in the fascinating and strategic settlement-building board game The Settlers of Catan. Though she is not an avid gamer, she is thoroughly excited by the prospect of playing games with friends and family. "I don't play games very frequently, but when I get to do it, WOW, I love it."
When talking about her life and her hobbies, love is a word Professor Alfonso-Wells uses frequently. She is genuinely eager to try and experience new things, participating fully in the moment. She rarely finds something she does not enjoy. The combination of patience, curiosity, and a "let's do it" attitude make her tireless and passionate as she moves among activities and cultures.
#FacultyFriday: Professor Shawn Alfonso-Wells is an adjunct professor at Carnegie Mellon University after having joined the history department in 2008, following her doctorate studies at University of Pittsburgh. As an anthropologist, she focuses on Latin American culture as well as sex, gender, and race relations.
Read more about Prof. Alfonso-Wells » All Faculty Friday profiles »