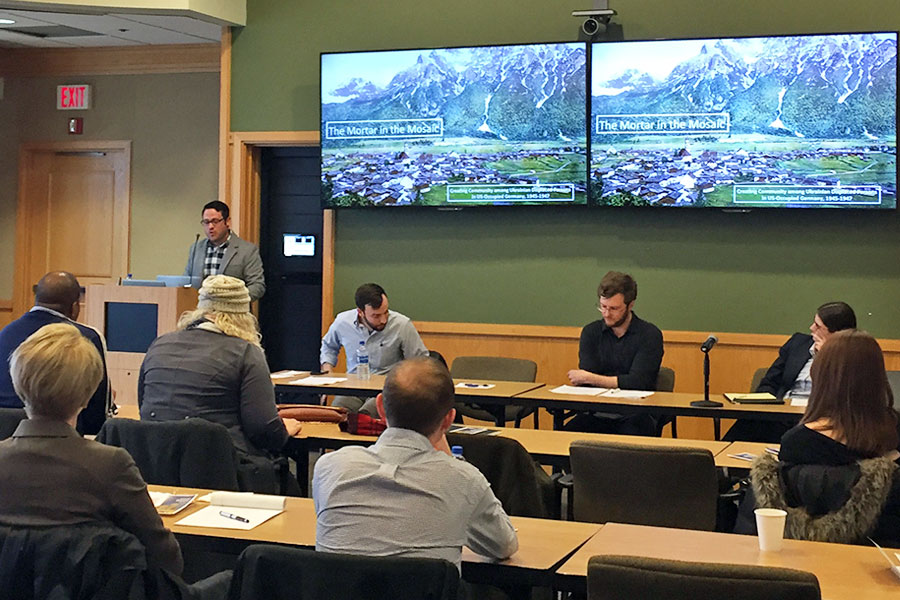 February 28, 2018
Graduate Research Forum
The Third Annual Carnegie Mellon-University of Pittsburgh Graduate Research Forum
By Katherine A. Lynch,
Director of Graduate Studies, Department of History, Carnegie Mellon
On February 17, 2018, faculty and graduate students from the History Departments at Carnegie Mellon and the University of Pittsburgh gathered for our third annual joint graduate conference. The Research Forum, which has been in existence since the early days of our PhD program, became a joint enterprise between the Pitt and CMU History Departments in 2016. The conference meets during spring semester on alternating campuses.
The conference simulates a professional conference and thus provides an opportunity for students to showcase their research. Students present research conducted at various stages of their graduate career. Carnegie Mellon students present for the first time after taking a two-semester doctoral research seminar. Pitt students first present research conducted for their program's MA seminar. The conference allows the two graduate student populations as well as faculty members to learn about each other's work. Students in the two departments are also brought together in other settings, including graduate courses, which are open to students on either campus.
This year's meeting on the Carnegie Mellon campus included four panels on topics from twentieth-century activism on two continents to histories of World War I and II
Graduate Forum Brochure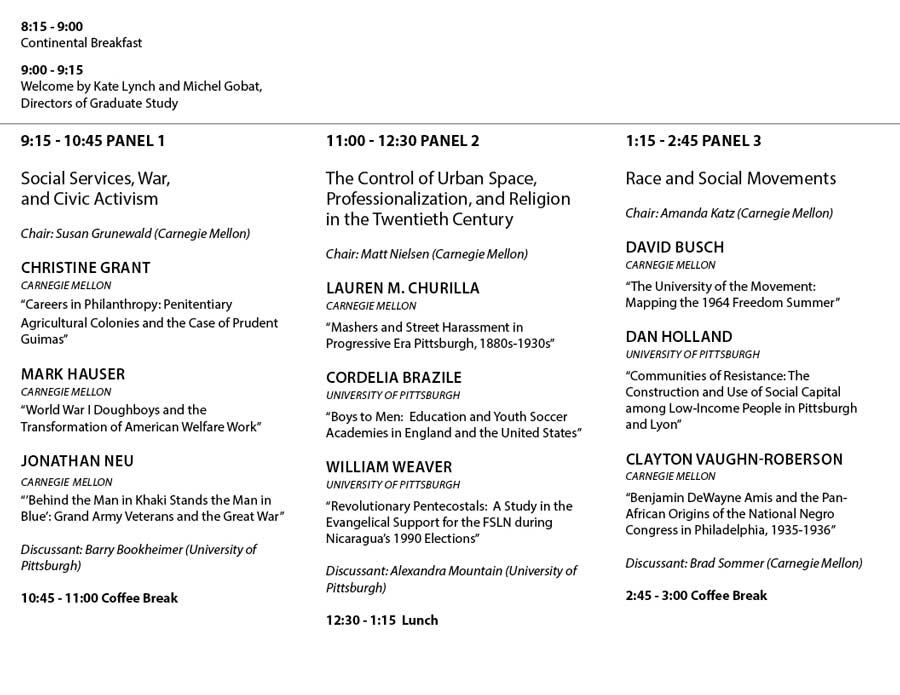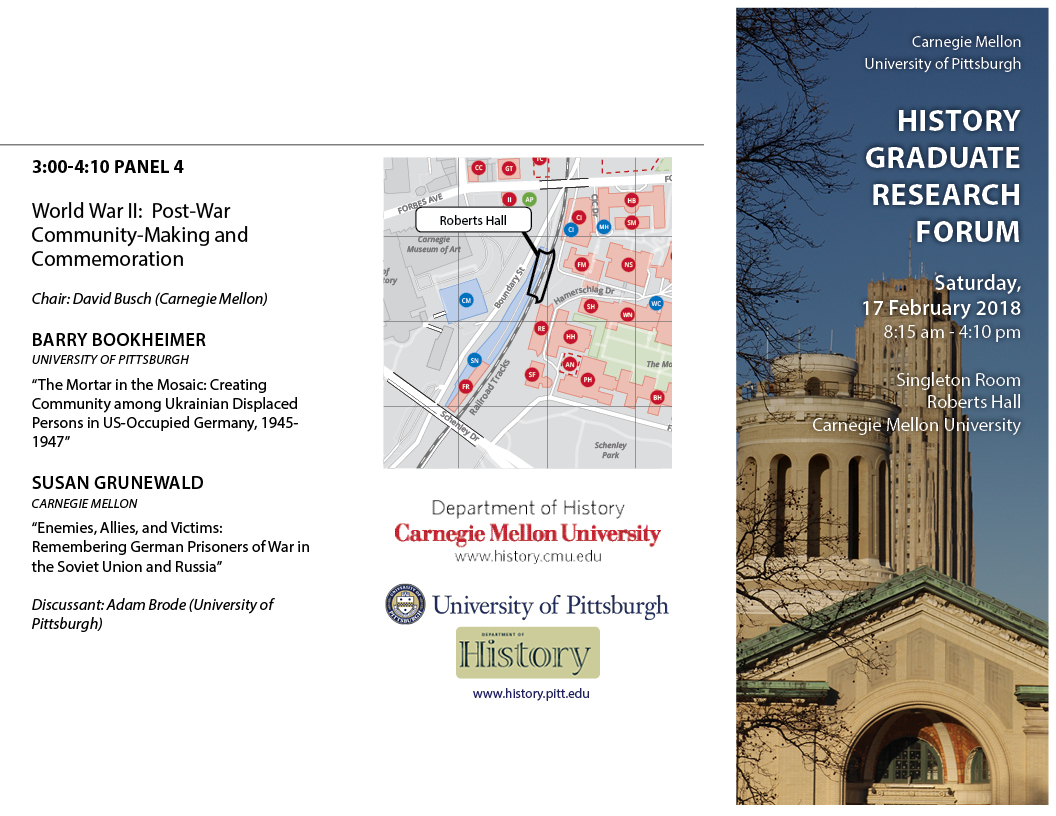 Participants from the two departments served as paper presenters, discussants and chairs. Every panel was followed by a lively Q&A.
Graduate students find the Forum very worthwhile:
"I tried very early on in my graduate career to participate actively in scholarly societies and regularly present my research. Therefore, the Graduate Research Forum served as a useful 'dry run' for upcoming conference presentations where I could try out my ideas and expect engagement from faculty and my peers. I think the annual regularity of the Graduate Forum also indirectly suggested the importance of regularly attending and participating in conferences. Participation was expected in the Graduate Forum, and that made me feel like presenting at other conferences was something I was expected to do, too. It also was a good way to build community amongst the graduate community as I got to hear more about what some colleagues in other cohorts were working on."
"[P]reparing a presentation, delivering original research to colleagues, and having to answer thought-provoking questions about one's research is an invaluable professional development experience. Anytime we can step into the spotlight and perform under pressure, it is good practice."
"Thank you for the opportunity to participate in the Graduate Research Forum. It's always a great opportunity to learn about the research of fellow graduate students of both CMU and Pitt, as well as present my own research before a peer group... This is an important gathering for both programs to exchange information and encourage each other's work. I look forward to doing it again next year."
"I always enjoy having a venue to present my research. As somebody who spent the past year visiting archives, I was excited by the opportunity to discuss my findings and also hear from others about what they'd been able to find on their trips. Since I hope that job talks will be in my future in some form, I value the opportunity to speak in front of an audience and continue developing my presentation skills, as well as the chance to respond to unanticipated questions from students and faculty that can help improve my overall project."