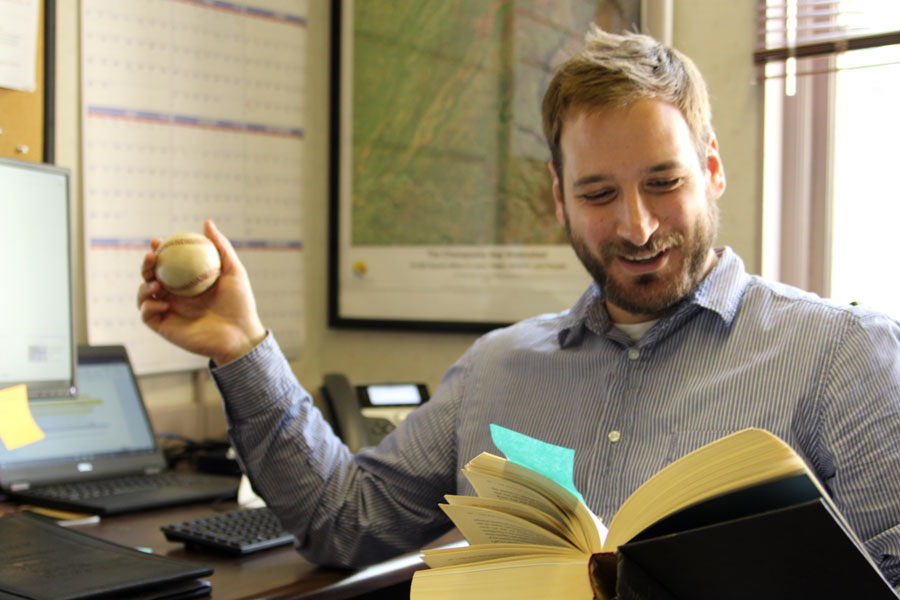 September 29, 2017
Faculty Friday: Andrew Ramey
By Renee Madrigal
Meet Dr. ANDREW RAMEY, the History Department's new Academic Advisor!
Dr. Andrew Ramey received his Ph. D in History from Carnegie Mellon University in 2015 and now serves as the Academic Advisor for undergraduates with majors in Social and Political History or Global Studies.
He prefers to be called Andrew by students, as befits his friendly and relaxed nature. His office is tucked away in the main History Department suite [BH 240], where Andrew maintains an open-door policy and encourages students to "come on in," ask questions, or just say hello.
Within minutes of beginning the interview, Andrew was leaning back in his chair and tossing a baseball around in his hands. He does this from time to time when he needs to concentrate or just wants to spin the ball around. He recalls some of his earliest memories in the backyard of his childhood home, throwing a tennis ball against a brick wall. Born and raised in Poolesville, Maryland, Andrew is quick to claim the Baltimore Orioles as his favorite team; after more than ten years in Pittsburgh, however, he enjoys rooting for the Pirates as well.
He enjoys spending Saturdays watching college football, accompanied by beer and pizza. Sunday is a great time catch up on sleep or go for a run in Frick Park or Nine-Mile Run to work off all those calories. His wife had completed five Pittsburgh marathons, so Andrew finally began training and completed the 2017 marathon, partly to keep up with her and partly to prove he could do it after turning thirty. Even in Pittsburgh's unpredictable weather, he enjoys biking to campus.
An engineer, a geologist, and a historian walk into a bar… That may sound like the setup for a joke, but actually, it's a common occurrence in Andrew's life. He and his two friends, the engineer and geologist, are craft beer connoisseurs who used to brew their own beer. Although he no longer has the time to continue home brewing, he is passionate about the craft beer scene in Pittsburgh and has applied his training as an historian to the topic of craft beer and its cultural effects on local towns and cities. In the future, he may even begin a research project based on the historical, economic, and sociological impacts of the beer industry in the United States. As for the best breweries in Pittsburgh, Andrew is happy to give recommendations to students interested in exploring craft beer... as long as they're 21 or older!
Andrew will also be teaching some history courses and looks forward to sharing his enthusiasm with students, especially those who are not usually interested in history. One strategy he finds helpful is to "try to balance irreverence and humor (and having a good time and not taking myself too seriously) with the gravity of the challenges we face in the world today. History is a great tool for understanding the world around us. It's all about engaging with the present."