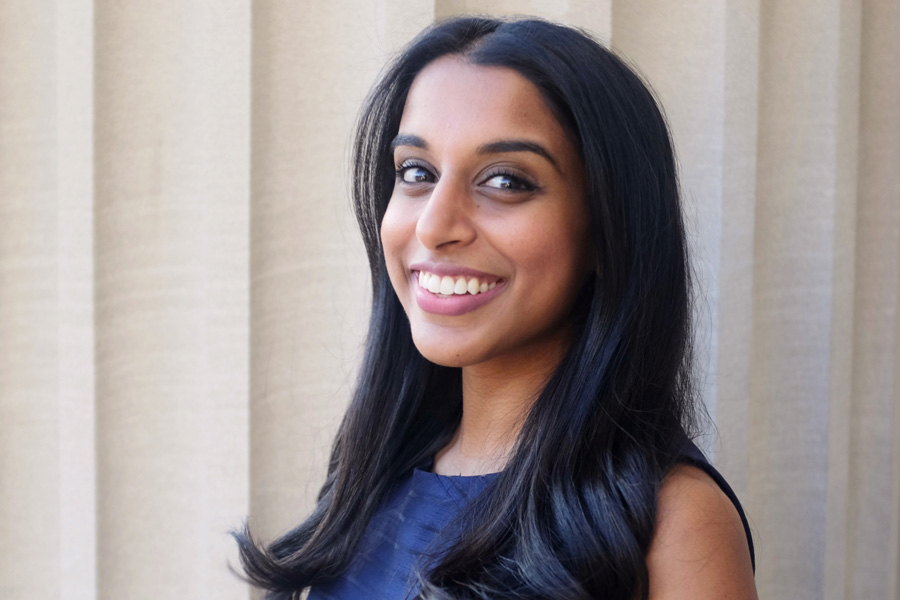 October 30, 2018
CMU Alumna Is Changing Perspectives
In her post-graduation journey, Rubini Naidu is seeing the world through different lenses.
After receiving her degree in psychology in 2016 from Carnegie Mellon University's Dietrich College of Humanities and Social Sciences, Naidu worked for the Bill & Melinda Gates Institute of Population and Reproductive Health. She also pursued a master's degree in sociocultural anthropology at Columbia University.
Now, Naidu is a Fulbright Scholar, continuing research in India she started while at CMU. She is examining how international development can be decolonized through visual narrative and social enterprise. Focusing on storytelling and community mobilization, Naidu's Fulbright experience will serve as the pilot phase for a social tech startup.
How did you come up with the research idea behind your Fulbright? What is your ultimate goal?
Over the past 10 years I have facilitated and been involved with many grassroots and advocacy initiatives, ranging from the slums of India with the Bill & Melinda Gates Institute to capacity building with non-governmental organization leaders in Kenya and Uganda through the Foundation for Sustainable Development.
Whether it was with my camera as a visual storyteller or in a meeting room as an organizer, I've experienced and witnessed a pattern of tremendously passionate changemakers who often struggle to mobilize their community and resources. Why isn't community mobilization more accessible? Why isn't empathy for causes readily channelled into actions and social impact?
This first part of my Fulbright research is a theoretical and visual ethnographic examination as it relates to women's empowerment. The second part is conducting a pilot phase of a social mobilization platform, which I'm eager to continue and expand long-term.
I want to understand how bottom-up changemaking and mobilization can be facilitated. And then I want to put this into action.
What are some of your key takeaways from this experience?
It is deeply important to me that those of us with access to opportunities and resources channel these priveleges towards compassionate and responsible social impact.
How did your CMU education help prepare you for graduate school and your Fulbright?
CMU's motto, "My Heart Is In The Work," is just as much of a guiding light to me now as it was for me during my time as an undergraduate student.
When I began my research as a junior at Carnegie Mellon, I followed my inclination and CMU support to conduct a documentary photography independent study in Tamil Nadu, India, the region my parents emigrated from. To my surprise, this self-initiated research blossomed into two photography books, exhibitions, a TEDxCMU talk, a senior honors thesis, publications and more. CMU's interdisciplinary culture inspired me to explore how visual storytelling can dissolve stereotypes. Since then, my work experiences, master's degree and now Fulbright are furthering this self-forged path of integrating the social sciences, arts and global development for social good.
What advice do you have for students interested in applying for a Fulbright?
Whether it's through Fulbright or not, get in touch with and follow your inner voice. When our hearts are in our work to help create a more inclusive society, the universe opens a sequence of doors, resulting in an exhilarating and fulfilling journey.
Do you have any mentors from your time at CMU ?
There are so many people at CMU who I am fortunate to call my mentors, ranging from university leadership, to the College of Fine Arts, to the Department of Psychology and beyond — thank you for shaping me to believe in myself and my pursuit of leveraging my skills and opportunities towards meaningful, creative and innovative social impact.