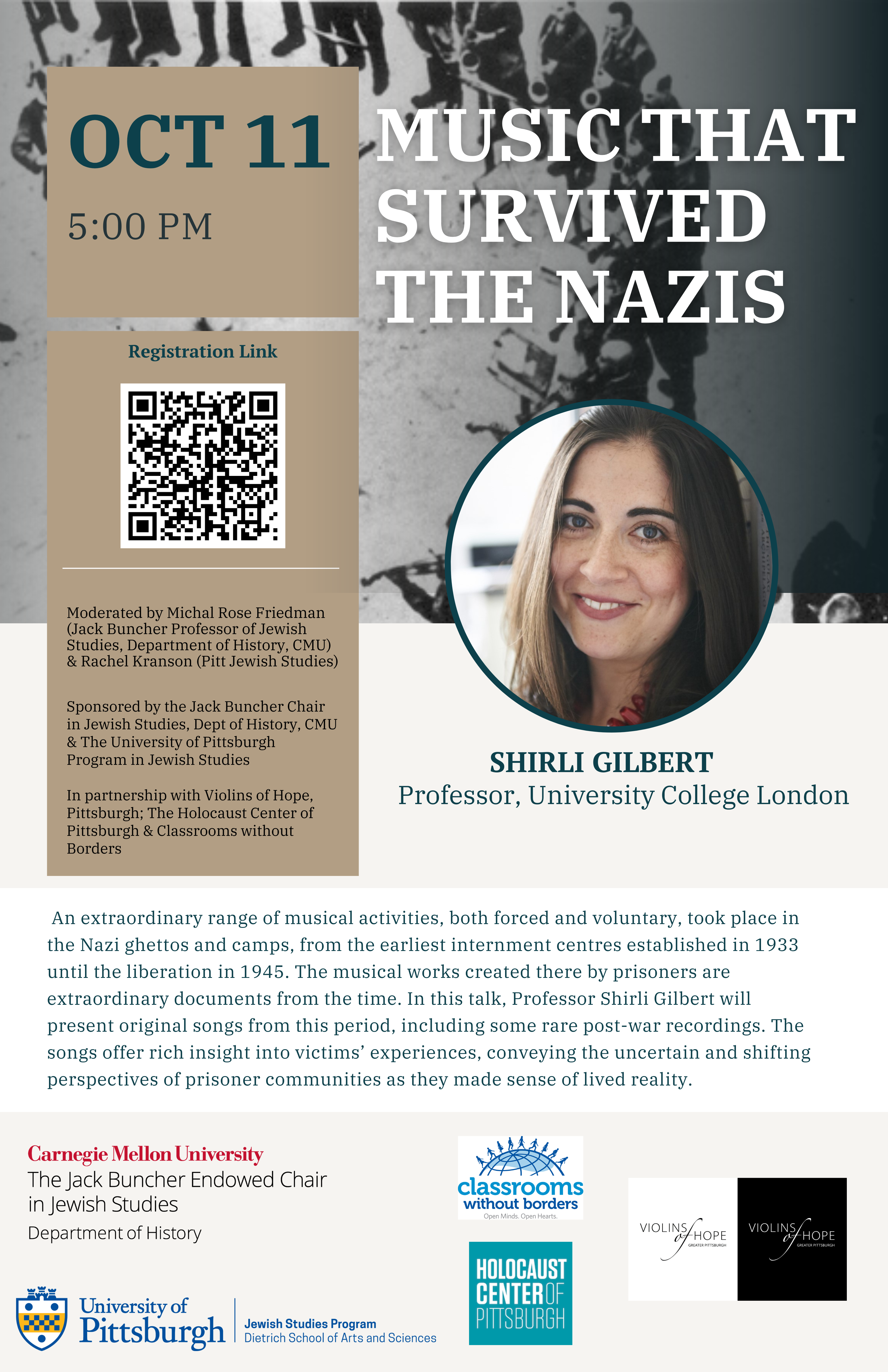 Music that Survived the Nazis
Professor Shirli Gilbert, University College London: https://www.ucl.ac.uk/hebrew-jewish/people/academic-staff/prof-shirli-gilbert 
An extraordinary range of musical activities, both forced and voluntary, took place in the Nazi ghettos and camps, from the earliest internment centres established in 1933 until the liberation in 1945. The musical works created there by prisoners are extraordinary documents from the time. In this talk, Professor Shirli Gilbert will present original songs from this period, including some rare post-war recordings. The songs offer rich insight into victims' experiences, conveying the uncertain and shifting perspectives of prisoner communities as they made sense of lived reality.
Professor Shirli Gilbert is a specialist in modern Jewish history, with particular interest in the Holocaust and its legacies, modern Jewish identity, and Jews in South Africa.
 She holds a D. Phil in Modern History from the University of Oxford and was a Postdoctoral Fellow in the Society of Fellows at the University of Michigan. Before coming to UCL, she was Karten Professor of Modern History and Director of the Parkes Institute for Jewish/ non-Jewish Relations at the University of Southampton. 
Moderated by Michal Rose Friedman (Jack Buncher Professor of Jewish Studies, Dept of History, CMU) & Rachel Kranson (Pitt Jewish Studies)
---
Time:

 
October 11, 5:00pm (virtual)
Sponsored by the Jack Buncher Chair in Jewish Studies, Dept of History, CMU & The University of Pittsburgh Program in Jewish Studies
In partnership with Violins of Hope, Pittsburgh; The Holocaust Center of Pittsburgh & Classrooms without Borders