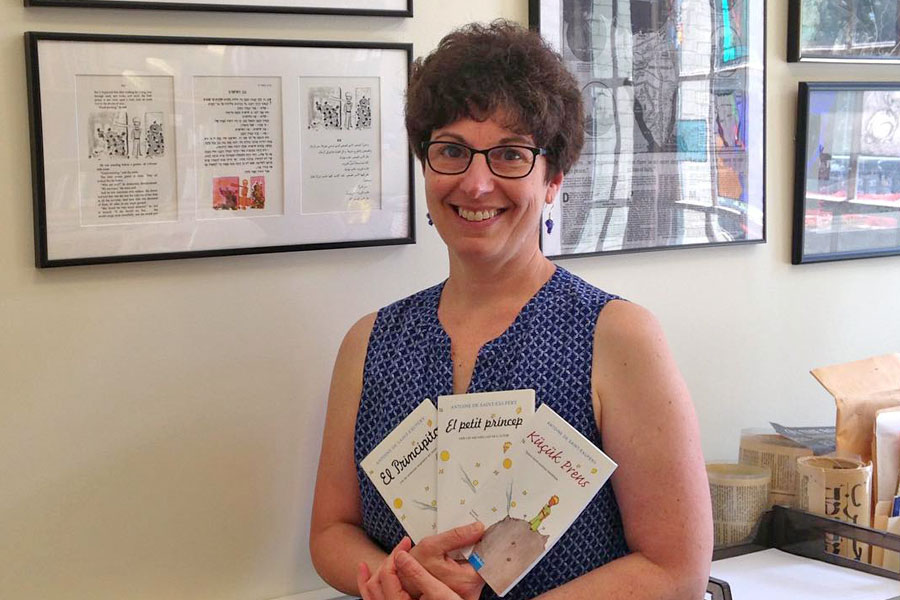 August 07, 2015
Faculty Friday: Laurie Eisenberg
By Phoebe Ng

I read The Little Prince for the first time in high school French class and loved its gentle humor and life lessons, and I've carried them with me ever since. My daughter and I were traveling in Amsterdam and for fun we bought The Little Prince in Dutch. That evolved into a tradition that whenever we are traveling in another country, we buy a local copy of the book. My friends and relatives know this, so when they travel they bring me back copies of The Little Prince, also. I now have it in 27 different languages. In my office I have framed the covers and the first page of my favorite chapter from the English, Hebrew and Arabic versions.

I like to think that as long as parents all over the globe are reading this book to their children, or people from cultures in conflict are reading this book, there is hope that some of them will internalize its positive messages about priorities, humanity, whimsy and what's really important in life."

#FacultyFriday: Professor Eisenberg's areas of research and publication include the Arab-Israeli conflict and peace process and the interaction of multiple Middle East actors, such as Israel and Lebanon.
Read more about Prof. Eisenberg » All Faculty Friday profiles »