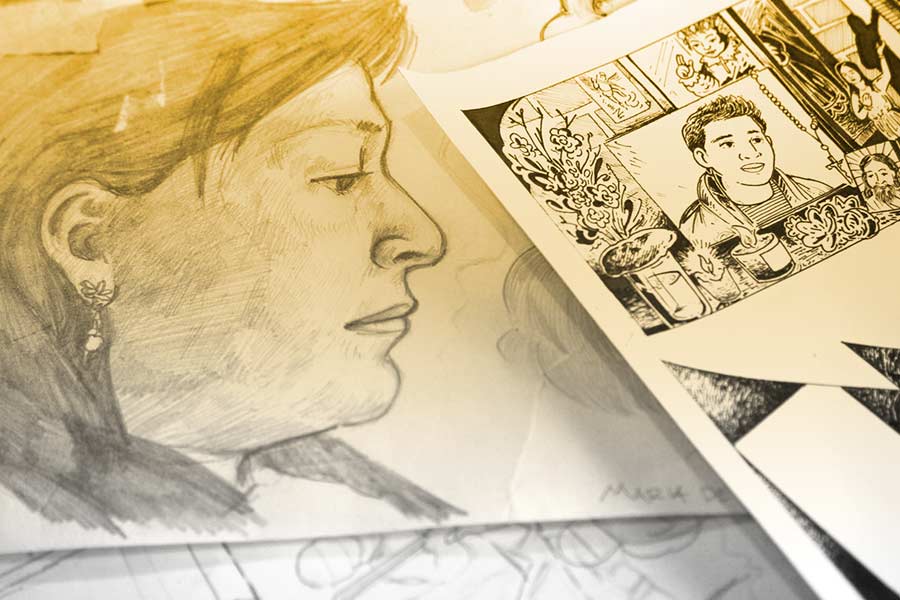 Alive You Took Them
Graphic narratives on Mexico's Disappeared
Andalusia Knoll-Soloff
Monday, April 2nd, 2018
4:30-6:30 PM
Gregg Hall (Porter 100)
About the Lecture
On September 26, 2014, police kidnapped 43 students from the Ayotzinapa teachers college in southern Mexico. To date, their parents still search for them, proclaiming, "alive you took them, alive we want them." For the past three years Andalusia Knoll Soloff, along with a Mexican collective of artists and researchers have been working on a graphic novel that uses first-hand accounts to tell the story of these parents' tireless search to find the Ayotzinapa students and challenge government impunity. Andalusia will speak about comics journalism and the challenges of illustrating such a heart-wrenching story where reality surpasses fiction.
About the Speaker
Andalusia Knoll-Soloff is a freelance multimedia journalist based in Mexico City. She is a frequent contributor to VICE News, Al Jazeera, Democracy Now! and TRT World. Her work focuses on gender violence, human rights violations and land struggles in Latin America. She has reported on the Ayotzinapa case for over three years.

Knoll-Soloff is part of a collective behind Alive You Took Them: Searching for the Ayotzinapa 43, a bilingual Spanish/English graphic novel about a parents' tireless search to find their sons, who were forcibly disappeared by the Mexican government. Through first-hand accounts it tells a story of human resilience and serves as a graphic bet against impunity.
Co-Sponsored by
CMU's Center for the Arts in Society
The CMU Department of Modern Languages
The Center for Latin American Studies (CLAS) at Pitt