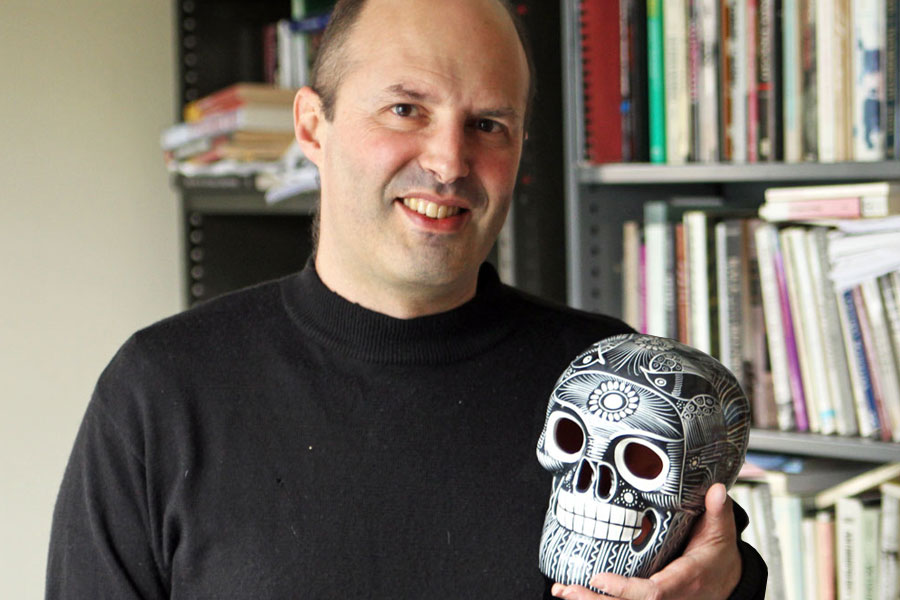 March 25, 2016
Faculty Friday: Paul Eiss
By Renee Madrigal

I was in Yucatán hard at work in the archives. With just two days left before returning home, I was desperate to get through the documents I was studying: boxes 133A through 138B. As I labored feverishly at that task, a woman who worked as a secretary in the archive came up to me and said, "Hey, didn't you once say that you're interested in theatre? My friend's grandfather died last year, and they say he used to work in the theatre. They're clearing out his house now, and found all these piles of paper in his home. They're thinking of throwing them away. Do you want to take a look at them?" I thought to myself, "No, I really can't. I have to finish boxes 133A through 138B!" But what I said was: "Absolutely. Let's go right now!

"I had long been interested in a Yucatecan performance tradition that dates from the late 19th and early 20th century called teatro regional, which means "regional theatre." It is a kind of popular theatre that incorporates cultural practices with deep roots in Yucatán; its short, comedic plays are often set in Maya speaking pueblos, incorporate spoken Maya, and typically feature traditional festive music and dance. From the times of the Mexican Revolution forward, these plays often featured rather direct political and social critique, and have met occasional censorship for that reason. What an ideal topic for an anthropological historian like me to explore! But there was one big problem: the lack of textual sources. The skits of teatro regional have always tended to be ephemeral: they are performed for a few months or a few years, before being abandoned. Of many hundreds of such works that are mentioned in newspapers or, in the case of recent works, recalled by those who attended them, only a handful were preserved or published in written form.

"Or so I thought. My thinking changed as soon as I walked into the house, which had been badly damaged by a hurricane, its walls stained and cracked. On entering the living room, I found myself up to my knees in scripts! It turned out that its deceased owner had been a dramaturge and a copyist for the main teatro regional troupe from the 1930s through the 1990s. He made physical copies of the scripts for the actors, and scrupulously retained one copy of each script that had ever come his way. At my feet were more than 400 scripts—some handwritten, some typed on the back of old posters or playbills. As if that were not enough, he had left another pile of hundreds of carefully typed pages: vivid personal memoirs of his decades working in the teatro regional.

"In some sense, I didn't find this project. It found me: but only once I had loosened my death grip on boxes 133A through 138B (which I eventually returned to on a subsequent trip). This is one of my ongoing projects."

#FacultyFriday: Dr. Eiss is a Professor of History and Anthropology, specializing in ethnographic and archival research. His work centers on Mexico and many aspects of Mexican and indigenous culture including government history and policy, money, labor and drug trade.