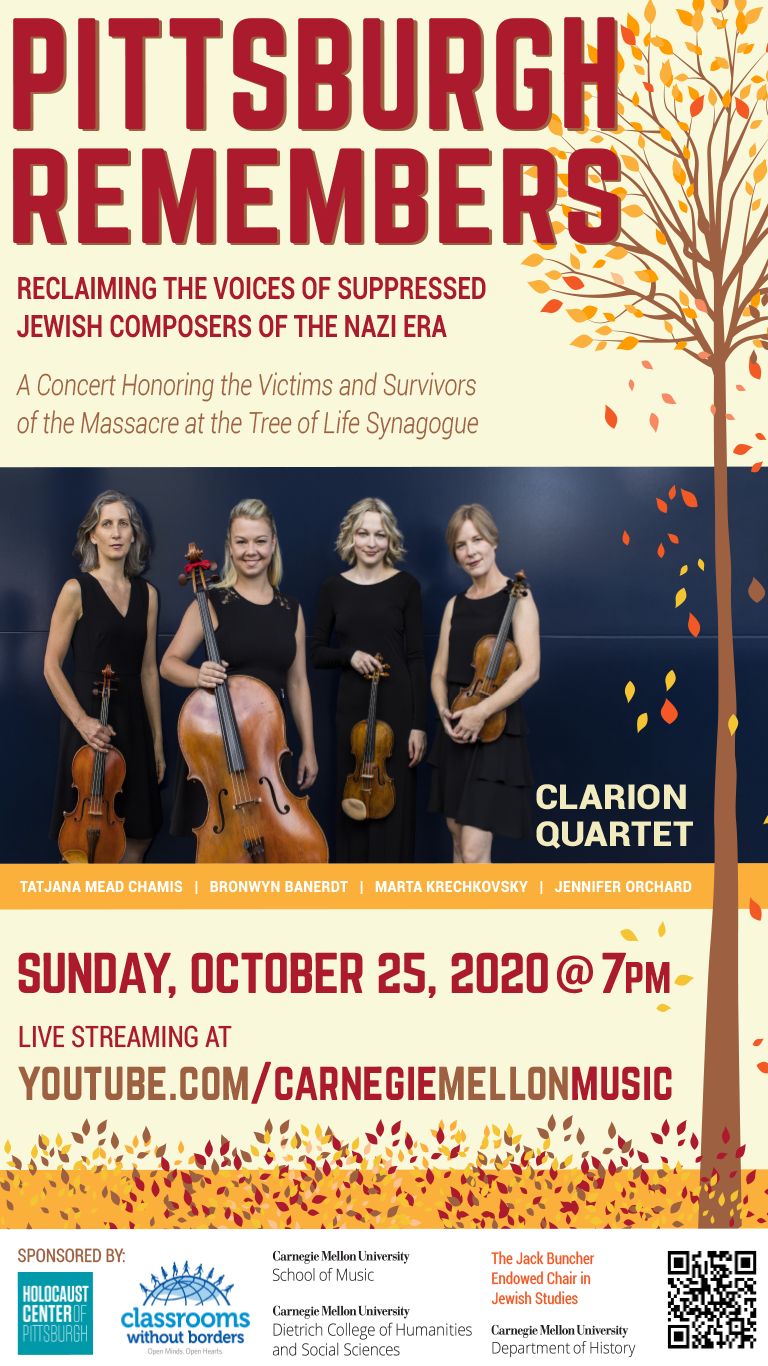 Pittsburgh Remembers: Reclaiming the Voices of Suppressed Jewish Composers of the Nazi Era
A Concert Honoring the Victims and Survivors of the Tree of Life Massacre
Sunday, Oct. 25, 6:30 p.m. (pre-concert program); 7 p.m. (concert); 8:30 p.m. (post-concert discussion)
We invite you to a virtual live streamed concert by the Clarion Quartet in collaboration with the School of Music, the Department of History and the Jack Buncher Endowed Chair in Jewish Studies, all at Carnegie Mellon University. The Clarion Quartet will perform a program of music written by Jewish composers suppressed during the years of the Nazi regime in Europe. The Quartet will illuminate this repertoire through music and a post-concert conversation with Robert Elias of the OREL Foundation, on the history of this music and the various ways that artists, historians, and citizens honor the legacies of the oppressed.  
This concert is generously supported by Carnegie Mellon's Dietrich College of Humanities and Social Sciences, the Holocaust Center of Pittsburgh and Classrooms without Borders. 
o    6:30 p.m. - Pre-concert program featuring Rabbi Myers of the Tree of Life Congregation and Maestro Honeck of the Pittsburgh Symphony Orchestra.
o    7:00 p.m - Concert live streamed from Kresge Hall youtube.com/carnegiemellonmusic
o    8:30 p.m. - Post-concert discussion with Robert Elias of the OREL Foundation in Los Angeles, the Clarion Quartet and Professor Michal Rose Friedman, Jack Buncher Professor of Jewish Studies in the Department of History at Carnegie Mellon University.