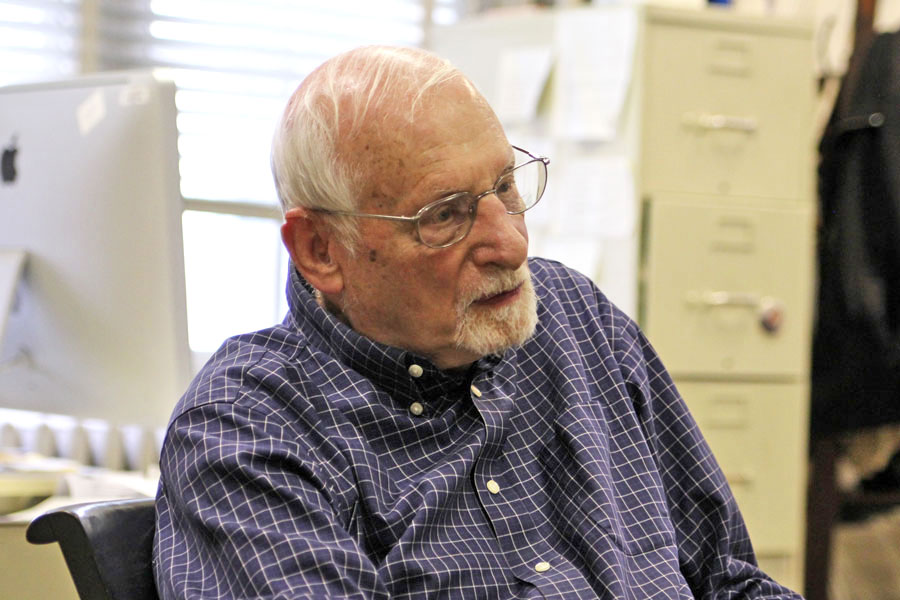 February 19, 2016
Faculty Friday: Joel Tarr
By Renee Madrigal

"My father had a small inner city hardware store in Jersey City, New Jersey for much of the time I was growing up. During the Second World War, however, before he opened the store, he worked in the federal shipyards in Kearny, New Jersey. On the wall in my office I have a picture of my father working at night in the shipyard as a rigger that says something about my roots. After the war ended, he opened the hardware store. I worked at the store all the time—on weekends, during summers and such. I did my undergraduate work at Rutgers and I would go home almost every weekend to work in the store. My sisters and my mother also worked there, everyone participated. I still have some stationery at home that has that caption: "Federal Hardware & Supply Company." I suspect that much of my interest in urban technological systems derives from my early hardware store experience.

You may have noticed on one of my bookshelves a number of material objects including an old sewing machine. I like to collect artifacts, and one day I was driving in Squirrel Hill on a trash day and I noticed an old Singer sewing machine on a trash pile. It had an Egyptian motif on it that dated, I found out, to about 1900. The other items on the shelf are coal miner's lamps that I bought at flea markets. Much of my early research dealt with impact of coal on the city. One of the lamps, I discovered, was actually a safety lamp to discover leaks in the gas street network – a system I have written about. On my wall I also have a number of old pictures of Pittsburgh bridges and scenes. I identify a lot with the city and much of my research is based on it. I came to CMU in 1967 from a teaching position in California, and it has been a wonderful experience for me. The University has been very good to me and I feel very grateful for the work I've been able to do here and the benefits of living in Pittsburgh. I've always loved teaching and I've always loved my research. And what more can I ask for? In a perfect career those things are combined."

#FacultyFriday: Professor Joel Tarr, a University Professor of History and Policy, has been teaching here since Carnegie Institute of Technology became Carnegie Mellon University in 1967. His work focuses on the urban environment and using environmental history to understand contemporary issues.