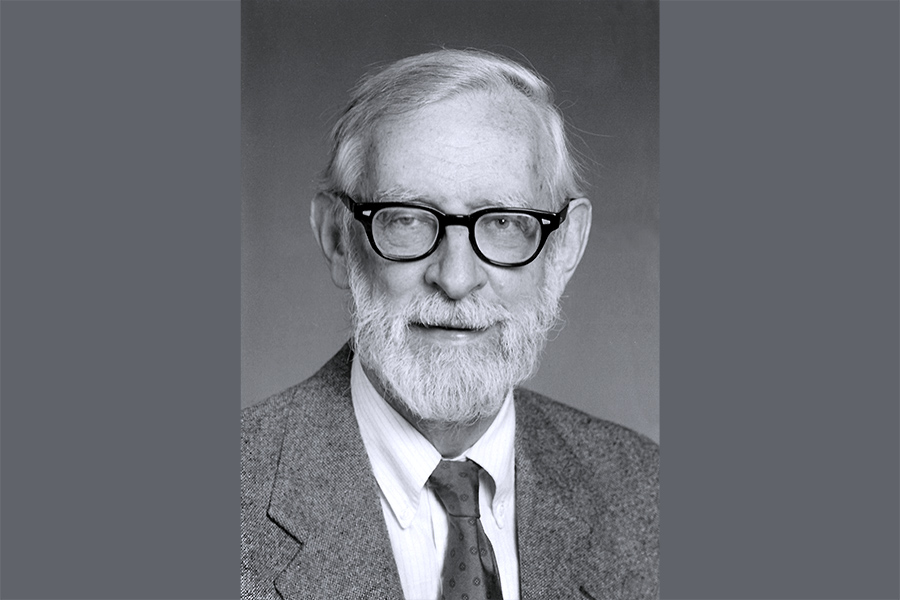 February 20, 2020
Obituary: Edwin Fenton Was Central to CMU's Teaching, Outreach and Research
Edwin "Ted" Fenton, a professor emeritus in Carnegie Mellon University's Department of History known for his significant contributions to education and his personal charm, died Feb. 8. He was 98.

Few people know the history of Carnegie Mellon University like Fenton did — he "wrote the book" on it.  "Carnegie Mellon 1900–2000, a Centennial History" covers everything from how the Cut got its name, to activism on campus during the Vietnam War and the university's role in advancing technology on a global scale. The author and editor of more than 200 publications, Fenton also wrote "The Maggie Murphs: A History of Margaret Morrison Carnegie College" and "Immigrants and Unions: A Case Study: Italians and American Labor, 1870-1920."

"Ted was an immensely talented faculty member who had many achievements both at CMU and beyond in the world of education," said Joel Tarr, Richard S. Caliguiri University Professor of History and Policy in the Department of History.

Fenton joined the Carnegie Institute of Technology faculty in 1954 and completed his Ph.D. from Harvard University in 1958. He served under five of Carnegie Mellon's eight presidents and helped establish the beginnings of many programs that are still active today, including the Eberly Center for Teaching Excellence and Educational Innovation, the Osher Lifelong Learning Institute, the Gelfand Center for Service Learning and Outreach, the Carnegie Education Center and the Educational Facilities Committee. He was a lifetime member of the Andrew Carnegie Society and a charter member of CMU's chapter of the Phi Beta Kappa Society.

"Ted understood the importance of contributions to society through the sharing of expertise found at a university," said Judy Hallinen, assistant vice provost for educational outreach at CMU. "He knew that many people at Carnegie Mellon were engaged in this type of work but that the complete story was not recognized or told. In establishing the Center for University Outreach in the early 1990s, Ted collected information about initiatives from all parts of campus and celebrated the impact that was being made on our students and on the lives and educational trajectories of children and adults in the community.

"On a personal level, it was obvious that Ted enjoyed his work, and I think fondly of his smile and wit as he shared puns and word games with people in the center," Hallinen said. "Ted generously shared his time and knowledge to support individuals and programs in any way that he could."

Fenton's role in the creation of the Eberly Center marked an important moment in CMU history, according to Indira Nair, CMU's former vice provost for education.

"It set us apart for the excellent teacher support we have here," Nair said. "I still remember how helpful the faculty luncheon meetings were — we met over a problem where one or a couple of faculty members selected by Ted introduced the topic and then opened up to a discussion. It promoted networking and consulting among faculty about teaching. Conversations about teaching do not often occur among faculty in a research university. Ted made this an innovation at CMU."

While pursuing her doctorate at CMU, Susan Ambrose was a mentee of Fenton's and eventually took over his role as director of the Eberly Center.

"Ted was known for his quick wit and quirky humor. He was one of those rare individuals who had a big vision and could actually implement it, resulting in the many legacies he left behind at CMU," said Ambrose, senior vice chancellor for educational innovation at Northeastern University.

Nair said Fenton was one of the foremost people in shaping the current education at Carnegie Mellon. She also recalled his impact off campus.

"He worked with the Pittsburgh Public Schools and did a lot to make the education of gifted students in Pittsburgh Public Schools what it is. At one time, Pittsburgh Public Schools was were known for gifted education, and a number of teachers received additional training under Ted," Nair said.

Fenton was devoted to teaching and curriculum development. He organized more than 200 workshops about curriculum development in 31 states and nine countries. He was a consultant to more than 100 American schools, as well as schools in Israel, the Philippines, Iceland, Sweden, Germany, Italy and Belgium.

Anthony Penna, a 1969 doctoral graduate of CMU's Dietrich College of Humanities and Social Sciences, remembers Fenton for his contributions to education and dedication to students.

"In 1967, Ted received a $1 million grant from the Carnegie Corporation of New York to create the university's Education Center. The grant acknowledged Ted's success to creating a four-year high school curriculum in social studies for talented students funded by the U.S. Office of Education. The Carnegie grant created Doctor of Arts degrees in history, English, mathematics, physics and chemistry," Penna said.

As a demonstration teacher for the experimental high school curriculum in Massachusetts, Penna was among the first Doctor of Arts recipients in history. His group took on the challenge of writing a curriculum for underachieving urban students, which was a small part of the government anti-poverty program.

"Ted hired me to run the sequel to this program and it began a 19-year career for me at CMU," Penna said. "Ted launched the careers of a number of graduates. His national leadership in history education was unsurpassed. Teachers everywhere were influenced by his dedication, writings, communication skills and his tireless efforts to improve the quality of history and social studies education."

Fenton's legacy in education has stuck with Joseph E. Devine as much as his kindness.

"Ted's landmark work on inquiry-based approaches to teaching and learning in the social studies had a profound impact on this field, leading many to refer to Ted's innovations in this domain as the 'New Social Studies,'" said Devine, associate dean for undergraduate studies in the Dietrich College. "Like many can probably say — I know I can — I would probably not be here if it were not for the kindness and genuine interest that Ted showed me when I came to campus as a college senior to interview for graduate school. And here I am still."

During his time at CMU, Fenton received the William H. and Francis S. Ryan Award for Meritorious Teaching and the Robert E. Doherty Award for Sustained Contributions to Excellence in Education, the university's highest honors for teaching and education. In 1967, Fenton won the Middle States Council Gold Medal for his contributions to social studies education.

In 1992, the Edwin Fenton-Preston Covey Award for Outstanding Achievement in Ethics, History and Public Policy was established. The award was named after Fenton and the late Preston Covey, who was director of the philosophy program in the Department of History and Philosophy from 1982 to 1985.