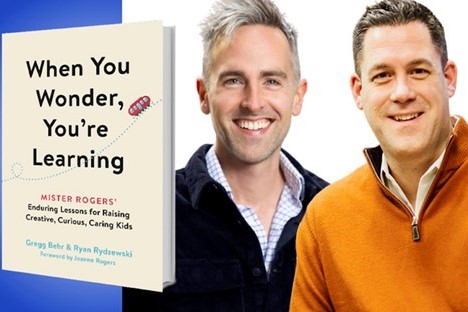 April 01, 2022
Join us for the next presentation by Friday Forum!
Check here regularly to see the schedule for the upcoming Friday Forum offerings!
"Lessons from Fred Rogers' Blueprints for Learning" by ­­Gregg Behr and Ryan Rydzewski
Friday, April 22nd, 2022 at 1pm
Osher Rooms A & B 
Register for Course ID: 4093.
We are so fortunate to have Gregg Behr and Ryan Rydzewski at Friday Forum to discuss their new book, When You Wonder, You're Learning:  Mister Rogers' Enduring Lessons for Raising Creative, Curious, Caring Kids.  Join us to explore Fred Rogers' legacy as an ingenious learning scientist who was decades ahead of his time. Gregg and Ryan will review how Fred engineered Mister Rogers' Neighborhood to help kids develop the "tools for learning" that experts now consider essential to children's success: curiosity, creativity, communication, and more. These tools have been shown to boost academic learning and overall well-being, and they benefit learners of every background and age.
Our guest speakers will also discuss how caring adults can use Fred's blueprints to nurture these tools in the digital age. By spotlighting examples from Remake Learning — an internationally acclaimed network of educators, artists, makers, scientists, and others, many of whom worked with Fred himself — they will share inspiring, actionable ways to follow in Fred's footsteps.
Books will be available for purchase at the event. Masks required.