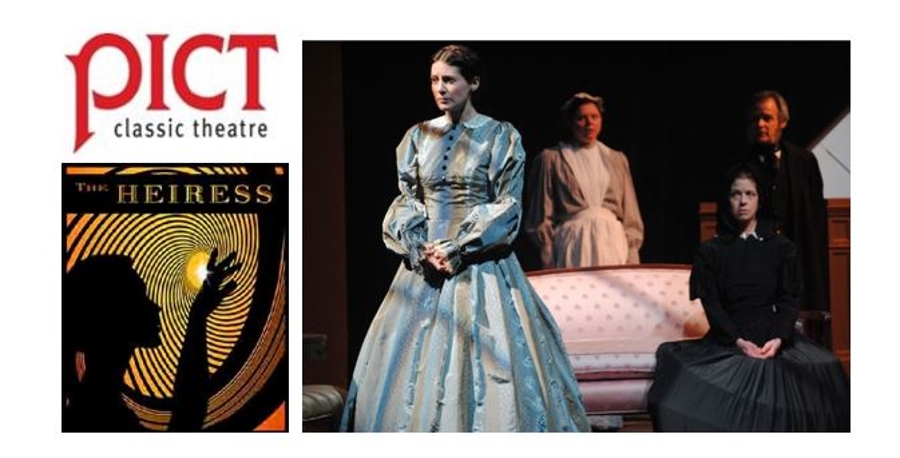 April 04, 2019
PICT Classical Theatre
The Heiress
By Ruth and Augustus Goetz
Directed by Alan Stanford
April 4 – 27, 2019 at WQED
Adapted from the novel Washington Square by Henry James and set in the 1850's of New York City, The Heiress tells the story of a wealthy but insecure young woman, desperate for love, who meets a dashing but penniless bachelor. Despite the influence of her overly controlling father, she dreams and hopes. Is this the prince she hoped would come along or a money-hungry scoundrel taking advantage of an innocent girl? Is she finally blessed by good fortune or terribly naïve and falling for the charm of a handsome opportunist? This chess match uncovers true motives, true feelings, and the self-discovery that turn a shy young girl into a woman.
Appropriate for all ages.
For all ticket and programming event information, please visit our website at picttheatre.org or call our office at 412-561-6000.
The Heiress will be performed at WQED, 4802 Fifth Avenue, Oakland 15213
20% discount on adult tickets for Osher at CMU Members
Discount code for any performance date: CMUOSHER
Special programming events include:
Heiress, Henry, and History at the Hillman. Join us on Thursday, April 4 at 6:00PM in the Latin Studies Lecture Room at the Hillman Library (first floor), University of Pittsburgh. Wine and light fare will be served while discussing the play, Henry James, & the Curtis Theatre Collection. Please see our website regarding purchasing this $10 ticketed event.
Opening Saturday night, Saturday, April 6, 7:30pm, Sponsored by UPMC Join the production cast, crew, director, and staff for our Opening Night celebration immediately following the show. Festivities will be held at WQED.
A talk-back discussion will immediately follow the Sunday, April 7 matinee. Our director and cast will participate in this audience driven exchange.
Join us at WQED, Studio B, on April 10 at 6:30pm for a 30 minute pre-show lecture, given by director Alan Stanford, on the play and historical reference of the setting. Performance follows at 7:30pm.
On Thursday, April 11 at 6:30pm, join us in conversation, with Alan Stanford & guest, for this lively exchange. Sponsored by the Jack Buncher Foundation. Held at WQED in Studio B; Performance follows at 7:30pm.
Don't miss the chance to join us for our "Food Truck" evening, held on April 12. The Pub Chip Shop food truck will be ready for your order at 6pm. Relax and enjoy your fare in Studio B. Performance begins at 7:30pm.
Join us for a post-show cocktail event at The Frick Pittsburgh on Saturday, April 13 or Sunday, April 14. Cocktails, touring and a discussion on Helen Clay Frick will take place following the matinee performances. Please see our website for additional information regarding purchasing a ticket for this event & show package.
A pre-show dinner at The Mansions on Fifth will take place on Thursday, April 18 and Thursday, April 25. A short tour of the mansion will take place at 5pm, dinner in the formal dining room begins at 5:30pm, and Alan Stanford will talk about the play before we head off for WQED. Performance begins at 7:30pm. Please see our website for additional information regarding purchasing our dinner & show package.
A special pre-show culinary experience will take place on Friday, April 26 at 6:30pm in Studio B. Classic Culinary Culture (#3 in the series), The Rise of the New York City Restaurant Scene. Please join us for this fascinating topic. Samples will be served. Performance follows at 7:30pm.
Funding for The Heiress was provided by the Helen M. Knepper Memorial Fund, the Jane M. Epstine Charitable Fund, the John L. McKenna Fund, and the Paul E. and Henry B. Grant Fund of The Pittsburgh Foundation, as well as the generous support from The Heinz Endowments, Philip Chosky Charitable & Educational Foundation, The Laurel Foundation, Bloomberg Philanthropies, Allegheny Regional Asset District, PA Council for the Arts, The Jack Buncher Foundation, James M. & Lucy K. Schoonmaker Foundation, The Henry C. Frick Educational Fund of The Buhl Foundation, Allegheny Foundation, Sophia Katsafanas Foundation, and Joan Markert.